The Importance of Physical Activity in the Interaction of Motor and Cognitive Functions in Elderly People
Abstract
Background. It is predicted that in 2060, the number of elderly people in Lithuania (62 and over years of age) will be 31.2% (Tamutienė & Naujanienė, 2013). The maintenance of stable posture requires particular attention because it gets more difficult to sustain it while doing multiple moves at the same time when you are getting older (Woo, Davids, Liukkonen, Chow, & Jaakkola, 2017). The aim of the study was to determine the importance of physical activity for the interplay of motor and cognitive functions in elderly people.
Methods. Evaluation of static equilibrium by posturographic method, evaluation of cognitive functions, statistical analysis.
Results. The results of the physically active and inactive research subjects were statistically significant (p = .043) in memory task with the eyes closed and in a simple position. A statistically significant difference in the sway velocity (Vsc) between the physical activity groups with eyes closed in simple position was also observed (p = .044). Double task with eyes closed resulted in worse balance performance.
Conclusions. 1. Physical activity did not affect the motor function of the elderly. There were no differences between the physically active and inactive subjects in the assessed behavioral indices. 2. Physical activity did not affect the cognitive functions of the elderly. All elderly subjects were equally mistaken in their cognitive memory task. 3. The motor functions of the physically active elderly are controlled statistically significantly better when performing additional cognitive tasks than those of the physically inactive ones.
Keywords: balance, elderly, physical activity.
Downloads
Download data is not yet available.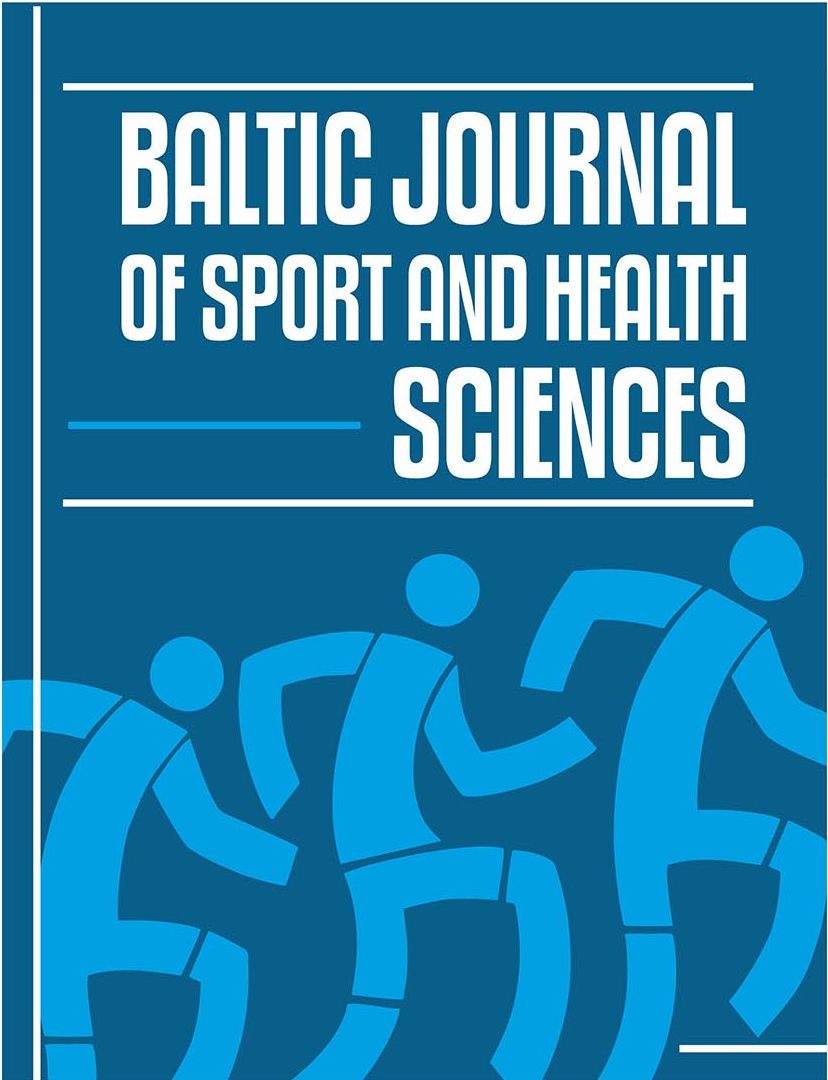 Downloads
How to Cite
Česnaitienė, V. J. ., Ossowski, Z. ., Karanauskienė, D. ., Auškalnyte, G., Grigėnaitytė, E. ., Katkutė, G. ., Sheoran, S. ., & Mickevičius, V. . (2020). The Importance of Physical Activity in the Interaction of Motor and Cognitive Functions in Elderly People. Baltic Journal of Sport and Health Sciences, 3(118), 13-18. https://doi.org/10.33607/bjshs.v3i118.974
Section
Health, Rehabilitation and Adapted Physical Activity
License
Each Article is an original contribution and not plagiarized/copied from any source/individual. It does not contravene on the rights of others and does not contain any libellous or unlawful statements and all references have been duly acknowledged at the appropriate places.
The article submitted only to Baltic Journal of Sport and Health Science, and it has not been previously published or submitted elsewhere for publication in a copyrighted publication.
The Author hereby authorizes the journal to edit, modify and make changes in the Articles/Research paper to make it suitable for publication in Baltic Journal of Sport and Health Science.
The Author hereby assigns all the copyright relating to the said Article/Research Paper to Baltic Journal of Sport and Health Science.
The Author has not assigned any kind of rights to the above said Article/Research Paper to any other person/Institute/Publication.
The Author agrees to indemnify Baltic Journal of Sport and Health Science against any claim legal and/or otherwise, action alleging facts which if true, constitute a beach of any of the foregoing warranties.