Possible Factors Affecting Pre-School Children's Irregular Posture Formation
Abstract
Background. A review of the health and physical activity of children and teenagers in Lithuania over the last twenty years has shown that many aspects of pupil physical capacity have deteriorated between 1992 and 2012 (Venckunas, Emeljanovas, Mieziene, & Volbekiene, 2017). Also research has shown that musculoskeletal disorders were most commonly found in children aged 4 to 6 years (Daniusevičiutė-Brazaitė & Grėbliauskienė, 2019). Therefore, if these negative trends continue, the growing health problems will pose a greater threat to human well-being and become a serious financial burden for the state and society. Currently technologies are an integral part of everyday life, so the need for interactive games or animated programs cannot be doubted. Research (Lobel, Engels, Stone, Burk, & Granic, 2017) has shown that the use of play-based intervention for children significantly improves fine and visual motor performance. Hence, it is important to identify the possible factors affecting pre-school children's irregular posture formation.
Methods. The study included 377 preschool children from 4 to 6 years old. Three evaluations were performed in the study: posture (using W. K. Hoeger posture assessment methodology), abdominal and back muscle endurance, and balance (Arcinavičius,, Kesminas, & Milčarek, 2004).
Results. Assessing the results of the shoulder position of 5-year-old children, results showed that only 16% had good shoulder posture, satisfactory – 74%, bad – 10%. Age was found to have no effect on posture assessment results. According to the study, balance, back, and abdominal functional capacity were better in 6-year-old children.
Conclusion. After analyzing 4-year old children group torso, abdomen, lower spine and legs, we can see that a higher percentage of children had a satisfactory posture in the aforementioned body parts. According to the posture results, the most abnormal part of the body was the abdomen. The study data showed that 6-year-old subjects' balance, lower spine and abdominal performance were better compared to other age groups.
Keywords: preschool child, physical activity, posture.
Downloads
Download data is not yet available.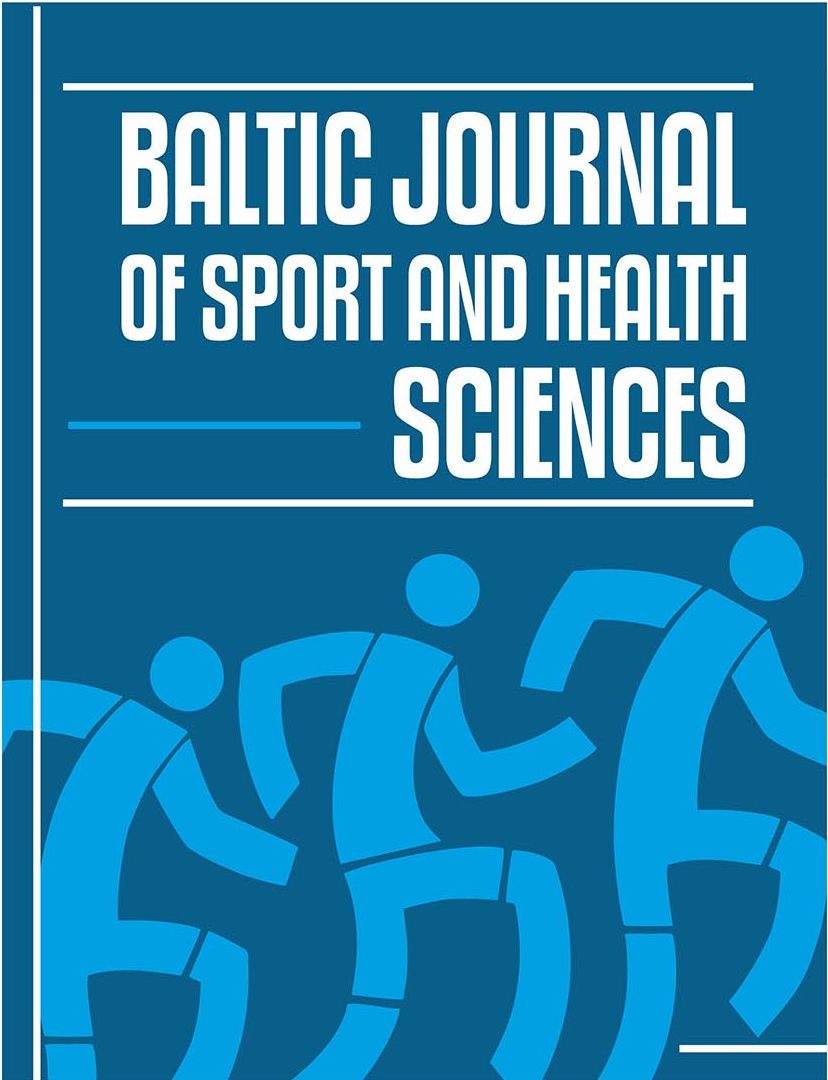 Downloads
How to Cite
Daniusevičiūtė-Brazaitė, L. ., & Beistarytė, R. . (2020). Possible Factors Affecting Pre-School Children's Irregular Posture Formation. Baltic Journal of Sport and Health Sciences, 3(118), 19-24. https://doi.org/10.33607/bjshs.v3i118.968
Section
Health, Rehabilitation and Adapted Physical Activity
License
Each Article is an original contribution and not plagiarized/copied from any source/individual. It does not contravene on the rights of others and does not contain any libellous or unlawful statements and all references have been duly acknowledged at the appropriate places.
The article submitted only to Baltic Journal of Sport and Health Science, and it has not been previously published or submitted elsewhere for publication in a copyrighted publication.
The Author hereby authorizes the journal to edit, modify and make changes in the Articles/Research paper to make it suitable for publication in Baltic Journal of Sport and Health Science.
The Author hereby assigns all the copyright relating to the said Article/Research Paper to Baltic Journal of Sport and Health Science.
The Author has not assigned any kind of rights to the above said Article/Research Paper to any other person/Institute/Publication.
The Author agrees to indemnify Baltic Journal of Sport and Health Science against any claim legal and/or otherwise, action alleging facts which if true, constitute a beach of any of the foregoing warranties.