Learning Environment in Physical Education in Šakiai and Šakiai District: Comparative Analysis
Abstract
Background. According to various research publications, physical education teachers work in the environment
where  the  teaching process  is  often  hindered by  low  physical  education subject status,  insufficient number  and
quality of lessons, lack of facilities and equipment for learning and the environment which is neither functional nor
safe or hygienic. Concerned about pupils' physical activity decrease in secondary schools, Education and Sports
Department of Šakiai District Municipality submitted a request to Physical Education study programme director
of Lithuanian Sports University to carry out research revealing the existing situation about physical education and
sports infrastructure in Šakiai district secondary schools. The aim of our study was to compare physical education
environment in Šakiai and Šakiai district high schools, junior gymnasiums and lower secondary schools.
Methods.  We  used  a  questionnaire  for  the  survey  drafted  in  the  international  study  by  Sport  Science  and
Physical Education Council (ICSSPE / IOC) (Hardman & Marshall, 2009) and other references. During the study,
we interviewed 13 physical education teachers from 14 Šakiai city and Šakiai district schools (2 women and 11 men).
Results. The quality of learning tools in city schools was seen as excellent or good, while the quantity was also
seen only as extensive or above average. Obtained results in the district schools varied, but most of them indicated
that the quality (33%) and quantity (50%) was only adequate or sufficient. Physical education subject status in
comparison with other subjects in half of the city schools was seen as the same and in the other half – as lower.
In most schools in the district, it was seen as the same (92%). City schools did not lack hygienic equipment, but a
significant number of district schools did not have changing rooms with lockers and hangers (33%) and showers
(25%). In the district schools that had showers, they were not used in 56% of them.
Conclusions. Schools in the city are supplied with more and better teaching tools and equipment. Physical
Education subject status in half of city schools is perceived as inferior to other subjects. Hygiene conditions in city
schools are good compared to the district schools, where they are poor.
Keywords:  physical education, learning equipment, learning environment, status, hygiene conditions.
Downloads
Download data is not yet available.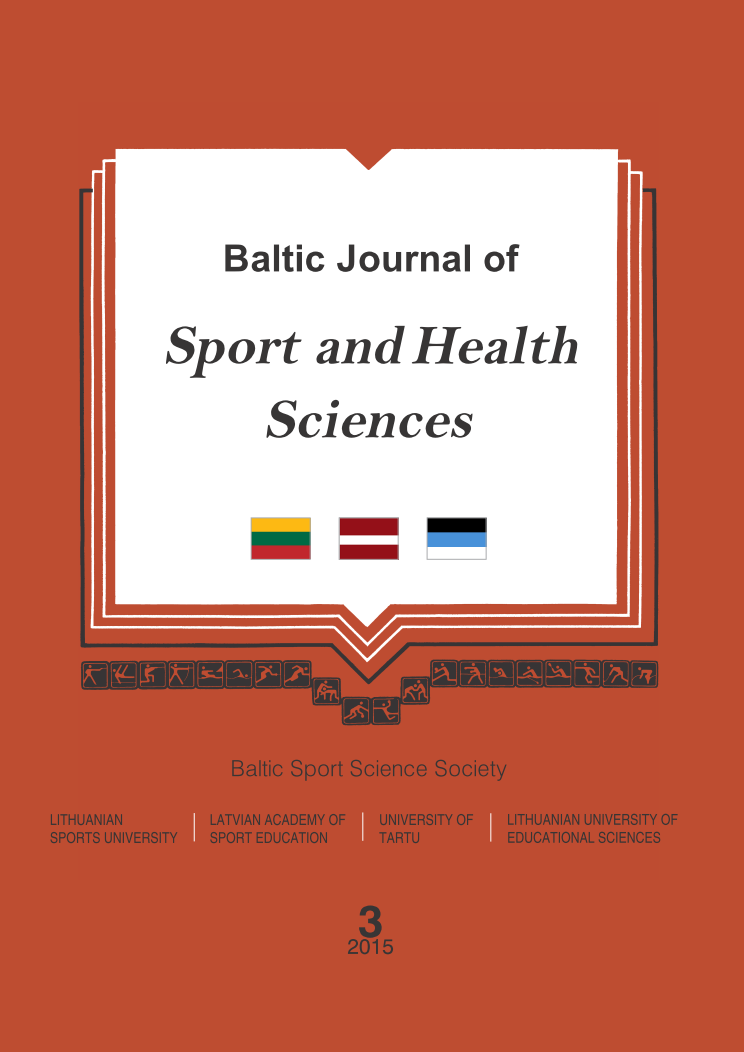 Downloads
How to Cite
Trinkūnienė, L., & Vensas, E. (2018). Learning Environment in Physical Education in Šakiai and Šakiai District: Comparative Analysis. Baltic Journal of Sport and Health Sciences, 3(98). https://doi.org/10.33607/bjshs.v3i98.94
Section
Social Sciences in Sport
License
Each Article is an original contribution and not plagiarized/copied from any source/individual. It does not contravene on the rights of others and does not contain any libellous or unlawful statements and all references have been duly acknowledged at the appropriate places.
The article submitted only to Baltic Journal of Sport and Health Science, and it has not been previously published or submitted elsewhere for publication in a copyrighted publication.
The Author hereby authorizes the journal to edit, modify and make changes in the Articles/Research paper to make it suitable for publication in Baltic Journal of Sport and Health Science.
The Author hereby assigns all the copyright relating to the said Article/Research Paper to Baltic Journal of Sport and Health Science.
The Author has not assigned any kind of rights to the above said Article/Research Paper to any other person/Institute/Publication.
The Author agrees to indemnify Baltic Journal of Sport and Health Science against any claim legal and/or otherwise, action alleging facts which if true, constitute a beach of any of the foregoing warranties.