ST-Segment Depression is an Important Index of Cardiovascular Functional State during Exercising in Non-Athletes' Cohort
Abstract
Research background. The hypothesis for this study was that functional ischemic episodes in cardiac muscle
during intensive exercising are characteristic of non-athletes and research aim was to find out if individual functional
fitness could be revealed by registering ST-segment depression during various type of exercising.
Methods.  Non-athletes  and  well-trained  runners  were  involved  in  the  study. Three  separate  studies  (first  –
increasing intensity of exercising; second – intensive exercise bout; third – continuous aerobic exercising) were
performed. Twelve leads EGC were registered; heart rate (HR) and ST-segment depression were taken for analysis.
Results. Elite runners exhibited better functional fitness, i.e. were able to perform higher increase in workload,
and lower HR values during the same intensity of exercising. The significant differences between cohorts were
observed in the dynamics of ST-segment depression. There were no significant changes at onset of incremental
exercising in both cohorts, but after reaching some intensity of exercising transient ischemic episodes were registered
in the cohort of non-athletes (the first study ). The same type of differences between cohorts was observed at onset
of maximal vertical jumping (the second study) and even during the performance of continuous aerobic exercising
(the third study).
Conclusions. Functional ischemic episodes in cardiac muscle during exercising is characteristic of non-athletes
but not of well-trained athletes, and the ST-segment depression could be used as an important index of ECG in the
formation of feedback about exercise dosage control during health promotion exercising.
Keywords:   monitoring, heart rate, ST-segment depression
Downloads
Download data is not yet available.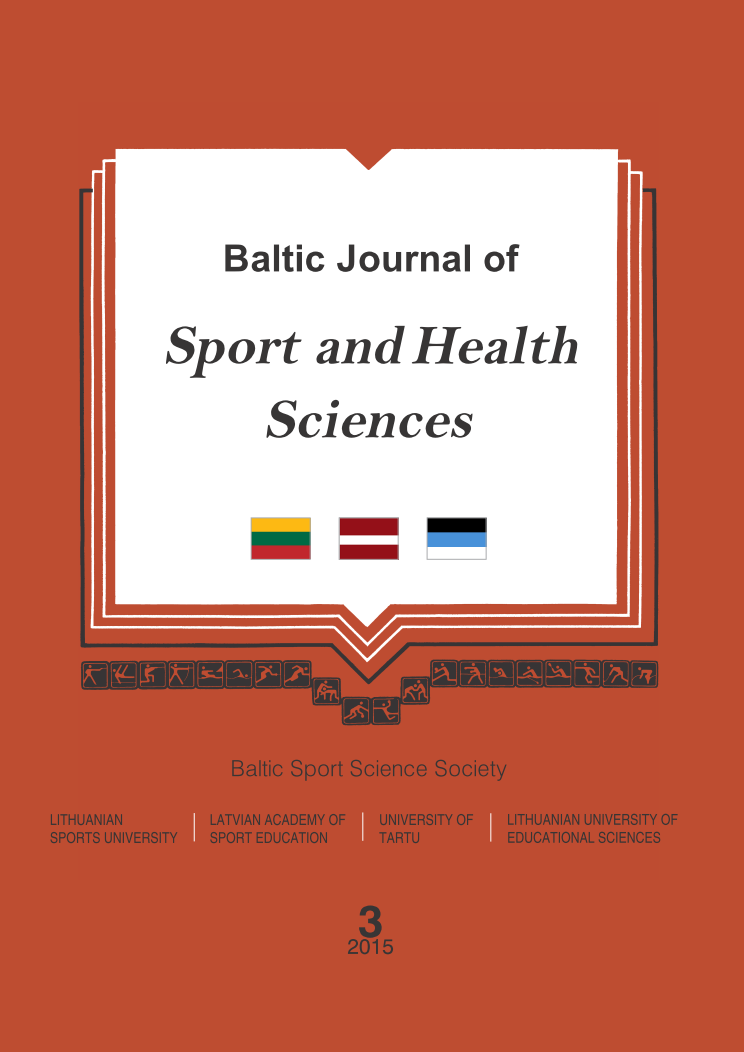 Downloads
How to Cite
Poderys, J., Trinkūnas, E., Poderienė, K., & Buliuolis, A. (2018). ST-Segment Depression is an Important Index of Cardiovascular Functional State during Exercising in Non-Athletes' Cohort. Baltic Journal of Sport and Health Sciences, 3(98). https://doi.org/10.33607/bjshs.v3i98.92
Section
Sports Physiology
License
Each Article is an original contribution and not plagiarized/copied from any source/individual. It does not contravene on the rights of others and does not contain any libellous or unlawful statements and all references have been duly acknowledged at the appropriate places.
The article submitted only to Baltic Journal of Sport and Health Science, and it has not been previously published or submitted elsewhere for publication in a copyrighted publication.
The Author hereby authorizes the journal to edit, modify and make changes in the Articles/Research paper to make it suitable for publication in Baltic Journal of Sport and Health Science.
The Author hereby assigns all the copyright relating to the said Article/Research Paper to Baltic Journal of Sport and Health Science.
The Author has not assigned any kind of rights to the above said Article/Research Paper to any other person/Institute/Publication.
The Author agrees to indemnify Baltic Journal of Sport and Health Science against any claim legal and/or otherwise, action alleging facts which if true, constitute a beach of any of the foregoing warranties.