Interfaces of Student Lifestyle and Perceived Stress
Abstract
Background. It is becoming obvious that healthy lifestyle of students in higher education institutions is an important factor contributing to the duration of their professional career as well as for general health (Bolotin & Bakayev, 2015). High academic expectations increase tension and pose a threat to physical and mental health of students (Shamsuddin et al., 2013). During studies young people are more vulnerable to developing harmful habits, they do not follow proper nutrition, and do not look after their health (Tarejeva, Žagminas, & Serapinas, 2015), therefore, it is important to understand the association between lifestyle of a young person and daily perceived stress.
Methods. The study included 155 students of the Lithuanian Sports University. In order to establish nutrition and harmful habits among students, the analysis of nutrition and harmful habits questionnaire was used. Physical activity of students was evaluated using the short version of the International Physical Activity Questionnaire (IPAQ-LT). The analysis of stress was based on the questionnaire using the Stress in Academic Life Scale. The results were processed using methods of mathematical statistics. The statistical analysis of the data was performed using the SPSS software version 23.0.
Results. Statistically significant difference of physical activity was determined between genders – females were more active than males (p < .05). The frequency of the consumption of breakfast, sweets, meat, beer, and wine statistically significantly differed between females and males (p < .05). Perceived stress of students was associated with physical activity, consumption of cereal grains, sweets, carbonated beverages, and smoking (p < .05).
Conclusions. The majority of students were sufficiently physically active. Females more frequently had breakfast, consumed sweets, while males more frequently consumed meat. Regular breakfast consumption was reported by 88.6% of females and 73.1% of males. Males more frequently had intake of beer, while females – wine. Significant relationship between perceived stress and physical activity among students was determined in the study.
 Keywords: students, stress, nutrition, physical activity, harmful habits.
Downloads
Download data is not yet available.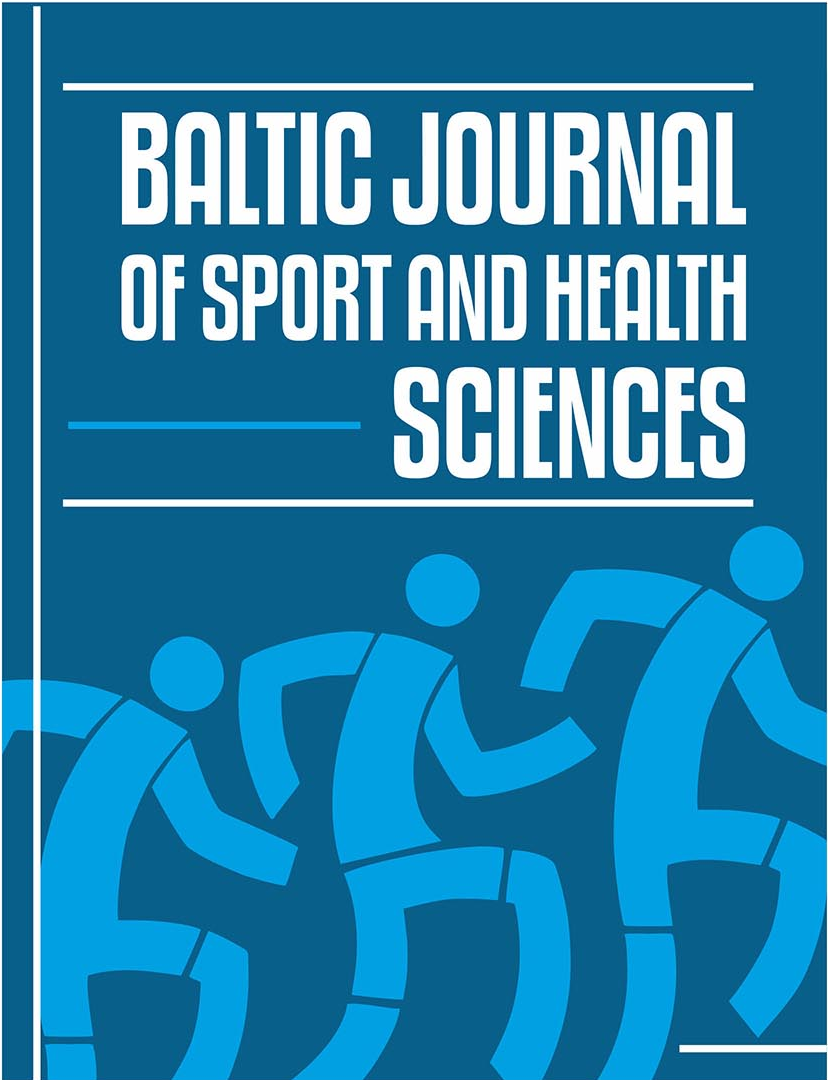 Downloads
How to Cite
Vizbaraitė, D., Stanionytė, G., & Ossowsky, Z. (2020). Interfaces of Student Lifestyle and Perceived Stress. Baltic Journal of Sport and Health Sciences, 2(117). https://doi.org/10.33607/bjshs.v2i117.913
Section
Health, Rehabilitation and Adapted Physical Activity
License
Each Article is an original contribution and not plagiarized/copied from any source/individual. It does not contravene on the rights of others and does not contain any libellous or unlawful statements and all references have been duly acknowledged at the appropriate places.
The article submitted only to Baltic Journal of Sport and Health Science, and it has not been previously published or submitted elsewhere for publication in a copyrighted publication.
The Author hereby authorizes the journal to edit, modify and make changes in the Articles/Research paper to make it suitable for publication in Baltic Journal of Sport and Health Science.
The Author hereby assigns all the copyright relating to the said Article/Research Paper to Baltic Journal of Sport and Health Science.
The Author has not assigned any kind of rights to the above said Article/Research Paper to any other person/Institute/Publication.
The Author agrees to indemnify Baltic Journal of Sport and Health Science against any claim legal and/or otherwise, action alleging facts which if true, constitute a beach of any of the foregoing warranties.