Relationship between Muscle Strength of Dominant and Non-Dominant Ankle and Dynamic Balance in Football Players
Abstract
Background. Developing lower extremity muscles in a proportional shape plays an important role of balanced
body  movement. It  is  believed that  special development of  muscles  which  provide  multidirectional movements
of ankle will contribute to the increase of balance ability, and this may significantly support the improvement of
technical skill performance in football. The aim of the research was to examine the ability to keep dynamic balance
and ankle joint muscle strength in football players, and to prove the relation between the ankle joint muscle strength
level and the dynamic balance ability of each foot.
Methods. The participants were amateur footballers (n = 17, football experience 10 ± 1.4years, weekly training
12 ± 1.3 h). "WFQ-R poll" questionnaire was used to determine the participants' dominant and non-dominant limb,
the dynamic balance was assessed using "Tecnobody Pro-Kin Type B 252" (Italy) device and ankle joint muscle
strength was measured using an isokinetic dynamometer "Cybex Norm" (USA).
Results. Significant differences (p < .05) were found between limbs for ankle plantar flexors, in non-dominant
limb plantar flexors were stronger. Dynamic balance ability for dominant foot was better in comparison with non-
dominant foot. The correlation was found between ankle plantar flexors, evertors, invertors and between dorsal and
plantar flexors for both limbs.
Conclusions. Strength improvement of muscles affects the movement of the ankle dynamic balance positively,
but for the development of static and dynamic balance, proprioceptive balance training is as effective as strength
training.
Keywords:  lower limbs, peak torque, balance, asymmetry.
Downloads
Download data is not yet available.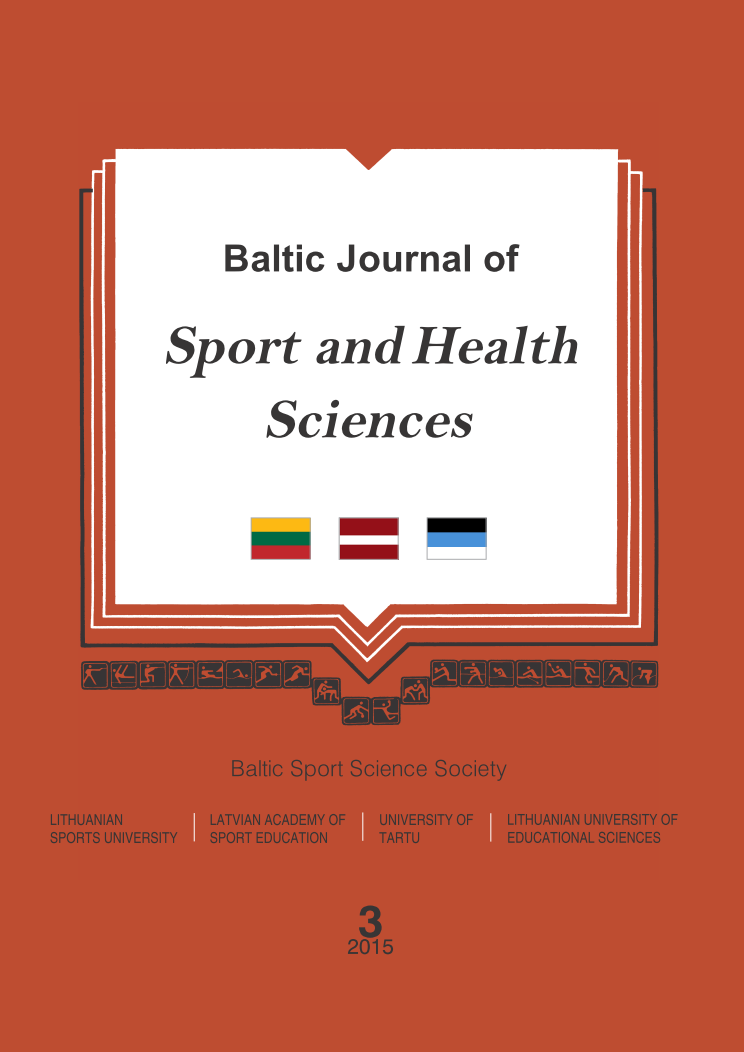 Downloads
How to Cite
Isbilir, M., Zuša, A., Oral, O., & Cabuk, R. (2015). Relationship between Muscle Strength of Dominant and Non-Dominant Ankle and Dynamic Balance in Football Players. Baltic Journal of Sport and Health Sciences, 3(98). https://doi.org/10.33607/bjshs.v3i98.90
License
Copyright (c) 2018 Baltic Journal of Sport and Health Sciences
This work is licensed under a Creative Commons Attribution 4.0 International License.