Efficiency of Orthopaedic Brace with Laser on Knee Joint Function, Pain and Swelling
Abstract
Background. The effectiveness of outpatient mobile laser intervention on specific treatment goals has not been
fully explored. Thus, the aim of the study was to examine the effect of orthopaedic knee brace with laser on knee
joint function, pain and swelling.
Methods. Volunteers were divided into two experimental groups: chronic pain (n = 20, knee pain > 6 months)
and acute pain (n = 20, knee pain < 1 week), and one control (n = 20, placebo) group. Subjects in all groups were
immobilized in a knee brace for 4 weeks. In addition, the experimental groups underwent low-intensity laser therapy,
whereas control group underwent pseudo-laser therapy, every second day for 10 min. The sequences of the tests
were as follows: (a) clinical assessments and evaluation of knee extension and flexion amplitude, swelling, Lysholm
subjective assessment questionnaire, VAS pain scale, (b) evaluation of balance using Kistler platform, (c) muscle
peak torque and isometric torque variability assessment using isokinetic dynamometry. All tests were performed
twice - before and after intervention.
Results. Knee brace with laser is effective treatment for the reduction of pain, swelling, and recovering of daily
functions (p < .05). Operation of the complex device is particularly effective in treating knee pain in the acute period
(p < .05).
Conclusions.  Knee  brace  with  laser  therapy  in  the  rehabilitation  period  ensures  faster  healing  of  patients
compared to wearing only knee brace, particularly in acute pain, while muscle strength and proprioception remains
depressed.
Keywords:  mobile laser therapy, range of motion, swelling, muscle strength, proprioception.
Downloads
Download data is not yet available.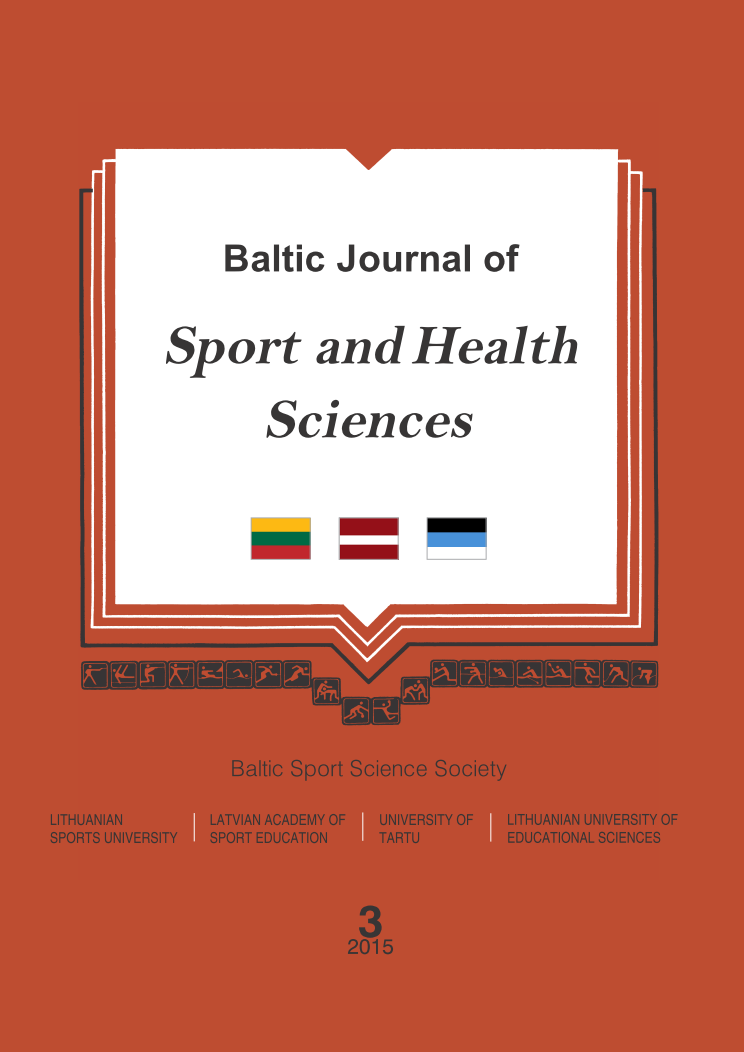 Downloads
How to Cite
Indriulionis, T., Raistenskis, J., Saniukas, K., Garšvienė, R., Zacharenko, V., Vaičikauskas, V., Kamandulis, S., Sniečkus, A., Česnaitienė, V. J., Kielė, D., Baranauskienė, N., Eimantas, N., Solianik, R., Mickevičius, M., Skurvydas, A., Streckis, V., & Šermukšnienė, R. Žumbakytė. (2018). Efficiency of Orthopaedic Brace with Laser on Knee Joint Function, Pain and Swelling. Baltic Journal of Sport and Health Sciences, 3(98). https://doi.org/10.33607/bjshs.v3i98.89
Section
Health, Rehabilitation and Adapted Physical Activity
License
Each Article is an original contribution and not plagiarized/copied from any source/individual. It does not contravene on the rights of others and does not contain any libellous or unlawful statements and all references have been duly acknowledged at the appropriate places.
The article submitted only to Baltic Journal of Sport and Health Science, and it has not been previously published or submitted elsewhere for publication in a copyrighted publication.
The Author hereby authorizes the journal to edit, modify and make changes in the Articles/Research paper to make it suitable for publication in Baltic Journal of Sport and Health Science.
The Author hereby assigns all the copyright relating to the said Article/Research Paper to Baltic Journal of Sport and Health Science.
The Author has not assigned any kind of rights to the above said Article/Research Paper to any other person/Institute/Publication.
The Author agrees to indemnify Baltic Journal of Sport and Health Science against any claim legal and/or otherwise, action alleging facts which if true, constitute a beach of any of the foregoing warranties.