Cardiovascular Changes Depending on Exercising: Strength Exercise or Nordic Walking
Abstract
Background. The aim of the study was to compare the acute training effect on the cardiovascular changes under
influence of different kinds of health enhancing exercising.
Methods. Ten healthy males carried out two health promotion sessions by applying strength type exercising or
Nordic-walk. Cardiovascular functional state was assessed before the training session and 30 minutes after the health
promotion session by continuous 12-lead ECG recording while performing a Roufier Test (30 squats per 45 s) and
by measuring arterial blood pressure.
Results. A significant increase in the heart rate at rest was registered after the training session both after the gym
training and after Nordic-walking session and reduced diastolic blood pressure values were recorded at rest and after
the exercise stress test. If prior to the exercise sessions transient ischemic episode in some subjects was registered,
after the training sessions the ischemic episodes were less expressed.
Conclusion. Comparing the Nordic walking exercise effects with the effects of strength training exercising
during the training session, less increased heart rate and systolic blood pressure were observed; a significantly higher
decrease in the diastolic blood pressure, and a significantly lower degree on the short-term effects of functional
ischemic myocardium were recorded.
Keywords: Nordic walking, strength exercise, cardiovascular system.
Downloads
Download data is not yet available.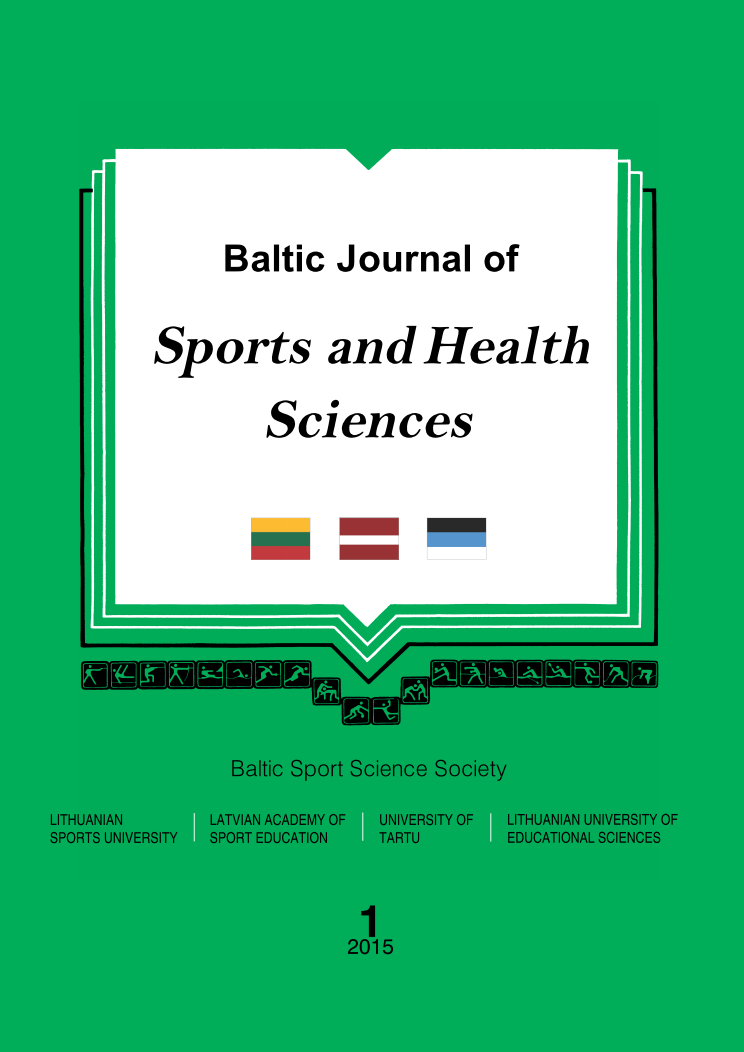 Downloads
How to Cite
Ščevinskaitė, Živilė, Trinkūnas, E., & Poderienė, K. (2018). Cardiovascular Changes Depending on Exercising: Strength Exercise or Nordic Walking. Baltic Journal of Sport and Health Sciences, 1(96). https://doi.org/10.33607/bjshs.v1i96.79
Section
Sports Physiology
License
Each Article is an original contribution and not plagiarized/copied from any source/individual. It does not contravene on the rights of others and does not contain any libellous or unlawful statements and all references have been duly acknowledged at the appropriate places.
The article submitted only to Baltic Journal of Sport and Health Science, and it has not been previously published or submitted elsewhere for publication in a copyrighted publication.
The Author hereby authorizes the journal to edit, modify and make changes in the Articles/Research paper to make it suitable for publication in Baltic Journal of Sport and Health Science.
The Author hereby assigns all the copyright relating to the said Article/Research Paper to Baltic Journal of Sport and Health Science.
The Author has not assigned any kind of rights to the above said Article/Research Paper to any other person/Institute/Publication.
The Author agrees to indemnify Baltic Journal of Sport and Health Science against any claim legal and/or otherwise, action alleging facts which if true, constitute a beach of any of the foregoing warranties.