Gender Differences Related to Lifestyle Behaviour of University Students
Abstract
Background. A healthy lifestyle is the one of the most relevant subjects in a modern society comprising three factors – healthy diet, sufficient physical activity, and absence of harmful habits (Strukčinskienė et al., 2014). It has been pointed out that healthy lifestyle behavioural patterns contribute to the prevention of diabetes mellitus type II, cardiovascular, and oncological diseases (Javtokas et al., 2014).
Studies performed in different countries have discovered that students' dietary habits do not correspond to the recommendations of the World Health Organization on healthy diet (Akhtar Zareen, & Sarmad, 2018; Česnavičienė, Proškuvienė, & Motiejūnaitė, 2015). In their study, Sigmundova, Chmelik, Sigmund, Feltlova, & Frömel (2013) found that the lowest level of physical activity was reached by only two thirds of students.  The prevalence of harmful habits was also very high: more than half of students used tobacco during the last 12 months, and about 92% of students used alcohol over the last year (Dobrovolskij & Stukas, 2014).
Literature review revealed that recently a number of studies analysing students' lifestyle patterns were performed, however, there is still a lack of studies on lifestyle behaviour among the Lithuanian Sports University students.
Methods. Questionnaires and statistical analysis.
Results. The results showed that meat consumption was indicated by twice more males than females (p < .05). More males consumed ice cream, while yoghurt was preferred more frequently by females (p < .05). Fried potatoes were used more frequently by males (p < .05). With the respect to sedentary lifestyle, high intensity activity and moderate intensity activity, there were no differences between males and females, however, more females than males walked (p < .05). Beer consumption was more prevalent between males while wine consumption was more common between females (p < .05).
Downloads
Download data is not yet available.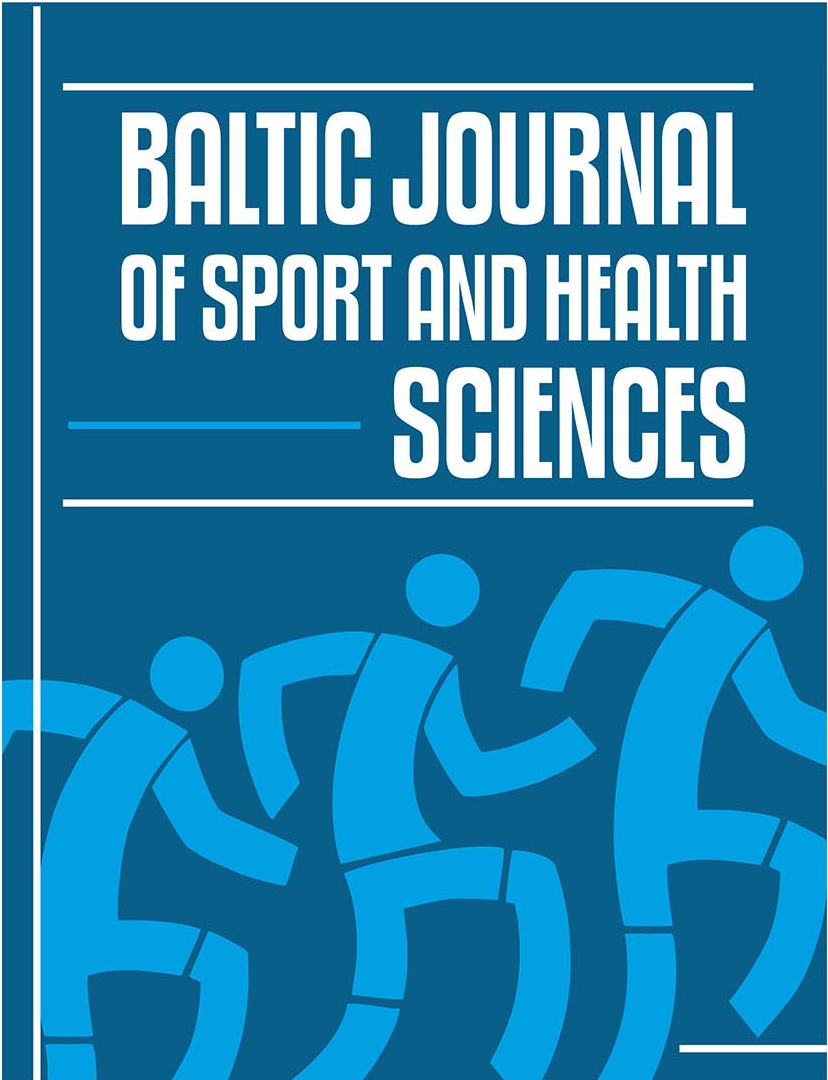 Downloads
How to Cite
Vizbaraitė, D., Kleivaitė, J., & Mickevičius, V. (2019). Gender Differences Related to Lifestyle Behaviour of University Students. Baltic Journal of Sport and Health Sciences, 2(113). https://doi.org/10.33607/bjshs.v2i113.786
Section
Social Sciences in Sport
License
Each Article is an original contribution and not plagiarized/copied from any source/individual. It does not contravene on the rights of others and does not contain any libellous or unlawful statements and all references have been duly acknowledged at the appropriate places.
The article submitted only to Baltic Journal of Sport and Health Science, and it has not been previously published or submitted elsewhere for publication in a copyrighted publication.
The Author hereby authorizes the journal to edit, modify and make changes in the Articles/Research paper to make it suitable for publication in Baltic Journal of Sport and Health Science.
The Author hereby assigns all the copyright relating to the said Article/Research Paper to Baltic Journal of Sport and Health Science.
The Author has not assigned any kind of rights to the above said Article/Research Paper to any other person/Institute/Publication.
The Author agrees to indemnify Baltic Journal of Sport and Health Science against any claim legal and/or otherwise, action alleging facts which if true, constitute a beach of any of the foregoing warranties.