Indicators of Body Reserve Opportunities for Young Gymnasts as One of the Factors for Successful Development of Initial Specialized Training
Abstract
Background. The article deals with the problem of selection in gymnastics and the reasons why it is necessary
to research that. Artistic gymnastics carries the heaviest losses on the initial stages of specialized training, which
explains the lack of science-based regulatory requirements in the gymnastics system, allowing diagnosing, assessing
and predicting the development of the main indicators of physical condition and fitness of athletes in complex.
Research aim was to develop additional criteria of young gymnasts' selection at the initial stage of specialized
training on the basis of the indicators of human body reserve opportunities.
Methods. Experimental work was carried out with gymnasts aged 9 years (n = 15) and 10 years (n = 16) in the
research laboratory of Povolzhskaya State Academy of Physical Culture, Sport and Tourism and sports complex "Yar
Chally" in Naberezhnye Chelny, Republic of Tatarstan (Russia).
Results. Gymnasts aged 9–10 years had a harmonious type of power supply of the body: more gymnasts had
aerobic-anaerobic type of muscular activity power supply. Gymnasts who qualified in the obligatory program of
category 3 on pommel horse equally represented only the second and the third biological groups.
The results of correlation analysis suggest that for gymnasts aged 9 years, the most significant factors affecting
their special physical and technical fitness included aerobic capacity source of muscle activity energy supply and
general metabolic capacity and for gymnasts aged 10 years – capacity and anaerobic power glycolytic sources of
energy and muscular activity.
Discussion and conclusions. Obtained information on the preferred for gymnastics bioenergy groups can help
coaches in predicting abilities of young gymnasts.
Keywords:  sportspeople, gymnasts, selection, model descriptions, indicators of reserve opportunities.
Downloads
Download data is not yet available.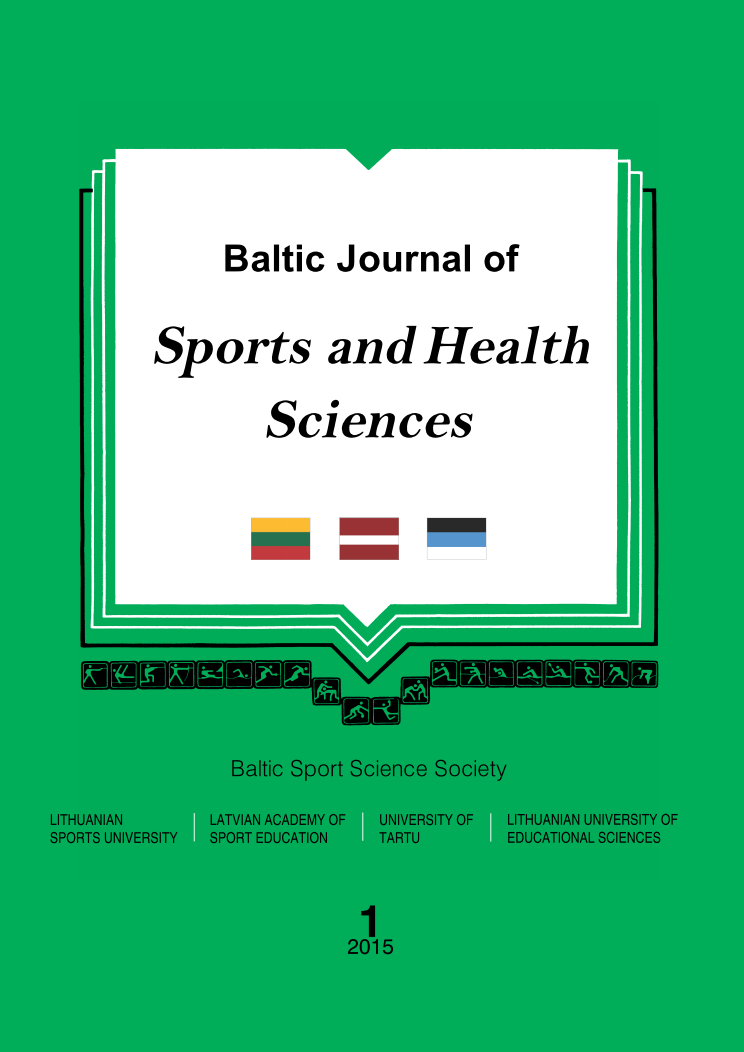 Downloads
How to Cite
Kuznetsova, Z., Dauletshin, I., & Kuznetsov, S. (2018). Indicators of Body Reserve Opportunities for Young Gymnasts as One of the Factors for Successful Development of Initial Specialized Training. Baltic Journal of Sport and Health Sciences, 1(96). https://doi.org/10.33607/bjshs.v1i96.76
License
Each Article is an original contribution and not plagiarized/copied from any source/individual. It does not contravene on the rights of others and does not contain any libellous or unlawful statements and all references have been duly acknowledged at the appropriate places.
The article submitted only to Baltic Journal of Sport and Health Science, and it has not been previously published or submitted elsewhere for publication in a copyrighted publication.
The Author hereby authorizes the journal to edit, modify and make changes in the Articles/Research paper to make it suitable for publication in Baltic Journal of Sport and Health Science.
The Author hereby assigns all the copyright relating to the said Article/Research Paper to Baltic Journal of Sport and Health Science.
The Author has not assigned any kind of rights to the above said Article/Research Paper to any other person/Institute/Publication.
The Author agrees to indemnify Baltic Journal of Sport and Health Science against any claim legal and/or otherwise, action alleging facts which if true, constitute a beach of any of the foregoing warranties.