Relationship between Women`s Body Dissatisfaction, Sense of Coherence and Physical Activity
Abstract
Background. Socio-cultural pressure exerted by the environment and the media makes the majority of women
take care of their bodies. That is especially true in Western culture which promotes slimmer women in recent decades.
Methods. Two questionnaires were used in this research: Body Shape Questionnaire and Sense of Coherence
scale. Research participants were 79 women aged 34.6 ± 3.76 years.
Results. After six months of regular fitness classes women's satisfaction of their body and their sense coherence
level  improved  significantly.  Relations  between  body  shape  dissatisfaction  and  sense  of  coherence,  body  shape
dissatisfaction and manageability, comprehensibility and manageability were found.
Conclusions. Systematic fitness training positively affects women's satisfaction with their body. Understanding
of  the  capability  of  controlling  their  body  shape  was  improved.  There  was  a  significant  relationship  between
dissatisfaction with their body shape and sense of coherence. The effect of physical activity improved the values
of all three components of the sense of coherence construct. The values of comprehensibility, meaningfulness and
manageability indicators show that respondents may already have a better control of their sense of coherence.
Keywords: women, body shape dissatisfaction, sense of coherence, physical activity
Downloads
Download data is not yet available.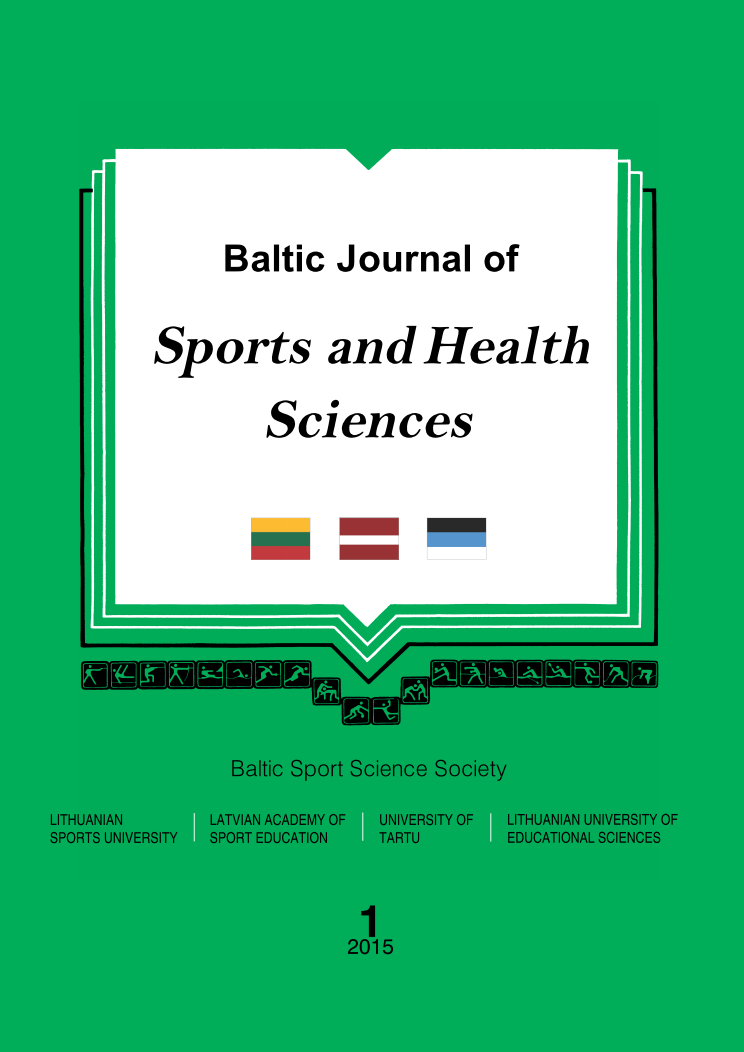 Downloads
How to Cite
Dumčienė, A., Gedvilienė, J., & Mickevičius, V. (2018). Relationship between Women`s Body Dissatisfaction, Sense of Coherence and Physical Activity. Baltic Journal of Sport and Health Sciences, 1(96). https://doi.org/10.33607/bjshs.v1i96.73
Section
Social Sciences in Sport
License
Each Article is an original contribution and not plagiarized/copied from any source/individual. It does not contravene on the rights of others and does not contain any libellous or unlawful statements and all references have been duly acknowledged at the appropriate places.
The article submitted only to Baltic Journal of Sport and Health Science, and it has not been previously published or submitted elsewhere for publication in a copyrighted publication.
The Author hereby authorizes the journal to edit, modify and make changes in the Articles/Research paper to make it suitable for publication in Baltic Journal of Sport and Health Science.
The Author hereby assigns all the copyright relating to the said Article/Research Paper to Baltic Journal of Sport and Health Science.
The Author has not assigned any kind of rights to the above said Article/Research Paper to any other person/Institute/Publication.
The Author agrees to indemnify Baltic Journal of Sport and Health Science against any claim legal and/or otherwise, action alleging facts which if true, constitute a beach of any of the foregoing warranties.