The Impact of Exercise Training in the Treatment of Drug Addiction. the Role of Changes in Neurotransmitters
Abstract
Background. Dopamine and serotonin including are among neurotransmitters involved in addiction to drugs such as the methamphetamine, which suffered cause major damage. This study aimed to investigate the effect of exercise training in the treatment of drug addiction with respect to the changes in neurotransmitters). Methods. In this study, English and Persian databases including Magiran, SID, Google Scholar, PubMed and Scopus were searched, using keywords such as Exercise, Neurotransmitter, Health Treatment and Patient Addiction. Related articles published during 1986–2017 were assessed. Prevalence of depression in diabetic patients, as well as the relationship between depression and different variables including age, sex, and marital status, was evaluated. This study presents a review of research that has examined the effects of exercise training on drug addiction. Results. Regular physical activity as aerobic and resistance training resulted in a signifcant increase in circulatory levels of serotonin and dopamine. Conclusion. Based on the results achieved by literature analysis and reliance on its major fndings it can be concluded that physical activity and exercise training can have an effect on the circulatory levels of both neurotransmitters, such as serotonin and dopamine in addicted people to drugs, and it can also be a helpful factor with respect to the considerations in the treatment of addiction and as well as physical and mental improvement of addicted people.
Keywords: addiction, exercise, health, neurotransmitter, treatment.
Downloads
Download data is not yet available.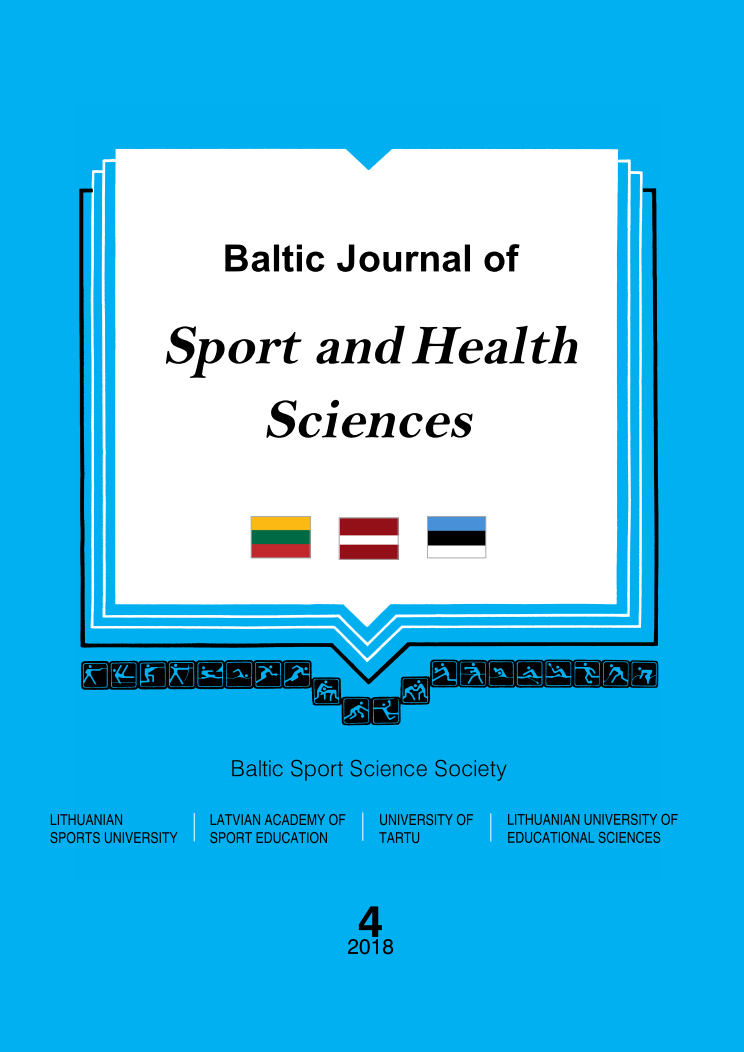 Downloads
How to Cite
Dadvand, S. S., & Arazi, H. (2018). The Impact of Exercise Training in the Treatment of Drug Addiction. the Role of Changes in Neurotransmitters. Baltic Journal of Sport and Health Sciences, 4(111). https://doi.org/10.33607/bjshs.v4i111.673
Section
Health, Rehabilitation and Adapted Physical Activity
License
Each Article is an original contribution and not plagiarized/copied from any source/individual. It does not contravene on the rights of others and does not contain any libellous or unlawful statements and all references have been duly acknowledged at the appropriate places.
The article submitted only to Baltic Journal of Sport and Health Science, and it has not been previously published or submitted elsewhere for publication in a copyrighted publication.
The Author hereby authorizes the journal to edit, modify and make changes in the Articles/Research paper to make it suitable for publication in Baltic Journal of Sport and Health Science.
The Author hereby assigns all the copyright relating to the said Article/Research Paper to Baltic Journal of Sport and Health Science.
The Author has not assigned any kind of rights to the above said Article/Research Paper to any other person/Institute/Publication.
The Author agrees to indemnify Baltic Journal of Sport and Health Science against any claim legal and/or otherwise, action alleging facts which if true, constitute a beach of any of the foregoing warranties.