Exploring Tennis Coaches' Insights in Relation to Their Teaching Styles
Abstract
Background. The aim of this study was to explore junior tennis coaches' insights in relation to teaching styles
they employ as well as the motivations and reasons that underpin these practices.
Methods. The research consisted of implementing interviews with the 13 tennis coaches. It employed purposive
or theoretical sampling. Semi-structured interviews commenced with a prearranged group of questions to permit
scope in direction so that the interviewer may follow what is considered as pertinent to the interviewee. The coaches
were filmed during three 30 minute sessions. Prior to the interviews, each of the coaches was requested to view a
portion of their video-recorded sessions. The interview data were analysed via deductive content analysis.
Results. The results highlighted a lack of knowledge concerning the theoretical and practical application of
various teaching styles required for coaching tennis to junior players. The coaches lacked self-awareness with regard
to their own coaching performance and were incapable of accurately describing the reasons why they implement
particular ways of coaching. Coaches used an assortment of terms to identify the way they coach and that their
decision to employ certain ways of coaching did not alter as a function of the age group, skill level or ability of
the players they were coaching. Observing and/or discussing aspects of coaching with a mentor as well as playing
experience had a greater influence on current coaching behaviour than attending an accreditation course.
Conclusion. The finding from this study is that the personally anticipated coaching behaviour of the coach was
not what they realised upon observation of their coaching.
Keywords: tennis, coaching, teaching, styles, game based.
Downloads
Download data is not yet available.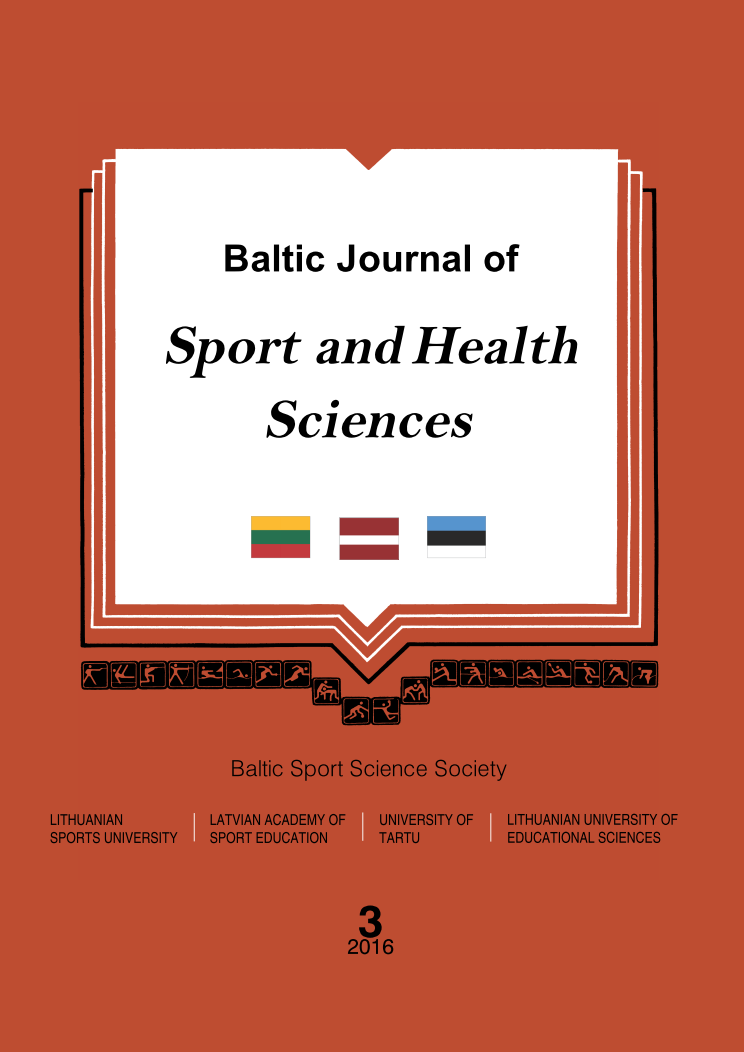 Downloads
How to Cite
Pill, S., Hewitt, M., & Edwards, K. (2018). Exploring Tennis Coaches' Insights in Relation to Their Teaching Styles. Baltic Journal of Sport and Health Sciences, 3(102). https://doi.org/10.33607/bjshs.v3i102.63
Section
Social Sciences in Sport
License
Each Article is an original contribution and not plagiarized/copied from any source/individual. It does not contravene on the rights of others and does not contain any libellous or unlawful statements and all references have been duly acknowledged at the appropriate places.
The article submitted only to Baltic Journal of Sport and Health Science, and it has not been previously published or submitted elsewhere for publication in a copyrighted publication.
The Author hereby authorizes the journal to edit, modify and make changes in the Articles/Research paper to make it suitable for publication in Baltic Journal of Sport and Health Science.
The Author hereby assigns all the copyright relating to the said Article/Research Paper to Baltic Journal of Sport and Health Science.
The Author has not assigned any kind of rights to the above said Article/Research Paper to any other person/Institute/Publication.
The Author agrees to indemnify Baltic Journal of Sport and Health Science against any claim legal and/or otherwise, action alleging facts which if true, constitute a beach of any of the foregoing warranties.