Muscle Wasting after 48 Hours of Food Deprivation Differs between Mouse Strains and is Promoted by Myostatin Dysfunction
Abstract
Background. Genetic factors play an important role in determining muscle mass. Indeed, myostatin dysfunction
is associated with a pronounced muscle hypertrophy. The aim of our study was to test the hypothesis that starvation
induced muscle wasting differs between BEH+/+ and C57BL/6J strains of mice and myostatin dysfunction prevents
muscle wasting in BEH strain.
Methods. 18-week-old males of C57BL/6J, BEH+/+ and BEH were subjected to 48 h food deprivation (FD).
C57BL/6J mice were representatives of classic mouse strain. BEH mice which differ from BEH+/+ mice by Compact
mutation in the Mstn gene represented a model for myostatin dysfunction.  All mice were divided into experimental
and control groups. The control groups consisted of mice fed ad libitum. Seven mice were studied in each group.
Mice were weighed before as well as 24 h and 48 h after FD which was followed by dissection and weighing of the
hindlimb skeletal muscle.
Results. BEH and BEH+/+ mice showed a similar (16.9 ± 1.4% vs. 19.3 ± 2.4%, p > .05) loss of body mass
while loss of body mass in C57BL/6J mice was the greatest (24.8 ± 1.9%, p < .001) after FD. The loss of muscle
mass was significant in both BEH (p < .001) and C57BL/6J (p < .01) mice, but it was below the level of significance
(p > .05) in BEH+/+ mice.
Conclusions. Myostatin dysfunction promotes muscle atrophy after FD. During short periods of FD, BEH+/+
mice are more resistant to body and muscle loss compared to C57BL/6J mice.
Keywords:  myostatin deficiency, food withdrawal, starvation, muscle atrophy.
Downloads
Download data is not yet available.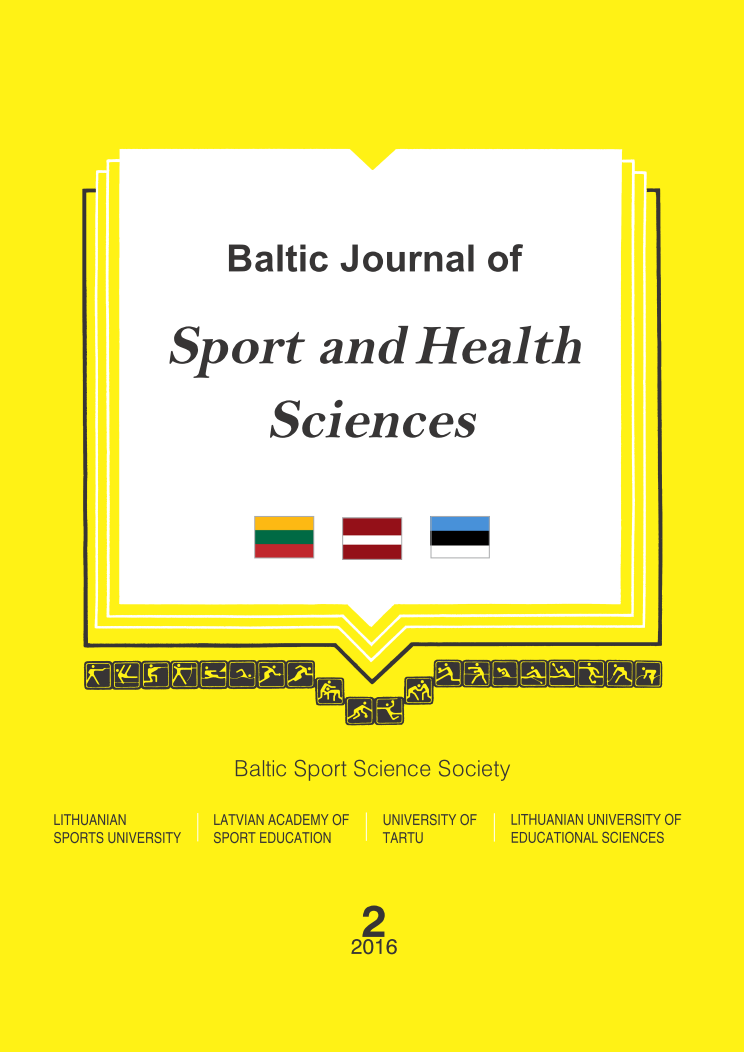 Downloads
How to Cite
Minderis, P., Libnickienė, I., & Ratkevičius, A. (2018). Muscle Wasting after 48 Hours of Food Deprivation Differs between Mouse Strains and is Promoted by Myostatin Dysfunction. Baltic Journal of Sport and Health Sciences, 2(101). https://doi.org/10.33607/bjshs.v2i101.56
Section
Sports Physiology
License
Each Article is an original contribution and not plagiarized/copied from any source/individual. It does not contravene on the rights of others and does not contain any libellous or unlawful statements and all references have been duly acknowledged at the appropriate places.
The article submitted only to Baltic Journal of Sport and Health Science, and it has not been previously published or submitted elsewhere for publication in a copyrighted publication.
The Author hereby authorizes the journal to edit, modify and make changes in the Articles/Research paper to make it suitable for publication in Baltic Journal of Sport and Health Science.
The Author hereby assigns all the copyright relating to the said Article/Research Paper to Baltic Journal of Sport and Health Science.
The Author has not assigned any kind of rights to the above said Article/Research Paper to any other person/Institute/Publication.
The Author agrees to indemnify Baltic Journal of Sport and Health Science against any claim legal and/or otherwise, action alleging facts which if true, constitute a beach of any of the foregoing warranties.