Activity of Upper Body Muscles in Double Poling and Skierg Workout
Abstract
Background. The aim of the study was to compare the involvement of upper body muscles during double poling
and SkiErg Concept 2 workout and verify its specificity for cross-country skiing.
Methods. Ten elite Czech cross-country skiers performed double poling and SkiErg workout. Electromyography
of selected upper body muscles and cycle characteristics were analysed. To monitor the electrical activity of muscles,
we used the device ME6000. Data were analysed using Mega Win and MATLAB software version R2012b.
Results.  Relative  poling  phase  during  double  poling  was  30.30  ±  2.02%  and  during  SkiErg  workout  54  ±
3.36%. Pre-activation of trunk flexors was significantly higher during double poling due to high and forward body
position before pole plant. Pre-activation of trunk flexors was not significantly different as pre-activation of shoulder
and elbow extensors during SkiErg workout. Deactivation of these muscles came significantly later during SkiErg
workout.
Conclusion.  SkiErg  cannot  be  considered  a  specific  training  method  for  cross-country  skiing.  It  can  be
recommended to obtain specific power, but long-term application may cause disruption of double poling technique,
especially timing of trunk flexors, shoulder and elbow extensors.
Keywords:  cross country skiing, double poling, SkiErg, upper body, EMG.
Downloads
Download data is not yet available.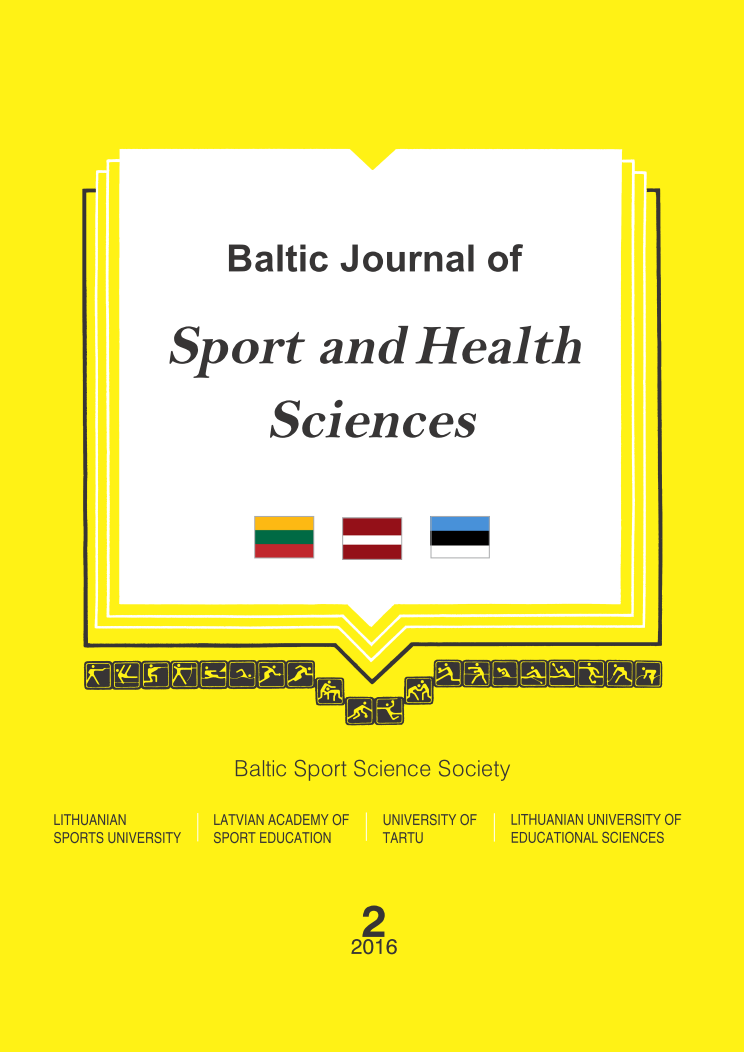 Downloads
How to Cite
Horyna, R., Bačáková, R., Chrástková, M., Sedlák, J., Čmejla, R., & Kračmar, B. (2018). Activity of Upper Body Muscles in Double Poling and Skierg Workout. Baltic Journal of Sport and Health Sciences, 2(101). https://doi.org/10.33607/bjshs.v2i101.53
Section
Sports Physiology
License
Each Article is an original contribution and not plagiarized/copied from any source/individual. It does not contravene on the rights of others and does not contain any libellous or unlawful statements and all references have been duly acknowledged at the appropriate places.
The article submitted only to Baltic Journal of Sport and Health Science, and it has not been previously published or submitted elsewhere for publication in a copyrighted publication.
The Author hereby authorizes the journal to edit, modify and make changes in the Articles/Research paper to make it suitable for publication in Baltic Journal of Sport and Health Science.
The Author hereby assigns all the copyright relating to the said Article/Research Paper to Baltic Journal of Sport and Health Science.
The Author has not assigned any kind of rights to the above said Article/Research Paper to any other person/Institute/Publication.
The Author agrees to indemnify Baltic Journal of Sport and Health Science against any claim legal and/or otherwise, action alleging facts which if true, constitute a beach of any of the foregoing warranties.