Reduced Citrate Synthase Activity Effect on Oxygen Consumption Rates in Isolated Mitochondria from Mice Liver and Muscles
Abstract
Background. Liver and skeletal muscles play the major role in metabolism. Mitochondria are of particular
importance in functioning of these organs. We tested the hypothesis that reduced citrate synthase (CS) activity could
induce improved fatty substrate and carbohydrate oxidation in mitochondria extracted from liver and hind limb
muscles of mice.
Methods. Eight mice each of 12-week-old control C57B6/J (B6) and congenic B6.A-(rs3676616-D10Utsw1)/
Kjn (B6.A) mice were studied. The mitochondria were isolated by differential centrifugation method followed by
assessment of mitochondrial respiration and citrate synthase (CS) activity. Mitochondrial respiration was measured
as oxygen consumption with Clark-type oxygen electrode by using polarography system. CS enzyme activity was
measured spectrophotometrically.
Results. The activity of CS was by ~32% lower for mitochondria for B6.A compared to B6 mice (603.9 ± 135.6 U/g
and 894.2 ± 193.2 U/g, respectively). Mitochondrial respiration did not differ significantly between the strains.
Conclusions. 30% reduction in citrate synthase activity does not impair mitochondrial respiration.
Keywords:  mitochondrial respiration, insulin resistance, β-oxidation.
Downloads
Download data is not yet available.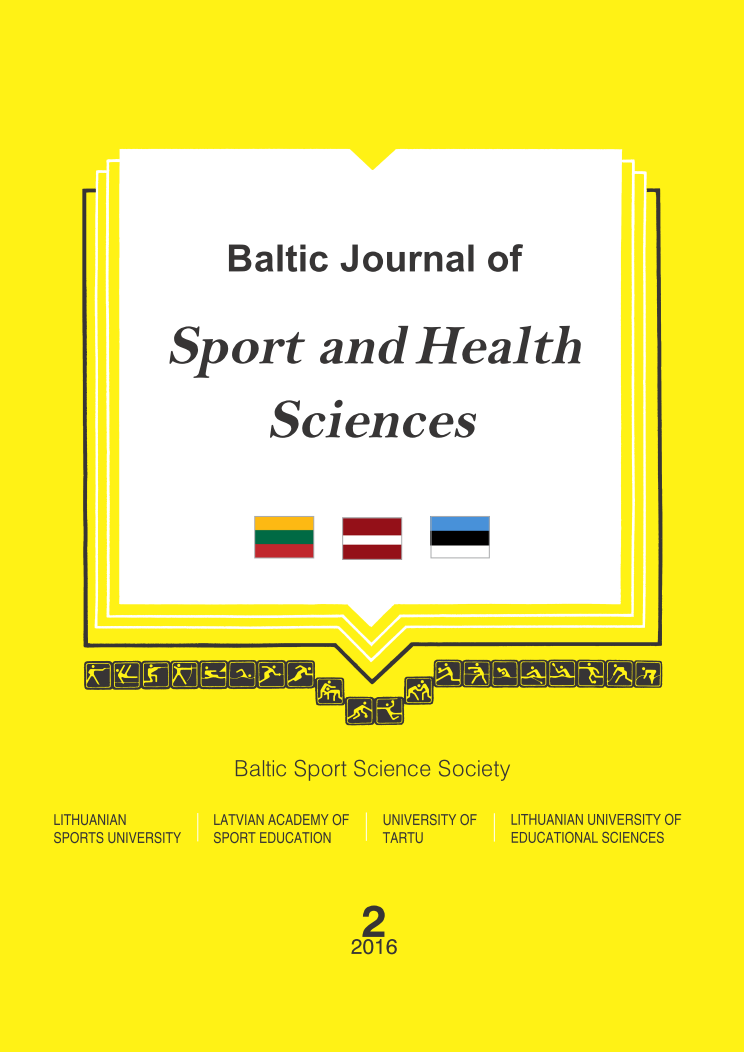 Downloads
How to Cite
Fokin, A., Žūkienė, R., & Ratkevičius, A. (2018). Reduced Citrate Synthase Activity Effect on Oxygen Consumption Rates in Isolated Mitochondria from Mice Liver and Muscles. Baltic Journal of Sport and Health Sciences, 2(101). https://doi.org/10.33607/bjshs.v2i101.52
Section
Sports Physiology
License
Each Article is an original contribution and not plagiarized/copied from any source/individual. It does not contravene on the rights of others and does not contain any libellous or unlawful statements and all references have been duly acknowledged at the appropriate places.
The article submitted only to Baltic Journal of Sport and Health Science, and it has not been previously published or submitted elsewhere for publication in a copyrighted publication.
The Author hereby authorizes the journal to edit, modify and make changes in the Articles/Research paper to make it suitable for publication in Baltic Journal of Sport and Health Science.
The Author hereby assigns all the copyright relating to the said Article/Research Paper to Baltic Journal of Sport and Health Science.
The Author has not assigned any kind of rights to the above said Article/Research Paper to any other person/Institute/Publication.
The Author agrees to indemnify Baltic Journal of Sport and Health Science against any claim legal and/or otherwise, action alleging facts which if true, constitute a beach of any of the foregoing warranties.