The Effect of Block and Traditional Periodization Models on Jumping and Sprinting Dynamics During the Simulated Basketball Games
Abstract
Background. The aim of the study was to compare the effect of block and traditional periodization preseason preparation on advanced players' jumping and sprinting dynamics during the simulated basketball games. Methods. Ten college-level males (age (mean ± standard deviation (SD)), 21.5 ± 1.7 years; weight, 83.5 ± 8.9 kg; height, 192.5 ± 5.4 cm) were divided into two teams according to the training model: block periodization (BP) and traditional periodization (TP). Block periodization (BP) consisted of the following blocks: aerobic endurance (AE), power endurance (PE), basketball specifc aerobic endurance (BSAE), and power (P). Both groups played a simulated basketball game with each other before and after preseason preparation. Vertical countermovement jump and 20 meters sprint were measured before each simulated game and after each quarter of the game. Results. In BP, the 8 weeks of preseason training resulted in elevated vertical jump and 20 meters sprint dynamics during simulated games (p < .05). Conclusion. We conclude that 8 weeks of block periodization enhanced leg power production and sprint abilities during simulated games and therefore is more effective than traditional periodization model.
Keywords: basketball, power, periodization.
Downloads
Download data is not yet available.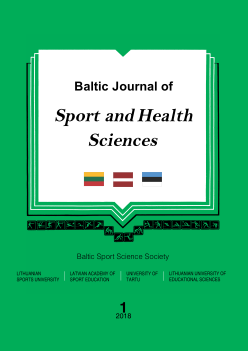 Downloads
How to Cite
Pliauga, V., Lukonaitienė, I., Bradauskienė, K., Klizienė, I., Conte, D., & Stanislovaitienė, J. (2018). The Effect of Block and Traditional Periodization Models on Jumping and Sprinting Dynamics During the Simulated Basketball Games. Baltic Journal of Sport and Health Sciences, 1(108). https://doi.org/10.33607/bjshs.v1i108.5
License
Each Article is an original contribution and not plagiarized/copied from any source/individual. It does not contravene on the rights of others and does not contain any libellous or unlawful statements and all references have been duly acknowledged at the appropriate places.
The article submitted only to Baltic Journal of Sport and Health Science, and it has not been previously published or submitted elsewhere for publication in a copyrighted publication.
The Author hereby authorizes the journal to edit, modify and make changes in the Articles/Research paper to make it suitable for publication in Baltic Journal of Sport and Health Science.
The Author hereby assigns all the copyright relating to the said Article/Research Paper to Baltic Journal of Sport and Health Science.
The Author has not assigned any kind of rights to the above said Article/Research Paper to any other person/Institute/Publication.
The Author agrees to indemnify Baltic Journal of Sport and Health Science against any claim legal and/or otherwise, action alleging facts which if true, constitute a beach of any of the foregoing warranties.