Risk of Sports-Related Musculoskeletal Injuries Among Elite Women Basketball Players According to Position on the Court and Sport Results
Abstract
Background. Basketball is a popular sport around the world, the number of players is growing, the probability
to experience trauma is increasing, too. Studies have shown that women sustain 60% more injuries than men do. Pre-
season physical examination helps to establish sports specific changes in the body of the athlete and to determine risk
factors for training, competition, which cause injury to the players. Research aim was to analyse risk of non-contact
musculoskeletal injuries in elite women basketball players according to the position on the court.
Methods. The study involved 100 players in Lithuanian women basketball league who completed the questionnaire
about the level of physical fatigue, performed Lower Quarter Y Balance Test™ and Functional Movement Screen
™ tests during pre-season physical examination in 2014. Data were analysed and compared according to player's
position on the court (guards and forwards).
Results. The level of physical fatigue during pre-season period was low in both groups. Dynamic stability of the
right leg was better in guards (composite score – 105.2 to 101.8 in forwards) while dynamic stability of the left leg
remained the same in both groups. Guards had higher total scores in Functional Movement Screen™ tests pointing
to the better quality of basic functional movement patterns.
Conclusions. The guard's playing efficiency during the season was higher than that of forwards and it was
associated with better dynamic stability and higher level of physical fatigue at pre-season. Indirect indicators of
non-contact musculoskeletal sport injuries showed that guards should have lower risk of non-contact sport-related
injuries in women basketball.
Keywords: risk of sports trauma, female basketball players, functional movements, dynamic stability.
Downloads
Download data is not yet available.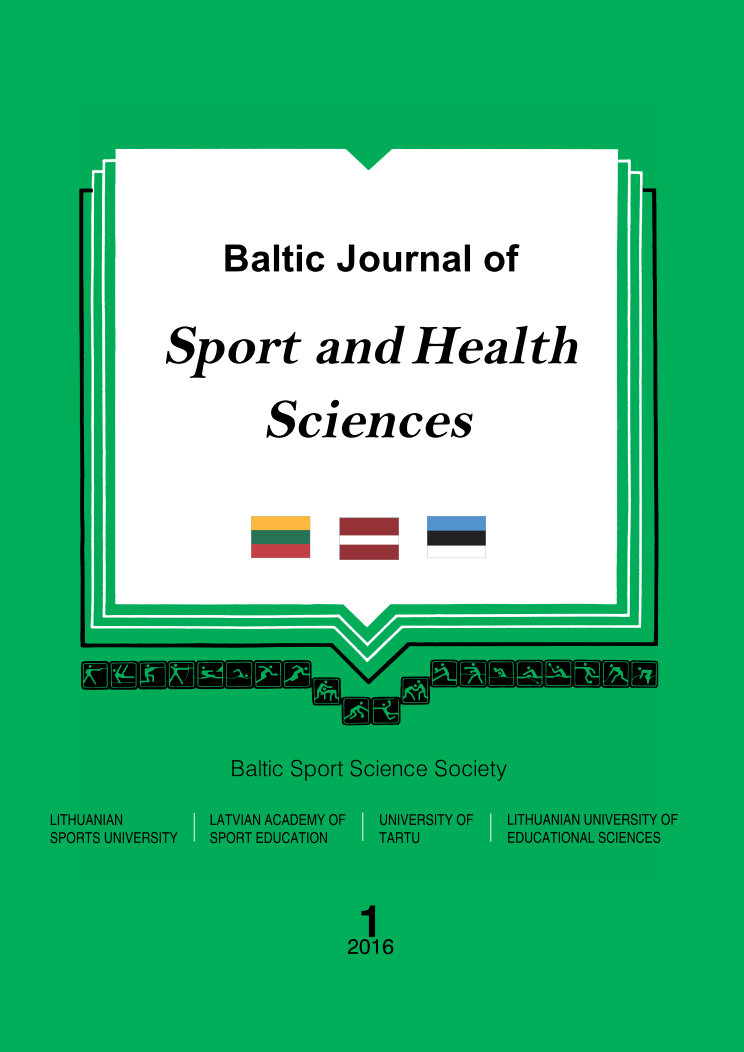 Downloads
How to Cite
Salatkaitė, S., Apolinskienė, T. G., Šiupšinskas, L., Kajėnienė, A., & Gudas, R. (2018). Risk of Sports-Related Musculoskeletal Injuries Among Elite Women Basketball Players According to Position on the Court and Sport Results. Baltic Journal of Sport and Health Sciences, 1(100). https://doi.org/10.33607/bjshs.v1i100.46
Section
Sports Physiology
License
Each Article is an original contribution and not plagiarized/copied from any source/individual. It does not contravene on the rights of others and does not contain any libellous or unlawful statements and all references have been duly acknowledged at the appropriate places.
The article submitted only to Baltic Journal of Sport and Health Science, and it has not been previously published or submitted elsewhere for publication in a copyrighted publication.
The Author hereby authorizes the journal to edit, modify and make changes in the Articles/Research paper to make it suitable for publication in Baltic Journal of Sport and Health Science.
The Author hereby assigns all the copyright relating to the said Article/Research Paper to Baltic Journal of Sport and Health Science.
The Author has not assigned any kind of rights to the above said Article/Research Paper to any other person/Institute/Publication.
The Author agrees to indemnify Baltic Journal of Sport and Health Science against any claim legal and/or otherwise, action alleging facts which if true, constitute a beach of any of the foregoing warranties.