Effect of Knowledge on Pupils' Physical Abilities
Abstract
National educational institutions constantly endeavor their efforts at development of democracy and humanism. In the process of pupils' development as a personality, a very important role for democracy appears to be school physical education, as it affords necessary knowledge and develops skills for its purposeful application both in physical education lessons and at their leisure time. However, research data show that still many pupils do not possess appropriate knowledge and skills for a conscious and purposeful choise of physical education content, as well as for grounding its application technologies by valid reasons. Searching for the answer, the object of the research was physical education knowledge, and the aim of the research was targeted at the establishment of the 10th form schoolboys' physical education knowledge effect on the change of their physical abilities. The article provides analysis of the 10th form schoolboys' need for physical education knowledge by their self-compiled and performed complexes of physical exercises. This need is discussed referring to General Physical Education Program and Education Standards (2003). The object of this research is a part of pupils' physical education content and methods, and, what is most important — it is in relation with values and objectives which base school activity, as well as with contemporary physical education and self-education holistic trend. Following this attitude, the participants of the research were not stimulated for the development of maximum physical abilities, they were expected to improve their physical fitness moderately, following the guidelines established in General Program and Education Standards. The methods applied in the research were the following: analysis of literature, questionnaire survey, testing of physical abilities and statistical analysis. Having performed the educational experiment, it was established that purposeful and consistently compiled development system of physical abilities which is based on natural physical activity of a young person, his physical capacities and needs, improves attitude towards self-exercising during physical education lessons, also stimulates to achieve more knowledge from physical education teachers, and due to this increases satisfaction with physical education lessons.
The working assumption stating that personally compiled physical education exercises complex for development of their weaker physical abilities will be more effective for the improvement of attitude towards self-exercising during lessons, as well as sporting activities when the lessons are over. However, it is essential to indicate the fact that a certain part of the investigated schoolboys maintained the same low level of knowledge both before and after the experiment. Bearing this in mind, and referring to Primary and Basic Education General Programs (2008), physical education teachers should supply physical education knowledge, and pupils should perceive it and use it in a more effective way. Schoolboys of E group (carrying out the experimental program) throughout the whole experiment period exposed higher results of physical abilities compared to K group results. The better results were influenced by personal physical education and self-education motives and aims, possibility to compile physical exercises complex and perform it.
Keywords: pupils' knowledge, effect, physical abilities.
Downloads
Download data is not yet available.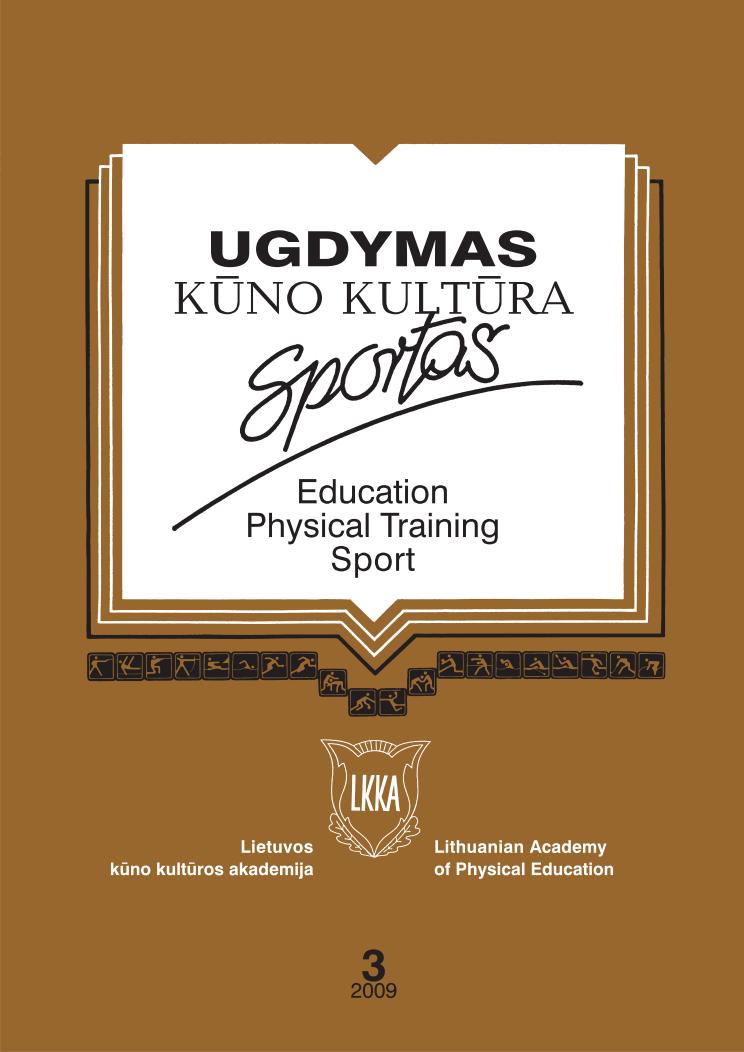 Downloads
How to Cite
Medonis, A., & Blauzdys, V. (2018). Effect of Knowledge on Pupils' Physical Abilities. Baltic Journal of Sport and Health Sciences, 3(74). https://doi.org/10.33607/bjshs.v3i74.422
Section
Social Sciences in Sport
License
Each Article is an original contribution and not plagiarized/copied from any source/individual. It does not contravene on the rights of others and does not contain any libellous or unlawful statements and all references have been duly acknowledged at the appropriate places.
The article submitted only to Baltic Journal of Sport and Health Science, and it has not been previously published or submitted elsewhere for publication in a copyrighted publication.
The Author hereby authorizes the journal to edit, modify and make changes in the Articles/Research paper to make it suitable for publication in Baltic Journal of Sport and Health Science.
The Author hereby assigns all the copyright relating to the said Article/Research Paper to Baltic Journal of Sport and Health Science.
The Author has not assigned any kind of rights to the above said Article/Research Paper to any other person/Institute/Publication.
The Author agrees to indemnify Baltic Journal of Sport and Health Science against any claim legal and/or otherwise, action alleging facts which if true, constitute a beach of any of the foregoing warranties.