Evaluation of Wheelchair Basketball Skill Performance of Wheelchair Basketball Players in Different Game Positions
Abstract
In wheelchair basketball the evaluation of the quality of disabled players' movement, motion and action variety, sensomotoric, intelectual, social interaction skills, coordinative and physical abilities besides the natural tests (Brasile, 1986), quantitative and qualitative play results (technical actions carried out by a player during a game and during a minute of a game) are considered to be objective and informative. The aim of the research was to state and evaluate the playing skills of wheelchair basketball players in different game positions (a playmaker, a forward, a center) in official competitions. The play of 32 baketball players was under research. Aiming to analyse playing results of wheelchair basketball players in different game positions 20 games were video recorded by camera "Panasonic NV-GS27". The following actions of the players (playmakers, forwards, centers) with different functions in the team were recorded: playing time, passing, dribbling, shooting and its efficiency, rebounding and other important technical actions characterizing the activity of the players during the game. The integral preparation, ability to play, the playing quality were evaluated according to the methods of D. Byrnes and B. Hendrick (1994), giving high or low marks for each action. Results showed that centers were the most active ones, carrying out on average 2.5 actions per minute (forwards — 2.1, playmakers — 1.2), shooting 16 times per game (forwards — 7.7, playmakers — 5). The most universal players were also the centers, their passing and dribbling actions making up 25%, shooting actions — 20% of all the movements. The most accurate main technical actions were carried out by the centers: their shooting accuracy was 36% (that of wing players and playmakers being 30%). Centers' integral qualification and playing skills (according to the methods used) were the highest rated + 42 points. Quantitative and qualitative playing results and the results of integral preparation of wheelchair basketball players in center position were significantly better than those of the playmakers and forwards.
Keywords: wheelchair basketball, quantitative and qualitative playing results, integral qualification, player's game positions.
Downloads
Download data is not yet available.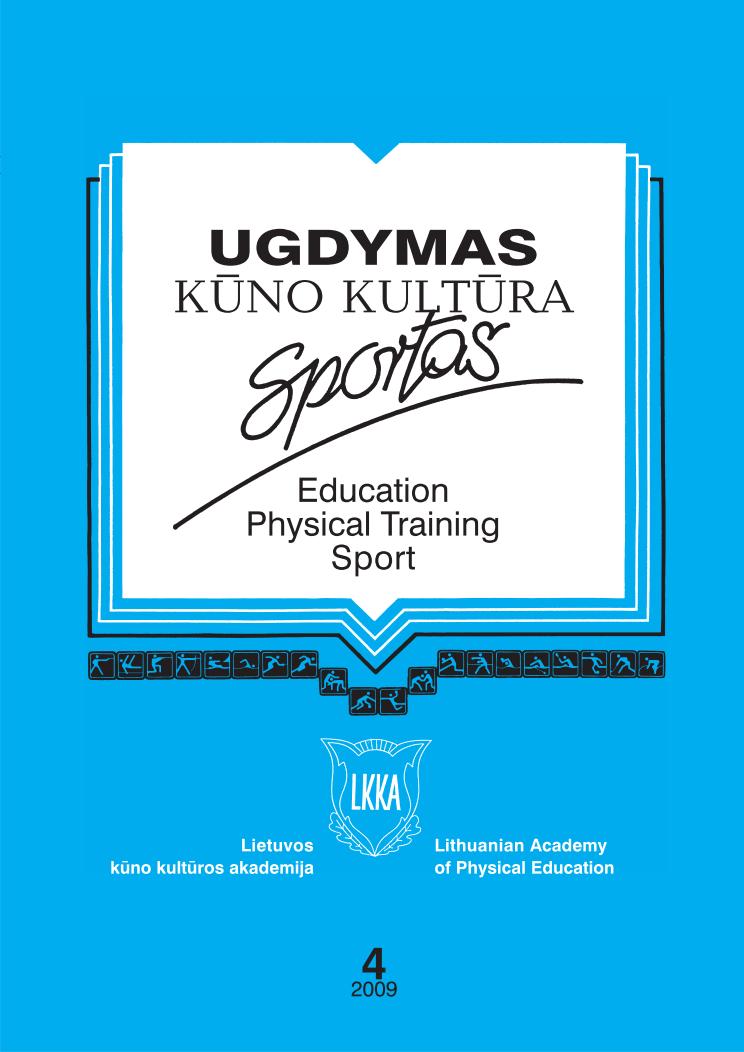 Downloads
How to Cite
Skučas, K., Stonkus, S., Molik, B., & Skučas, V. (2018). Evaluation of Wheelchair Basketball Skill Performance of Wheelchair Basketball Players in Different Game Positions. Baltic Journal of Sport and Health Sciences, 4(75). https://doi.org/10.33607/bjshs.v4i75.412
Section
Health, Rehabilitation and Adapted Physical Activity
License
Each Article is an original contribution and not plagiarized/copied from any source/individual. It does not contravene on the rights of others and does not contain any libellous or unlawful statements and all references have been duly acknowledged at the appropriate places.
The article submitted only to Baltic Journal of Sport and Health Science, and it has not been previously published or submitted elsewhere for publication in a copyrighted publication.
The Author hereby authorizes the journal to edit, modify and make changes in the Articles/Research paper to make it suitable for publication in Baltic Journal of Sport and Health Science.
The Author hereby assigns all the copyright relating to the said Article/Research Paper to Baltic Journal of Sport and Health Science.
The Author has not assigned any kind of rights to the above said Article/Research Paper to any other person/Institute/Publication.
The Author agrees to indemnify Baltic Journal of Sport and Health Science against any claim legal and/or otherwise, action alleging facts which if true, constitute a beach of any of the foregoing warranties.