Physical Activity, Physical Fitness and Academic Achievements of Primary School Children
Abstract
Background.The purpose of this study is to estimate physical activity, physical ftness and assessment of mathematical achievements in primary schoolchildren. Methods. The study involved 1st grade students (N = 93), 45 of which were girls and 48 were boys. The flexibility test, the long jump test, 3 × 10 m speed shuttle run test, a medical (stuffed) 1 kg ball pushing from the chest test were used. Physical activity was measured using Children's Physical Activity Questionnaire. Academic achievements were assessed using Mathematical diagnostic progress tests and mathematical learning achievements according to curriculum content. Results. It turned out that both boys (95.87 MET/min/week) and girls (91.30 MET / min/ week) were physically active in physical education lessons (p > 0.05). Long jump results ranged from 105.2 cm (girls) to 118.3 cm (boys), statistically signifcant differences were detected (p < 0.05) The best score of the girls' shuttle running 3 × 10 m was 9.55 s, for boys it was 9.2 s, the worst performance time for boys was 13.68 s, for girls – 13.54 s (p < .05). Mathematics Diagnostic Progress Tests for both girls and boys indicated satisfactory levels. Conclusion. We should note that all 4 ftness tests had a positive, linear association with physical ftness testsand mathematics test scores.
Keywords: physical activity, physical ftness, mathematical achievements, academic achievements, primary
education.
Downloads
Download data is not yet available.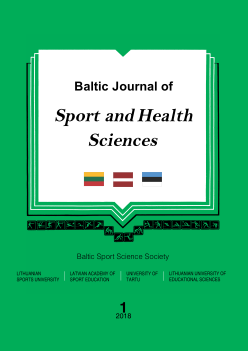 Downloads
How to Cite
Klizienė, I., Kimantienė, L., Čižauskas, G., Daniusevičiūtė-Brazaitė, L., Cibulskas, G., & Janulevičienė, A. (2018). Physical Activity, Physical Fitness and Academic Achievements of Primary School Children. Baltic Journal of Sport and Health Sciences, 1(108). https://doi.org/10.33607/bjshs.v1i108.4
Section
Health, Rehabilitation and Adapted Physical Activity
License
Each Article is an original contribution and not plagiarized/copied from any source/individual. It does not contravene on the rights of others and does not contain any libellous or unlawful statements and all references have been duly acknowledged at the appropriate places.
The article submitted only to Baltic Journal of Sport and Health Science, and it has not been previously published or submitted elsewhere for publication in a copyrighted publication.
The Author hereby authorizes the journal to edit, modify and make changes in the Articles/Research paper to make it suitable for publication in Baltic Journal of Sport and Health Science.
The Author hereby assigns all the copyright relating to the said Article/Research Paper to Baltic Journal of Sport and Health Science.
The Author has not assigned any kind of rights to the above said Article/Research Paper to any other person/Institute/Publication.
The Author agrees to indemnify Baltic Journal of Sport and Health Science against any claim legal and/or otherwise, action alleging facts which if true, constitute a beach of any of the foregoing warranties.