Qualitative Investigation of Coaches' Perspectives on Moral Education in Sport
Abstract
Background. Moral behaviour and moral education of young athletes still remain an important issue in sports context. This study was designed to examine coaches' perspectives on moral education in sport. Methods. In this study, aiming at establishing the perspectives of coaches on the moral education of athletes in sports activities, qualitative research was selected. Primary data were collected via semi-structured interviews with nine basketball and football coaches of different experience and age. The data were analysed applying thematic analysis. Results. Thematic analysis indicated that coaches identifed goals of athletes' education as the development of athletes' personality, motivation, the development of sports excellence and the encouragement to achieve victory. Coaches defned moral education as the development of the authority of an athlete, fair play, compliance with rules, and integrity. The most common means coaches used for moral education were explanation, discussion, lectures, meetings, personal examples, case analyses. Such means are important for athlete's personal development, pursuit of results, and career planning. The qualities of good coach were professional knowledge, authority, competences of creating motivational climate, and also moral competences. Conclusion. A central fnding of the study is that coaches defne moral education in sport through the education of moral values and the goals set by coaches related not only to the sports results, but also to the development of the personality of athletes. Personal role of coaches in moral education encompassing professional knowledge and moral competences of athletes is of great importance.
Keywords: morality in sport, moral values, coaches' role, athletes' education.
Downloads
Download data is not yet available.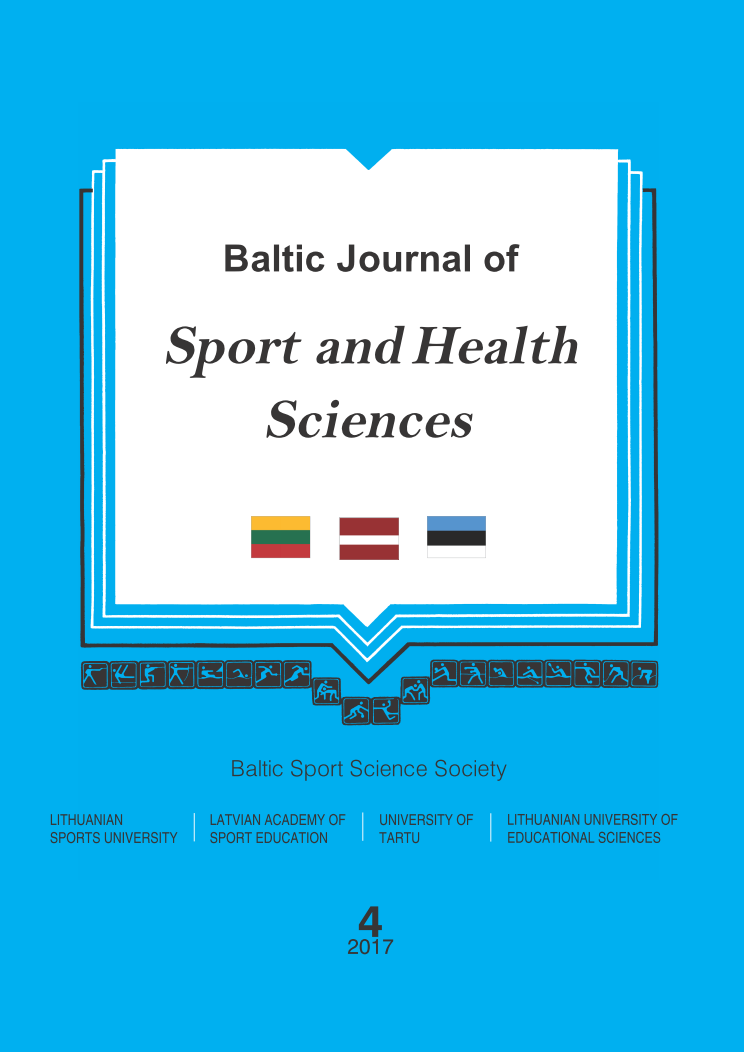 Downloads
How to Cite
Šukys, S., Dargenė, Živilė, & Karanauskienė, D. (2018). Qualitative Investigation of Coaches' Perspectives on Moral Education in Sport. Baltic Journal of Sport and Health Sciences, 4(107). https://doi.org/10.33607/bjshs.v4i107.39
Section
Social Sciences in Sport
License
Each Article is an original contribution and not plagiarized/copied from any source/individual. It does not contravene on the rights of others and does not contain any libellous or unlawful statements and all references have been duly acknowledged at the appropriate places.
The article submitted only to Baltic Journal of Sport and Health Science, and it has not been previously published or submitted elsewhere for publication in a copyrighted publication.
The Author hereby authorizes the journal to edit, modify and make changes in the Articles/Research paper to make it suitable for publication in Baltic Journal of Sport and Health Science.
The Author hereby assigns all the copyright relating to the said Article/Research Paper to Baltic Journal of Sport and Health Science.
The Author has not assigned any kind of rights to the above said Article/Research Paper to any other person/Institute/Publication.
The Author agrees to indemnify Baltic Journal of Sport and Health Science against any claim legal and/or otherwise, action alleging facts which if true, constitute a beach of any of the foregoing warranties.