Criteria and Indicators Needed to Attract Sponsors and Donators for Sport
Abstract
Background. Since 1980s, sponsorship has increasingly grown and is a powerful and strategic tool used by companies to support their marketing communication plans (Desbordes & Tribou, 2007). Sports and culture sponsorships have become a popular and expensive marketing and public relations instruments. Very often it is clear that return on investment (ROI) is not an appropriate measure due to a lack of indicators established for this purpose. At the same time it is not clear what to follow and which criteria organizations should meet to get sponsorship or donation. The main aim of the research was to fnd the indicative markers to attract partners to participate in the sport and culture projects in accordance with well-established criteria for company promotion. Furthermore, exploring possibilities we aimed at developing common guidelines for sport, culture and educational institutions in order to have relevant common approach for company's partnership and to clarify it as a product's promotion and marketing sales of a company as social responsibility and excellent public relation. Methods. The purpose of the study was to identify the objectives of sponsors we deem important when evaluating professional sport sponsorship opportunities in Bosnia and Herzegovina (BiH). Twenty-four valid responses, out of 30 received organizations that had sponsored sport and culture projects, were analysed to identify relevant criteria and indicators. The survey questions were designed based on the methods employed by other sponsorship researchers (Greenhalgh & Greenwell, 2013). Results and Conclusions. The present research was based on the information from questionnaires intentionally designed for targeting marketing or public relations managers in 24 organisations in BiH. Data processing, which included signifcance of differences and observed frequency distribution, along with ranking sponsorship objectives, criteria and indicators were used for conclusion, giving us a clear indicators' frame. The study results show that no transparent sponsorship or partnership criteria in line with organisation mission exist. It is more difcult for an organization or a project to identify and attract sponsors or partners. Measuring social responsibility as a tool for appropriate public relations strategy is one of the added values of the research.
Keywords: sponsorship, public relations, sport.
Downloads
Download data is not yet available.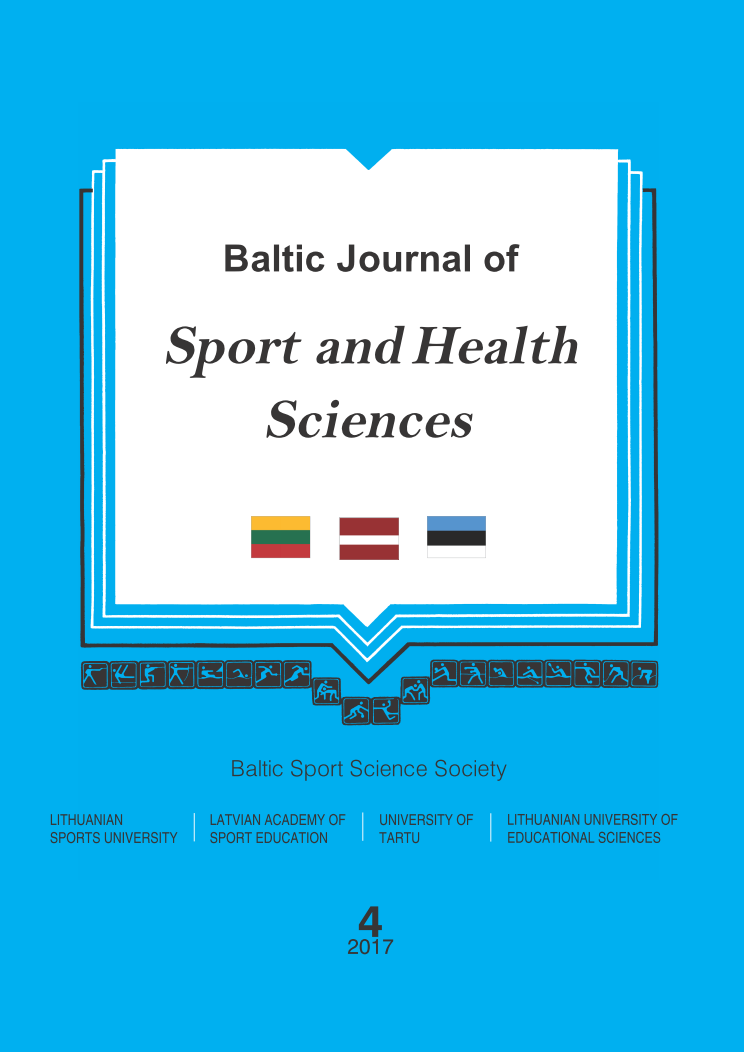 Downloads
How to Cite
Mujkic, D., Butienė, I., Valantinė, I., & Rado, I. (2018). Criteria and Indicators Needed to Attract Sponsors and Donators for Sport. Baltic Journal of Sport and Health Sciences, 4(107). https://doi.org/10.33607/bjshs.v4i107.35
Section
Social Sciences in Sport
License
Each Article is an original contribution and not plagiarized/copied from any source/individual. It does not contravene on the rights of others and does not contain any libellous or unlawful statements and all references have been duly acknowledged at the appropriate places.
The article submitted only to Baltic Journal of Sport and Health Science, and it has not been previously published or submitted elsewhere for publication in a copyrighted publication.
The Author hereby authorizes the journal to edit, modify and make changes in the Articles/Research paper to make it suitable for publication in Baltic Journal of Sport and Health Science.
The Author hereby assigns all the copyright relating to the said Article/Research Paper to Baltic Journal of Sport and Health Science.
The Author has not assigned any kind of rights to the above said Article/Research Paper to any other person/Institute/Publication.
The Author agrees to indemnify Baltic Journal of Sport and Health Science against any claim legal and/or otherwise, action alleging facts which if true, constitute a beach of any of the foregoing warranties.