Australian Rules Football Cheer Squads of the Eighties: a Case Study of the West Perth Cheer Squad 1984–1986
Abstract
Background. In this article I review key studies in the academic literature on football (soccer) hooliganism in the UK and around the world. I apply Armstrong's anthropological approach to our 15–20 member West Perth unofcial cheer squad (hard-core supporter group) of 1984–1986 (Australian Rules football's WAFL competition). Method. This is an ethnographic study of the West Perth cheer squad 1984–86 told from the viewpoint of the author who was co-founder and co-leader of this group. It is both strength and weakness of the research data that the author was an active participant in the events rather than a researcher performing typical ethnographic research as a non-participant. Results. I fnd that the anthropological approach is able to explain many aspects of our cheer squad's culture and members' behaviours including the quick disintegration of the cheer squad early in the 1986 season without anyone ofcially ending it. However, our group members did not adjust their commitment downwards during the cheer squad's years of action; most members attended all home-and-away matches during May 1984–March 1986. This research also shows the diffusion of Australian Rules football supporter culture from Melbourne to Adelaide and from these two cities to Perth, to a lesser extent, and the impact of TV news reports of British football hooliganism on our group's style and macho posturing. Conclusion. Detailed long-term ethnographic studies of individual football (soccer) hooligan frms and Australian Rules' cheer squads are the most vital type of new research.
Keywords: football hooliganism, neo-tribes, Perth history, sports history, Western Australian football.
Downloads
Download data is not yet available.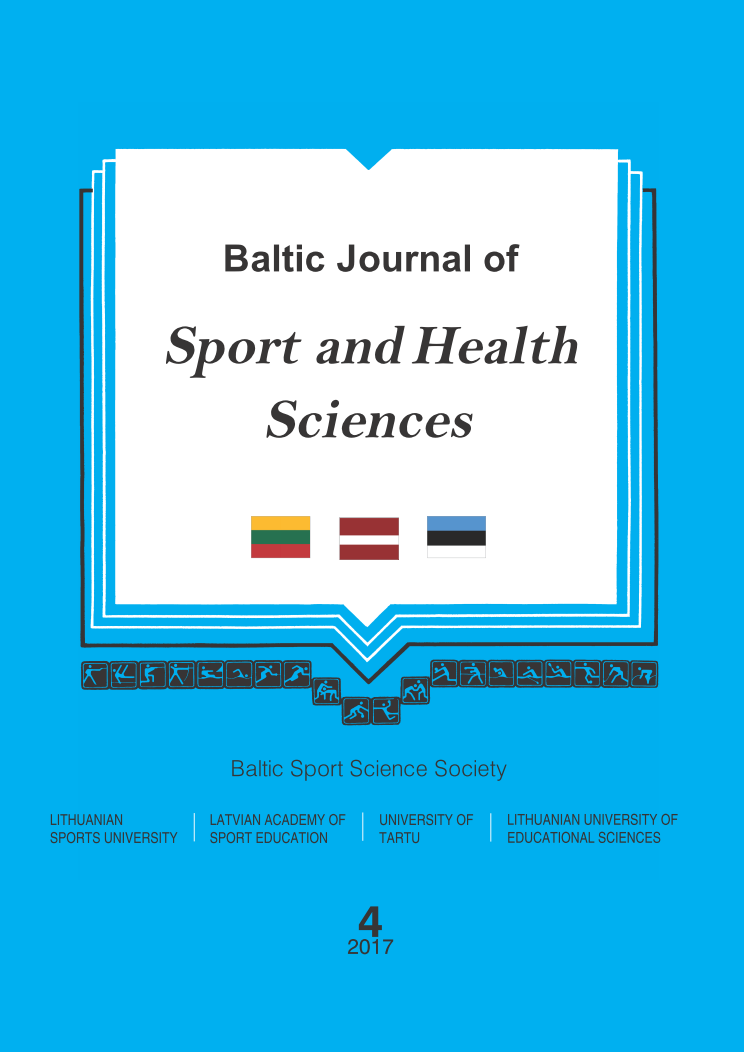 Downloads
How to Cite
James, K. (2018). Australian Rules Football Cheer Squads of the Eighties: a Case Study of the West Perth Cheer Squad 1984–1986. Baltic Journal of Sport and Health Sciences, 4(107). https://doi.org/10.33607/bjshs.v4i107.34
Section
Social Sciences in Sport
License
Each Article is an original contribution and not plagiarized/copied from any source/individual. It does not contravene on the rights of others and does not contain any libellous or unlawful statements and all references have been duly acknowledged at the appropriate places.
The article submitted only to Baltic Journal of Sport and Health Science, and it has not been previously published or submitted elsewhere for publication in a copyrighted publication.
The Author hereby authorizes the journal to edit, modify and make changes in the Articles/Research paper to make it suitable for publication in Baltic Journal of Sport and Health Science.
The Author hereby assigns all the copyright relating to the said Article/Research Paper to Baltic Journal of Sport and Health Science.
The Author has not assigned any kind of rights to the above said Article/Research Paper to any other person/Institute/Publication.
The Author agrees to indemnify Baltic Journal of Sport and Health Science against any claim legal and/or otherwise, action alleging facts which if true, constitute a beach of any of the foregoing warranties.