Heart Rate Recovery Changes during Competition Period in High-Level Basketball Players
Abstract
Research background and hypothesis. Replete schedule of competitions and intense training are features
of contemporary team sports. Athletes, especially the most involved ones, may not have enough time to recover.
As a consequence, aggregated fatigue can manifest in some undesirable form and affect athlete's performance
and health.
Research aim. The aim of this study was to evaluate the changes in heart rate recovery (HRR) and investigate
possible relations with sport-specifi c measures of effi cacy in professional basketball players during competition
season.
Research methods. Eight male high-level basketball players (mean ± SD, body mass, 97.3 ± 11.33 kg; height
2.02 ± 0.067 m, and age 23 ± 3.12 years) were investigated. The same basketball specifi c exercise was replicated
several times from September till April during the practice sessions in order to assess the personal trends of
HRR. Heart rate monitoring was performed using POLAR TEAM SYSTEM. Investigated athletes were ranked
retrospectively according to the total amount of minutes played and the coeffi cients of effi cacy.
Research results. There were signifi cant differences in the trends of HRR between the investigated players.
The most effective players showed decreasing trends of HRR in all cases of ranking.
Discussion and conclusions. Research fi ndings have shown that the quality of heart rate recovery differs
between basketball players of the same team and could be associated with sport-specifi c effi cacy and competition
playing time.
Keywords: adaptation, autonomic control, monitoring training.
Downloads
Download data is not yet available.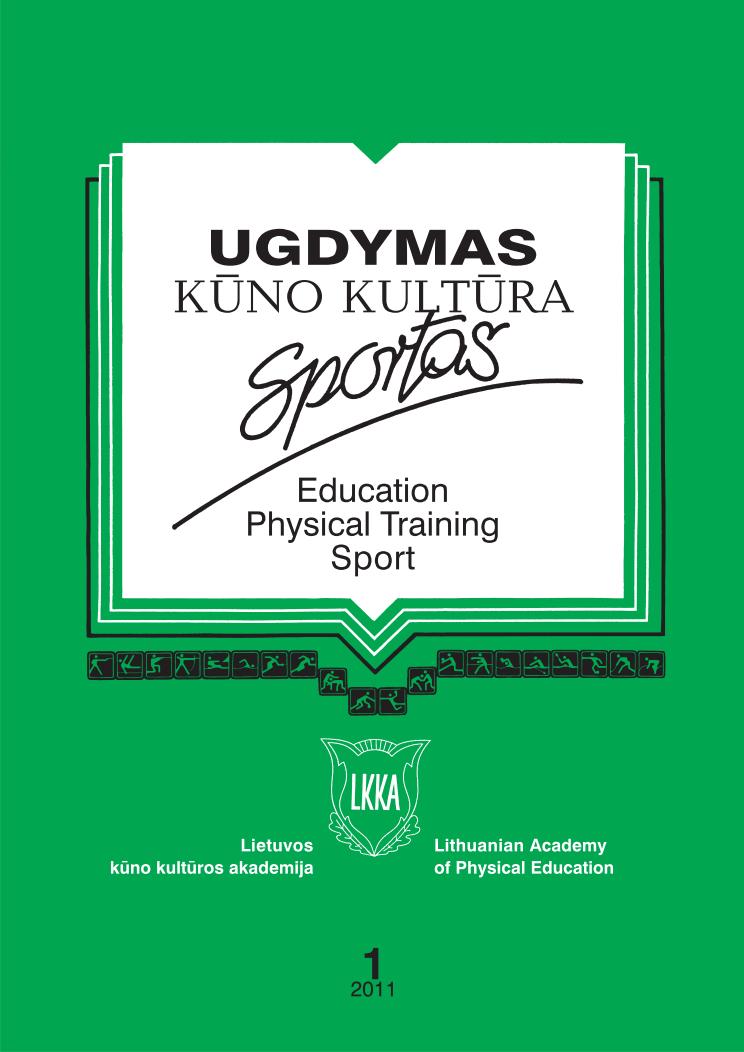 Downloads
How to Cite
Gocentas, A., Landõr, A., & Kriščiūnas, A. (2018). Heart Rate Recovery Changes during Competition Period in High-Level Basketball Players. Baltic Journal of Sport and Health Sciences, 1(80). https://doi.org/10.33607/bjshs.v1i80.334
License
Each Article is an original contribution and not plagiarized/copied from any source/individual. It does not contravene on the rights of others and does not contain any libellous or unlawful statements and all references have been duly acknowledged at the appropriate places.
The article submitted only to Baltic Journal of Sport and Health Science, and it has not been previously published or submitted elsewhere for publication in a copyrighted publication.
The Author hereby authorizes the journal to edit, modify and make changes in the Articles/Research paper to make it suitable for publication in Baltic Journal of Sport and Health Science.
The Author hereby assigns all the copyright relating to the said Article/Research Paper to Baltic Journal of Sport and Health Science.
The Author has not assigned any kind of rights to the above said Article/Research Paper to any other person/Institute/Publication.
The Author agrees to indemnify Baltic Journal of Sport and Health Science against any claim legal and/or otherwise, action alleging facts which if true, constitute a beach of any of the foregoing warranties.