Neurotransmitters and Cardiovascular Responses to Aerobic and Resistance Exercise in Men Addicted to Methamphetamine
Abstract
Background.   This study aimed to examine serotonin, dopamine and cardiovascular responses to aerobic and
resistance exercise in men addicted to methamphetamine during rehabilitation.
Methods. Subjects were 10 men addicted to methamphetamine with an average age of 31.2 ± 6.2 years old,
height: 173 ± 5.6 cm, weight: 73.66 ± 12.5 kg. In the first session the subjects were acquainted with the environment.
The variables measured at the second session were physical and physiological characteristics. In the third and fourth
sessions, projects to ensure the effectiveness of the pilot were conducted. In the fifth and sixth sessions which were
spaced 7 days apart, aerobic and resistance exercises were carried out. The variables which were measured before
and after exercise programs included heart rate, blood pressure and circulatory levels of serotonin and dopamine.
Results. The increase in blood serotonin and dopamine levels after both aerobic and resistance exercise were
significant (p < .05), but neither of the two aerobic and resistance exercise were superior to each other. In addition,
decrease in systolic and diastolic blood pressure, heart rate, mean arterial pressure, pulse pressure and myocardial
oxygen cost at some time intervals after these two exercises were significant ( p < .05), However, there were no
significant changes in comparison of exercises (p > .05).
Conclusions. Both of these exercises can be used as valuable support factors in treatment of addiction.
Keywords:  physical activity, methamphetamine, neurotransmitter, blood pressure.
Downloads
Download data is not yet available.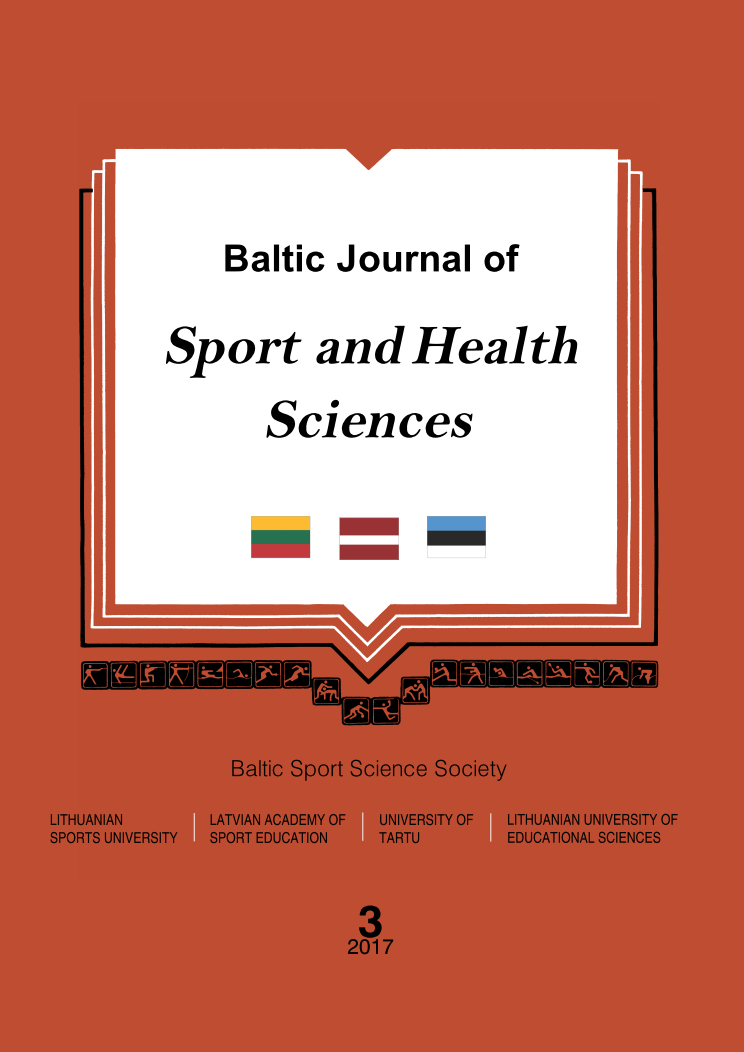 Downloads
How to Cite
Arazi, H., Dadvand, S. S., & Fard, M. T. (2018). Neurotransmitters and Cardiovascular Responses to Aerobic and Resistance Exercise in Men Addicted to Methamphetamine. Baltic Journal of Sport and Health Sciences, 3(106). https://doi.org/10.33607/bjshs.v3i106.28
Section
Sports Physiology
License
Each Article is an original contribution and not plagiarized/copied from any source/individual. It does not contravene on the rights of others and does not contain any libellous or unlawful statements and all references have been duly acknowledged at the appropriate places.
The article submitted only to Baltic Journal of Sport and Health Science, and it has not been previously published or submitted elsewhere for publication in a copyrighted publication.
The Author hereby authorizes the journal to edit, modify and make changes in the Articles/Research paper to make it suitable for publication in Baltic Journal of Sport and Health Science.
The Author hereby assigns all the copyright relating to the said Article/Research Paper to Baltic Journal of Sport and Health Science.
The Author has not assigned any kind of rights to the above said Article/Research Paper to any other person/Institute/Publication.
The Author agrees to indemnify Baltic Journal of Sport and Health Science against any claim legal and/or otherwise, action alleging facts which if true, constitute a beach of any of the foregoing warranties.