Arthroscopic Surgery and Rehabilitation Guidelines of Shoulder Injuries in the Young Overhead Athletes
Abstract
Research background and hypothesis. Overhead athletes are at higher risk to suffer from acute and chronic
shoulder injuries.
Research aim was to evaluate shoulder complex functional characteristics of the overhead and non-overhead
young athletes before and two years after the concomitant arthroscopic type II superior labrum anterior posterior
(SLAP) and partial – thickness rotator cuff (PTRC) repair and to present specific rehabilitation guidelines needed for
successful return to sports.
Research methods. The sample of the research included 38 male athletes: overhead (n = 19) and non-overhead
(n = 19) athletes. All participants underwent concomitant arthroscopic type II SLAP and PTRC repair and were
available  for  review  at  a  minimum  of  two  years  after  surgery.  Shoulder  range  of  motion  was  measured  with
goniometer. Constant score was used for the evaluation of the shoulder functional quality.
Research results. Function of the shoulder complex had higher increase in non-overhead group (p < 0.05).
Constant score two years after surgery did not return to optimal level. Shoulder flexion and internal rotation ROM in
both groups and external rotation ROM of non-overhead athletes were the same as before surgery.
Discussion and conclusions. Functional characteristics of shoulder complex measured with Constant score of
overhead and non-overhead athletes statistically significantly increased two years after the arthroscopic surgery.
Significant change of external rotation was established in overhead athletes: two years after surgery it was significantly
smaller and did not return even to preoperative level. Sports specific and diagnose-based rehabilitation is needed to
decrease deficit in function of the shoulder complex after concomitant arthroscopic type II SLAP  and PTRC repair.
Keywords: shoulder complex, SLAP, partial-thickness rotator cuff tears, sports physical therapy.
Downloads
Download data is not yet available.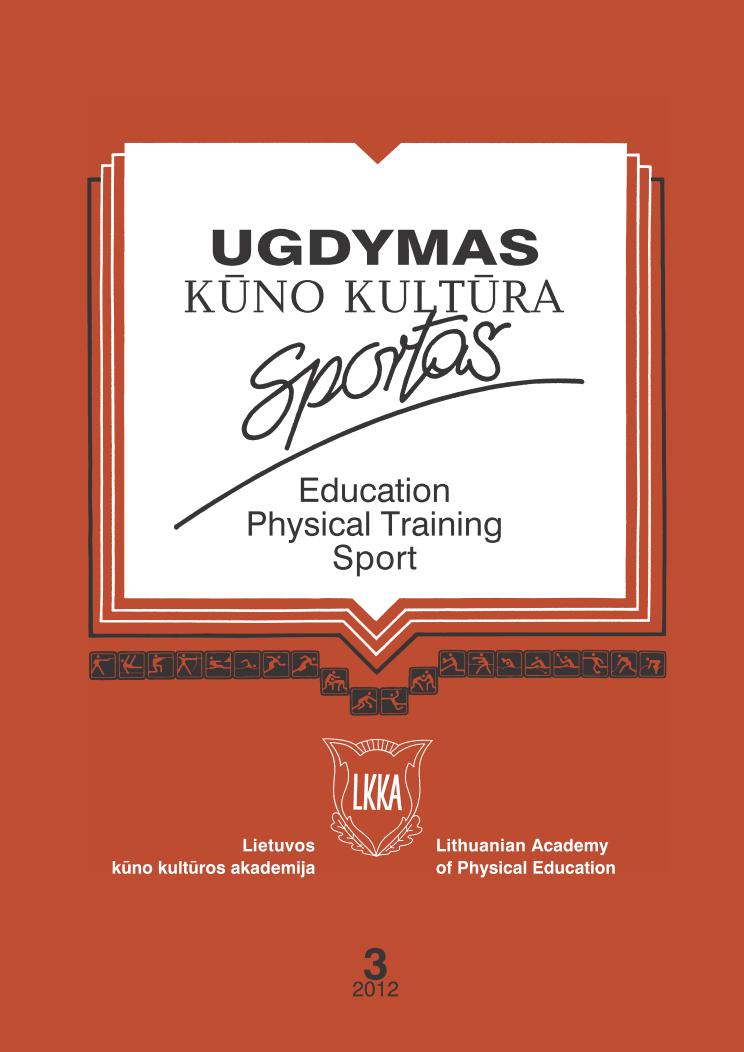 Downloads
How to Cite
Gudas, R., Šiupšinskas, L., Mauricienė, V., & Balčiūnas, M. (2018). Arthroscopic Surgery and Rehabilitation Guidelines of Shoulder Injuries in the Young Overhead Athletes. Baltic Journal of Sport and Health Sciences, 3(86). https://doi.org/10.33607/bjshs.v3i86.265
Section
Health, Rehabilitation and Adapted Physical Activity
License
Each Article is an original contribution and not plagiarized/copied from any source/individual. It does not contravene on the rights of others and does not contain any libellous or unlawful statements and all references have been duly acknowledged at the appropriate places.
The article submitted only to Baltic Journal of Sport and Health Science, and it has not been previously published or submitted elsewhere for publication in a copyrighted publication.
The Author hereby authorizes the journal to edit, modify and make changes in the Articles/Research paper to make it suitable for publication in Baltic Journal of Sport and Health Science.
The Author hereby assigns all the copyright relating to the said Article/Research Paper to Baltic Journal of Sport and Health Science.
The Author has not assigned any kind of rights to the above said Article/Research Paper to any other person/Institute/Publication.
The Author agrees to indemnify Baltic Journal of Sport and Health Science against any claim legal and/or otherwise, action alleging facts which if true, constitute a beach of any of the foregoing warranties.