Assessment of Physical Working Capacity of Differently Trained and Aged Female Aerobic Gymnasts
Abstract
Research background and hypothesis. Physical working capacity by PWC 170  test allows estimating physical
preparation of athletes' bodies, but these indices may not be directly linked to their sports achievements.
Research aim. The aim of this study was to identify and assess physical working capacity characteristics of
differently trained and aged female athletes.
Research methods. The study included 40 subjects: young athletes (juniors) (12–14-years-old girls) and
students of Lithuanian Academy of Physical Education – studying in aerobic gymnastics specialization. According
to performance (training) level they were divided into the following groups: juniors (n = 10), beginners (n = 10),
moderately trained (n = 10) and well-trained (n = 10) representatives of aerobic gymnastics. The testing included
anthropometric measurements, heart rate (HR) measurements (HR values were recorded using heart rate measuring
device "Sigma PC-15", Germany), and PWC 170  tests. Athletes carried out two loads of physical activity at different
intensities with a duration of 3 and 5 minutes (the rate of stepping (30 times per minute) was regulated according to
the tempo of music that was specially prepared in the recording studio).
Research results. We found that the differences in physical working capacity between well trained gymnasts
and the beginners were not statistically significant. We established similar values of PWC 170   in moderately trained
and junior groups; statistically significant difference (p  < 0.05) was established only comparing the latter two groups
with well-trained athletes.
Discusion and conclussions. The results showed that physical working capacity of well trained aerobic gymnastics
athletes (participating in international competitions, world and European Championships) had not reached very high
training level, but they were assessed as adequately trained. Physical working capacity of beginners was satisfactory
and the indices of moderately trained  (with twice more  training and  competition experience) and junior athletes
were very low.
Keywords: aerobic gymnastics, physical working capacity, PWC170, heart rate.
Downloads
Download data is not yet available.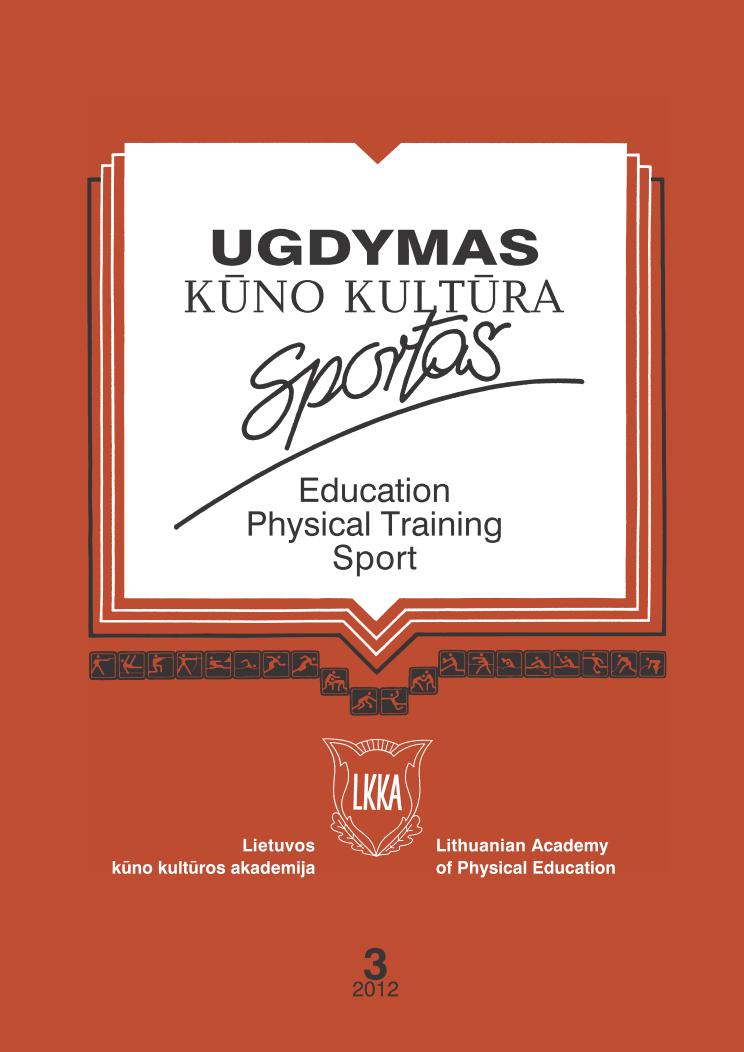 Downloads
How to Cite
Aleksandravičienė, R., Liaudeneckaitė, J., Liaugminienė, R., Siaurodinas, A., & Stasiulevičienė, L. (2018). Assessment of Physical Working Capacity of Differently Trained and Aged Female Aerobic Gymnasts. Baltic Journal of Sport and Health Sciences, 3(86). https://doi.org/10.33607/bjshs.v3i86.261
Section
Sports Physiology
License
Each Article is an original contribution and not plagiarized/copied from any source/individual. It does not contravene on the rights of others and does not contain any libellous or unlawful statements and all references have been duly acknowledged at the appropriate places.
The article submitted only to Baltic Journal of Sport and Health Science, and it has not been previously published or submitted elsewhere for publication in a copyrighted publication.
The Author hereby authorizes the journal to edit, modify and make changes in the Articles/Research paper to make it suitable for publication in Baltic Journal of Sport and Health Science.
The Author hereby assigns all the copyright relating to the said Article/Research Paper to Baltic Journal of Sport and Health Science.
The Author has not assigned any kind of rights to the above said Article/Research Paper to any other person/Institute/Publication.
The Author agrees to indemnify Baltic Journal of Sport and Health Science against any claim legal and/or otherwise, action alleging facts which if true, constitute a beach of any of the foregoing warranties.