Effect of 2-Day Very Low-Calorie Diet on Perceived Stress, Cognitive Functions and Mood in Overweight and Obese Men
Abstract
Background. It is well established that intermittent long-term fasting, during which a very low-calorie diet is
allowed 2-days a week, improves weight loss, mood and cognitive functions. However, we are not aware of any
previous studies on the effect of a 2-day very low-calorie diet on brain functioning. Thus, the purpose of this study
was to determine the effect of 2-day very low-calorie diet on perceived stress, cognitive functions and mood in
overweight and obese men.
Methods. Nine young adult men (body mass index (BMI) from 26.7 to 32.1 kg/m 2 ) completed a 2-days very
low-calorie diet (536 kcal) and 2-day usual diet program in a randomized order. Perceived stress (subjective stress
rating and cardiovascular response), cognitive performance, and mood were evaluated before and after both diets.
Results. A subjective stress rating in relation to the very low-calorie diet condition was 37.4 ± 18.7. There were
no detectable effects of acute calorie restriction on cardiovascular response (heart rate and blood pressure) and on
any aspect of cognitive performance. Meanwhile, sense of vigor increased (p < .05) and negatively correlated with
BMI (r = −.780, p < .05).
Conclusions. The two-day very low-calorie diet evoked a mild stress, which did not affect sympathetic nervous
system  response  and  cognitive  performance  in  overweight  and  obese  men.  Furthermore,  very  low-calorie  diet
increased vigor, which was strongly associated with decreased body mass index.
Keywords:  adiposity, cognitive performance, body mass index, fasting, heart rate.
Downloads
Download data is not yet available.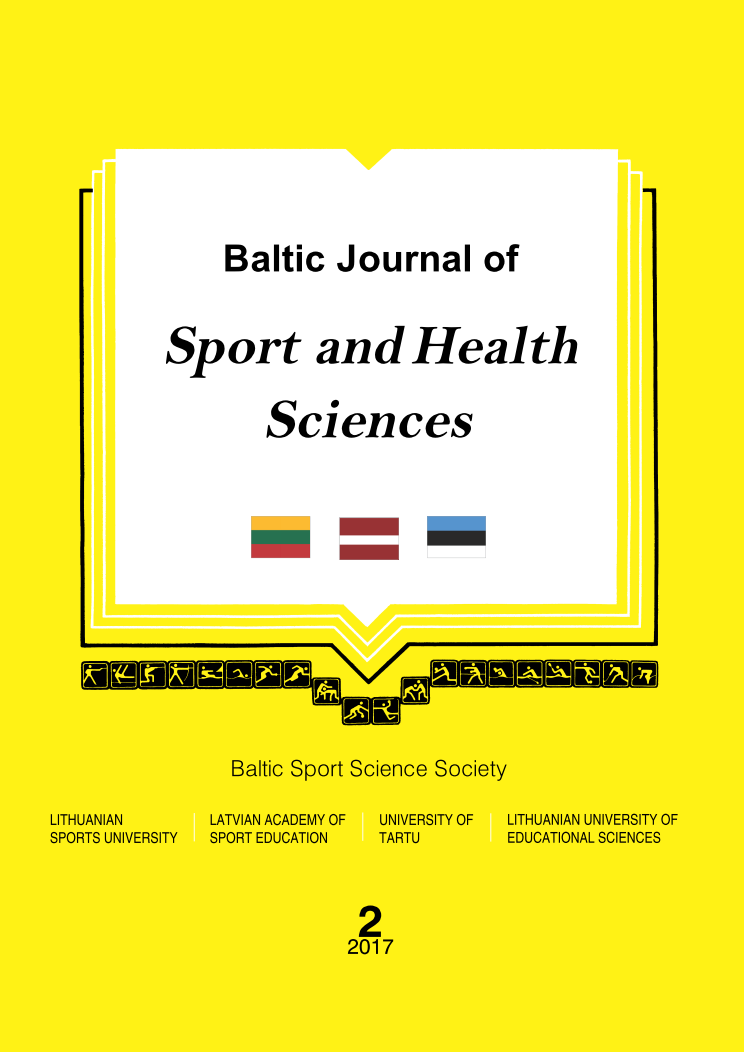 Downloads
How to Cite
Solianik, R., Sujeta, A., Čekanauskaitė, A., & Januševičiūtė, M. (2018). Effect of 2-Day Very Low-Calorie Diet on Perceived Stress, Cognitive Functions and Mood in Overweight and Obese Men. Baltic Journal of Sport and Health Sciences, 2(105). https://doi.org/10.33607/bjshs.v2i105.26
Section
Sports Physiology
License
Each Article is an original contribution and not plagiarized/copied from any source/individual. It does not contravene on the rights of others and does not contain any libellous or unlawful statements and all references have been duly acknowledged at the appropriate places.
The article submitted only to Baltic Journal of Sport and Health Science, and it has not been previously published or submitted elsewhere for publication in a copyrighted publication.
The Author hereby authorizes the journal to edit, modify and make changes in the Articles/Research paper to make it suitable for publication in Baltic Journal of Sport and Health Science.
The Author hereby assigns all the copyright relating to the said Article/Research Paper to Baltic Journal of Sport and Health Science.
The Author has not assigned any kind of rights to the above said Article/Research Paper to any other person/Institute/Publication.
The Author agrees to indemnify Baltic Journal of Sport and Health Science against any claim legal and/or otherwise, action alleging facts which if true, constitute a beach of any of the foregoing warranties.