Functional Physical Fitness in 7–10-Year-Old School Children in Lithuania. Pilot Study
Abstract
Background. Physical fitness in childhood is a marker of health as it reflects the functional status of most the
body functions involved in the performance of daily physical activity and/or physical exercise. Measurement and
monitoring of these indicators of health beginning from early age is of highest importance. So, the aim of this study
is to examine physical fitness in primary school children and test the validity of physical fitness test battery .
Methods. A sample of 415 children participated in the study. Physical fitness was measured by the 9-item test
battery (Fjørtoft et al., 2011). ANOVA results show that indicators of physical fitness differ across age. In general,
older children are more physically fit than the younger ones. Mastering preschool and primary school children's
physical fitness evaluation techniques will allow monitoring the changes in physical fitness in the course of the
school year in different age groups.
Results.  In  this  study  we  presented  the  baseline  data  of  a  longitudinal  study  of  7–10-year-old  children  in
Lithuanian schools. We found a development of achievements in physical functional physical activity across age,
the 9–10 years olds being the fittest. We found a pronounced gap in the performance between the age groups of 8–9
years, while the 7–8-year-olds seemed to be more even in their functional fitness competency. The same achievement
pattern also was characteristic of boys and girls. Gender differences were found in one test item only (throwing
tennis ball), which was explained by different play cultures in boys and girls.
Conclusion. Our results indicate a stronger focus on the modernization of physical education programs for
children in this age group, particularly for the 8-year-olds. The PE programs should be based on a multivariate
sample of basic motor skills of all ages aiming at developing the children's overall functional physical fitness.
Keywords:  functional fitness; primary schoolchildren; physical activity.
Downloads
Download data is not yet available.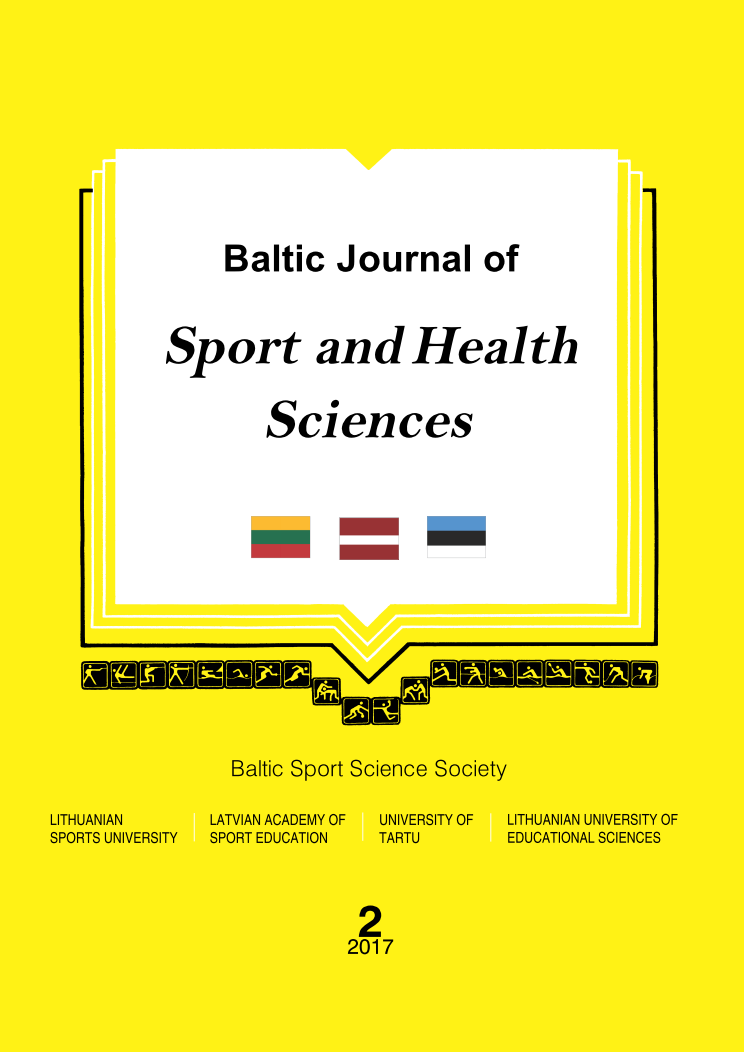 Downloads
How to Cite
Miežienė, B., Česnaitienė, V. J., Emeljanovas, A., Fjortoft, I., Kjønniksen, L., Kreivytė, R., Tilindienė, I., & Zaičenkovienė, K. (2018). Functional Physical Fitness in 7–10-Year-Old School Children in Lithuania. Pilot Study. Baltic Journal of Sport and Health Sciences, 2(105). https://doi.org/10.33607/bjshs.v2i105.24
Section
Social Sciences in Sport
License
Each Article is an original contribution and not plagiarized/copied from any source/individual. It does not contravene on the rights of others and does not contain any libellous or unlawful statements and all references have been duly acknowledged at the appropriate places.
The article submitted only to Baltic Journal of Sport and Health Science, and it has not been previously published or submitted elsewhere for publication in a copyrighted publication.
The Author hereby authorizes the journal to edit, modify and make changes in the Articles/Research paper to make it suitable for publication in Baltic Journal of Sport and Health Science.
The Author hereby assigns all the copyright relating to the said Article/Research Paper to Baltic Journal of Sport and Health Science.
The Author has not assigned any kind of rights to the above said Article/Research Paper to any other person/Institute/Publication.
The Author agrees to indemnify Baltic Journal of Sport and Health Science against any claim legal and/or otherwise, action alleging facts which if true, constitute a beach of any of the foregoing warranties.