Problematic Alcohol Use in Team and Individual Exercise Settings
Abstract
Background. The scholastic literature suggests that alcohol use may be a problem in team sports, but data on the general or average exercisers are lacking. This inquiry examined the prevalence of use and the level of problematic use of alcohol in a highly heterogeneous group of team and individual exercisers. Methods. Two-hundred exercising male (n = 79) and female (n = 121) participants (M age = 26.79 ± SD = 7.88 years) answered demographic questions and completed the Alcohol Use Disorder Identifcation Test (AUDIT). Results. The rate of alcohol drinkers did not differ between the groups, but males exercising in team settings reported higher levels of alcohol drinking problems than individual exercisers in general. The fndings were similar for older (aged 25 years and over) adults too, as shown by a separate analysis of the latter group. The frequency and volume of exercise were unrelated to problematic alcohol use. Cases of high level of alcohol use problems were twice as many in team than in individual exercisers. Conclusions. The prevalence of alcohol use in team and individual exercisers is similar, but problematic alcohol use is greater in the former group. Increased alcohol use problems in team exercisers seem to be limited to men and it occurs in older adults too. Men drink more than women, but the behaviour may have a general social, rather than a sport-specifc, context.
Keywords: dependence, drinking, physical activity, social, substance use.
Downloads
Download data is not yet available.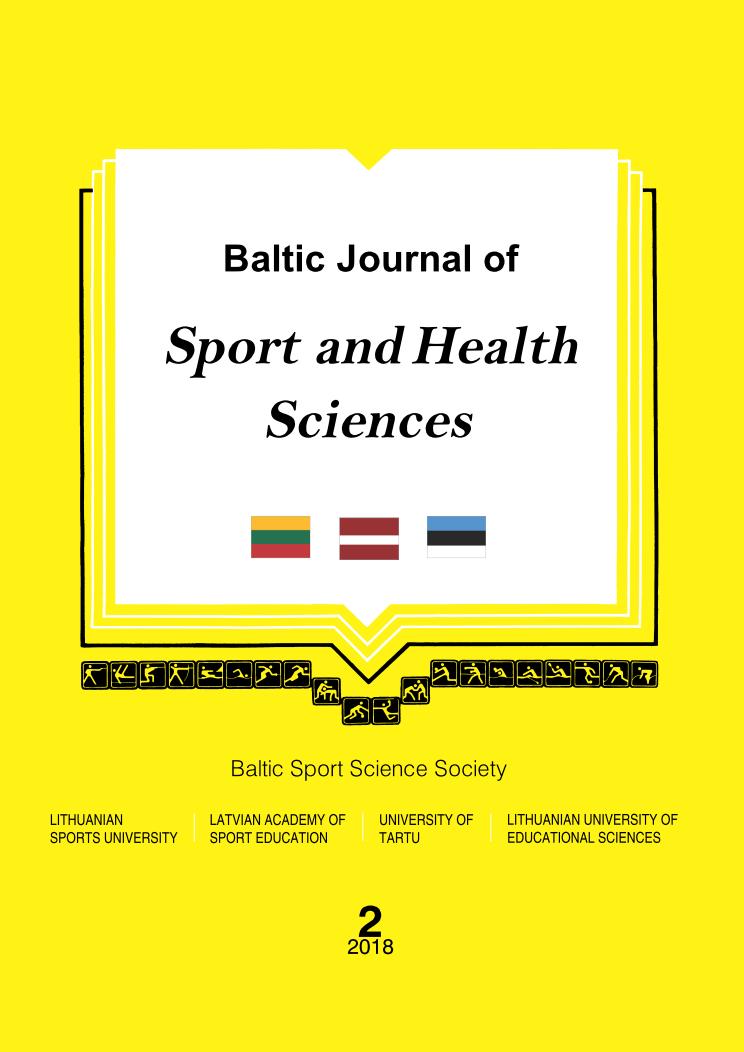 Downloads
How to Cite
Høglid, R. A., & Szabo, A. (2018). Problematic Alcohol Use in Team and Individual Exercise Settings. Baltic Journal of Sport and Health Sciences, 2(109). https://doi.org/10.33607/bjshs.v2i109.192
Section
Health, Rehabilitation and Adapted Physical Activity
License
Each Article is an original contribution and not plagiarized/copied from any source/individual. It does not contravene on the rights of others and does not contain any libellous or unlawful statements and all references have been duly acknowledged at the appropriate places.
The article submitted only to Baltic Journal of Sport and Health Science, and it has not been previously published or submitted elsewhere for publication in a copyrighted publication.
The Author hereby authorizes the journal to edit, modify and make changes in the Articles/Research paper to make it suitable for publication in Baltic Journal of Sport and Health Science.
The Author hereby assigns all the copyright relating to the said Article/Research Paper to Baltic Journal of Sport and Health Science.
The Author has not assigned any kind of rights to the above said Article/Research Paper to any other person/Institute/Publication.
The Author agrees to indemnify Baltic Journal of Sport and Health Science against any claim legal and/or otherwise, action alleging facts which if true, constitute a beach of any of the foregoing warranties.