The Attitude towards Olympism Values of Pupils in Schools Implementing and Not Implementing Integrated Olympic Education
Abstract
Research backround and hypothesis. The research focuses on school pupils' attitudes towards Olympism values
and Olympic education. We hypothesised that in schools implementing integrated Olympic education programme,
pupils more associated human values with Olympism than pupils in schools where this education programme was
not implemented.
Research aim was to ascertain the attitude towards Olympism values of pupils in schools implementing and not
implementing integrated Olympic education.
Research methods. The sample included 2335 (1095 males and 1240 females) young adolescents between the
ages of 13 and 18 years. Pupils' attitudes towards Olympism values were determined using the Olympic Questionnaire  (Telama et al., 2002).
Research  results.  Research  results  revealed  statistically  significant  differences  towards  human  values  of
Olympism (p < 0.001) and social virtues of Olympism (p < 0.001) of pupils depending on applied Olympic education
programme in schools.
Discussion  and  conclusions.  Our  study  revealed  that  pupils  at  schools  implementing  Integrated  Olympic
Education Programme more often emphasized the importance of human and social values of Olympism compared
to pupils from schools not implementing this programme. The similar differences were found when assessing the
results separately for girls. Research results did not reveal differences among 13–14-year-old pupils. However, the
differences were established comparing the data of older pupils. Older pupils in schools with integrated Olympic
education programme more emphasized the social virtues of Olympism and the human values of Olympism.
Keywords:  Olympism, attitudes towards values, Olympic education.
Downloads
Download data is not yet available.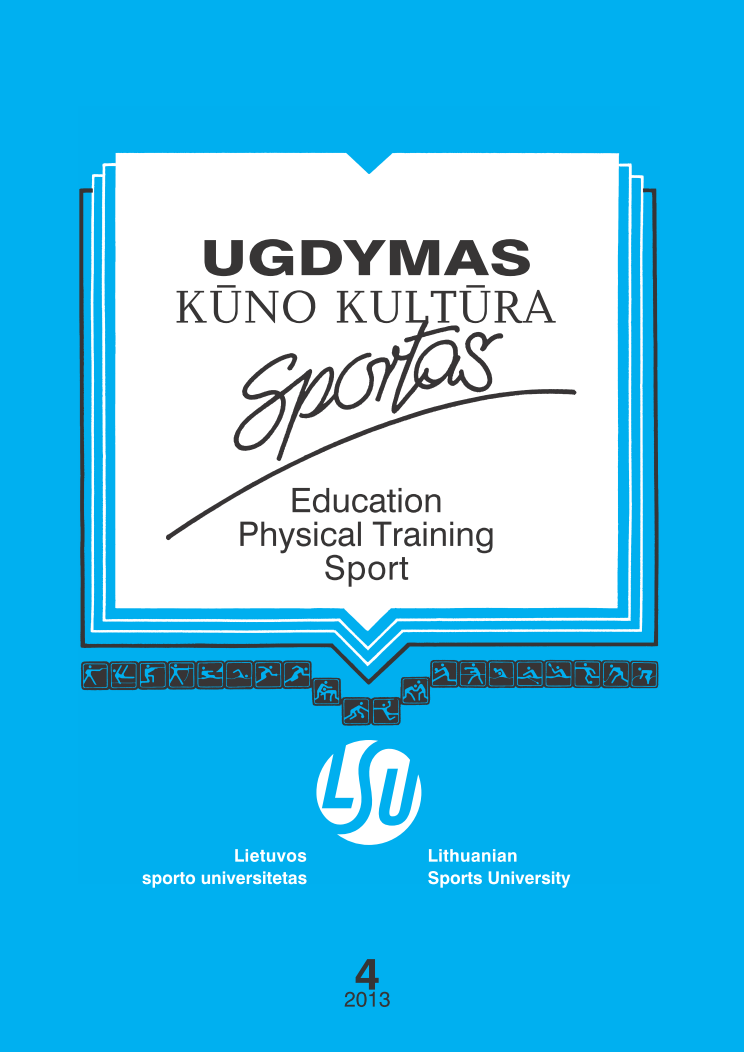 Downloads
How to Cite
Šukys, S., & Majauskienė, D. (2018). The Attitude towards Olympism Values of Pupils in Schools Implementing and Not Implementing Integrated Olympic Education. Baltic Journal of Sport and Health Sciences, 4(91). https://doi.org/10.33607/bjshs.v4i91.179
Section
Social Sciences in Sport
License
Each Article is an original contribution and not plagiarized/copied from any source/individual. It does not contravene on the rights of others and does not contain any libellous or unlawful statements and all references have been duly acknowledged at the appropriate places.
The article submitted only to Baltic Journal of Sport and Health Science, and it has not been previously published or submitted elsewhere for publication in a copyrighted publication.
The Author hereby authorizes the journal to edit, modify and make changes in the Articles/Research paper to make it suitable for publication in Baltic Journal of Sport and Health Science.
The Author hereby assigns all the copyright relating to the said Article/Research Paper to Baltic Journal of Sport and Health Science.
The Author has not assigned any kind of rights to the above said Article/Research Paper to any other person/Institute/Publication.
The Author agrees to indemnify Baltic Journal of Sport and Health Science against any claim legal and/or otherwise, action alleging facts which if true, constitute a beach of any of the foregoing warranties.