Peculiarities of Selected Sport Performance in Women Olympic Handball
Abstract
Research background and hypothesis. Sport contest model is the main indicator of athletes' sport performance,
which allows defining sports trends in general, predicting sports results and also designing directions for training.
Research aim was to determine the alteration of goals (as a key indicator) scored by women in Olympic handball
in order to carry out trends of modern women handball.
Research methods. Data sets were gathered from the International Handball Federation (EHF) website (http://
www.ihf-info.com) covering Olympic Games since Montreal (1976) till London (2012). The data was used from all
248 matches. Statistically significant differences between the independent samples were determined using Student's
t-values   of the criterion of a 95% significance level.
Research  results.  In  the  period  of  36  years  women's  handball  has  become  more  dynamic  as  teams  scored
10.2 goals more in London (25.1 ± 4.5) than in Montreal (14.9 ± 7.4). Teams representing the continent of Europe
(23.3 ± 4.2) scored 2.2 goals more on average than teams from other continents (21.1 ± 6.1) during the Olympics.
Though the mastery of European teams was better than that of others, the South Korean team, representing the Asian  continent, is the first in the rating ranks scale.
Discussion and conclusions. Referring to the differences between scored and missed goals by teams which were  ess compared Montreal and London Olympic Games we suggest that the mastership of women's handball is going  up and becoming more equal. The phenomenon of South Korean team has allowed to state that the final results in
modern women's handball might be determined not only by the body composition but by other indices of a team or  of an individual player's fitness as well.
Keywords: women's elite sport, key indicators in team handball, national analyses.


Downloads
Download data is not yet available.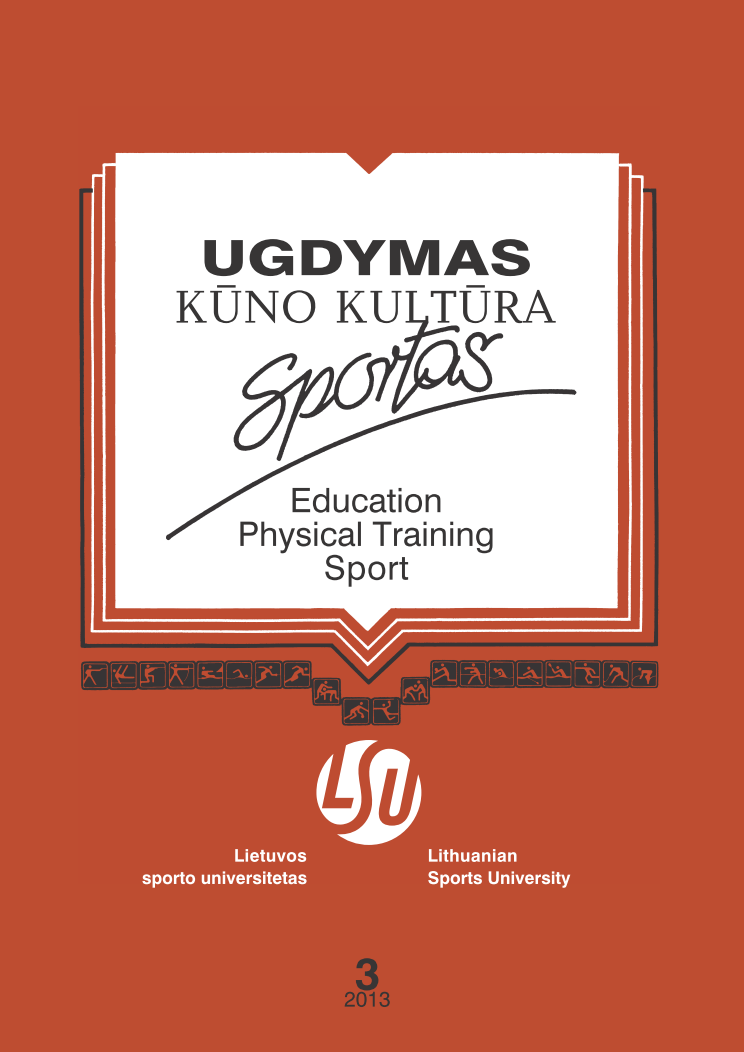 Downloads
How to Cite
Vidūnaitė, G., & Skarbalius, A. (2018). Peculiarities of Selected Sport Performance in Women Olympic Handball. Baltic Journal of Sport and Health Sciences, 3(90). https://doi.org/10.33607/bjshs.v3i90.172
License
Each Article is an original contribution and not plagiarized/copied from any source/individual. It does not contravene on the rights of others and does not contain any libellous or unlawful statements and all references have been duly acknowledged at the appropriate places.
The article submitted only to Baltic Journal of Sport and Health Science, and it has not been previously published or submitted elsewhere for publication in a copyrighted publication.
The Author hereby authorizes the journal to edit, modify and make changes in the Articles/Research paper to make it suitable for publication in Baltic Journal of Sport and Health Science.
The Author hereby assigns all the copyright relating to the said Article/Research Paper to Baltic Journal of Sport and Health Science.
The Author has not assigned any kind of rights to the above said Article/Research Paper to any other person/Institute/Publication.
The Author agrees to indemnify Baltic Journal of Sport and Health Science against any claim legal and/or otherwise, action alleging facts which if true, constitute a beach of any of the foregoing warranties.