Research in Consumer Preferences Selecting the Services of Wellness-Fitness Centres in Kaunas
Abstract
Research background and hypothesis. Competition among wellness-fitness centre companies is quite high. Each
company which provides services to sport, in order to effectively carry out its activities, must take into account not
only the political, economic, social, cultural, technological environment to follow current and potential competitors
and their actions, but also consumer needs and priorities in selecting services. In addition, wellness-fitness centre
managers must know the key criteria of consumer choice, especially when preparing strategic marketing plans for
future company activities. Hypothesis – the most important keys of consumers selecting fitness centres services are
geographic location, the quality of services and price.
Research aim was to determine consumer preferences in selecting fitness and wellness services at the largest
health centres in Kaunas.
Research methods. The methods of quantitative questionnaire survey and observation were used, as well as the
comparison of the conducted research findings with Euro barometer (2009), "Rait" (2007), KTU representatives
investigating  the  customers  in  "Impuls"  sports  and  entertainment  parks  (2009),  Lithuanian  Union  of  Sports
Federations (LSFS) in 2010.
The questionnaire survey was conducted in March-April of 2011. A random probability sampling method was
used with visitors (n = 170) from four largest wellness-fitness centres in Kaunas and the e-version of the questionnaire
was uploaded into the social network profiles of wellness-fitness centres. The data were analysed and processed
using statistical package for social sciences (SPSS 17.0 version).
Research results. Results of the present research allow concluding that respondents' opinions concerning the
following service assessment of wellness-fitness centres in Kaunas were very scattered and very unequal (standard
deviation of the motivator assessment >1). However, only one provided service coincided. It was the service of sauna
and sauna area (standard deviation of the motivator assessment = 0.996 < 1). The research hypothesis was proved
partially.
Discussion and conclusions. Having executed the research it was determined that there were very versatile
consumer priorities in selecting the service provided by wellness-fitness centres in Kaunas and it was impossible to
distinguish predominant ones proving that wellness-fitness centres had to focus on the personalized service packages
and modern information technologies for the customer relationship management.
Keywords: consuming sports services, companies of sports services, package of services.
Downloads
Download data is not yet available.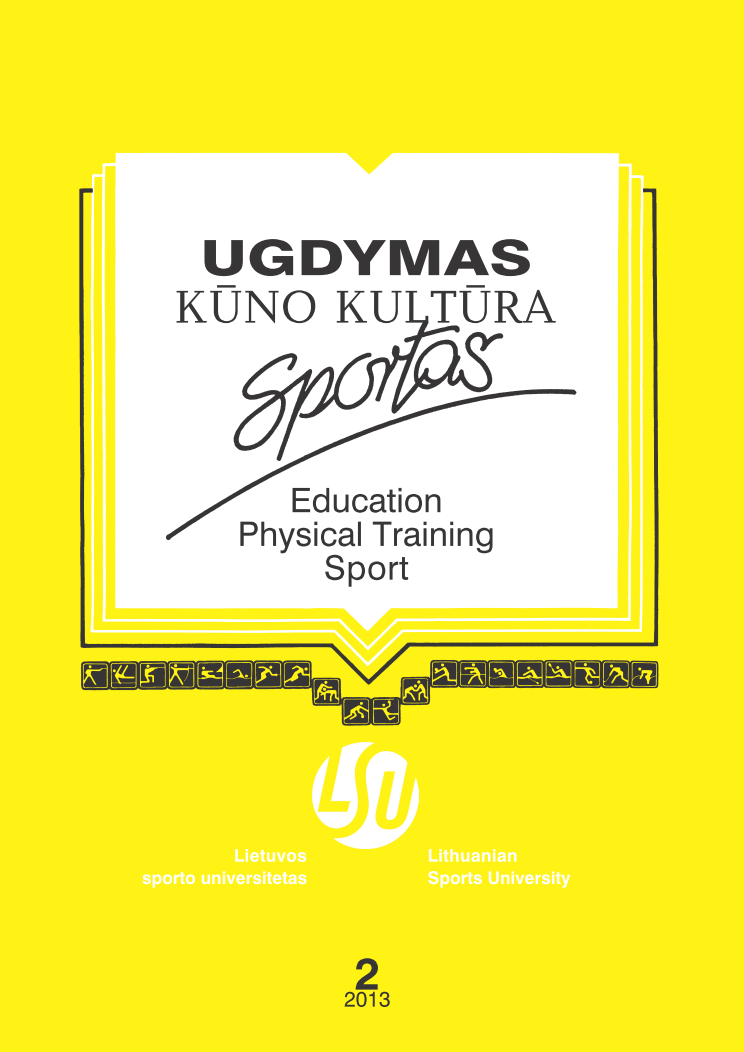 Downloads
How to Cite
Tamulienė, V. (2018). Research in Consumer Preferences Selecting the Services of Wellness-Fitness Centres in Kaunas. Baltic Journal of Sport and Health Sciences, 2(89). https://doi.org/10.33607/bjshs.v2i89.160
Section
Social Sciences in Sport
License
Each Article is an original contribution and not plagiarized/copied from any source/individual. It does not contravene on the rights of others and does not contain any libellous or unlawful statements and all references have been duly acknowledged at the appropriate places.
The article submitted only to Baltic Journal of Sport and Health Science, and it has not been previously published or submitted elsewhere for publication in a copyrighted publication.
The Author hereby authorizes the journal to edit, modify and make changes in the Articles/Research paper to make it suitable for publication in Baltic Journal of Sport and Health Science.
The Author hereby assigns all the copyright relating to the said Article/Research Paper to Baltic Journal of Sport and Health Science.
The Author has not assigned any kind of rights to the above said Article/Research Paper to any other person/Institute/Publication.
The Author agrees to indemnify Baltic Journal of Sport and Health Science against any claim legal and/or otherwise, action alleging facts which if true, constitute a beach of any of the foregoing warranties.