A 90 Day Supplementation of Polyunsaturated Fatty Acids (PUFA) Has Benefits on Health Measures and Exercise Performance
Abstract
Background. Fish oil contains essential fatty acids that are linked to better cardiovascular health and even the
prevention of sudden cardiac death in athletes. The purpose of this work was to examine the effects of 90 days of
fish oil supplementation in elite-, leisure-, and non-athletes on body fat percent, body mass index (BMI), blood
cholesterol and triglycerides, heart rate and blood pressure, and on exercise performance.
Method. Three groups of participants were tested with 12 equally distributed men and women in each: elite-
athletes, leisure-athletes, and non-athletes. Participants received body weight-adjusted commercially available fish
oil over 90 days. These nutritional supplements were taken in the morning, immediately following breakfast.
Results. The findings revealed that compared to the baseline, body fat percent decreased in all the three groups (p =
.034), however, blood cholesterol and the cholesterol/high density lipoprotein (HDL) ratio increased (p < .05), with
the elite-athletes showing the largest increase. Exercise performance, in terms of the time of running to voluntary
exhaustion, increased (p = .05), but the largest benefits were observed in non-athletes (22%) in contrast to leisure-
athletes (4%) and elite-athletes (1%), which could be linked to a ceiling effect. No statistically significant changes
were observed in any other anthropometric, physiological, or biochemical measures.
Conclusion. These findings suggest that 90 days of fish oil supplementation may benefit body composition and
increase exercise performance, especially in non-athletes, and increases cholesterol, as well as cholesterol/HDL
ratio levels, primarily in elite-athletes. Based on these results, it appears that fish oil supplementation yields greater
benefits in non-athletes than in athletes.
Keywords:  anthropometric measures, biochemical measures, body composition, in-situ, real life setting.
Downloads
Download data is not yet available.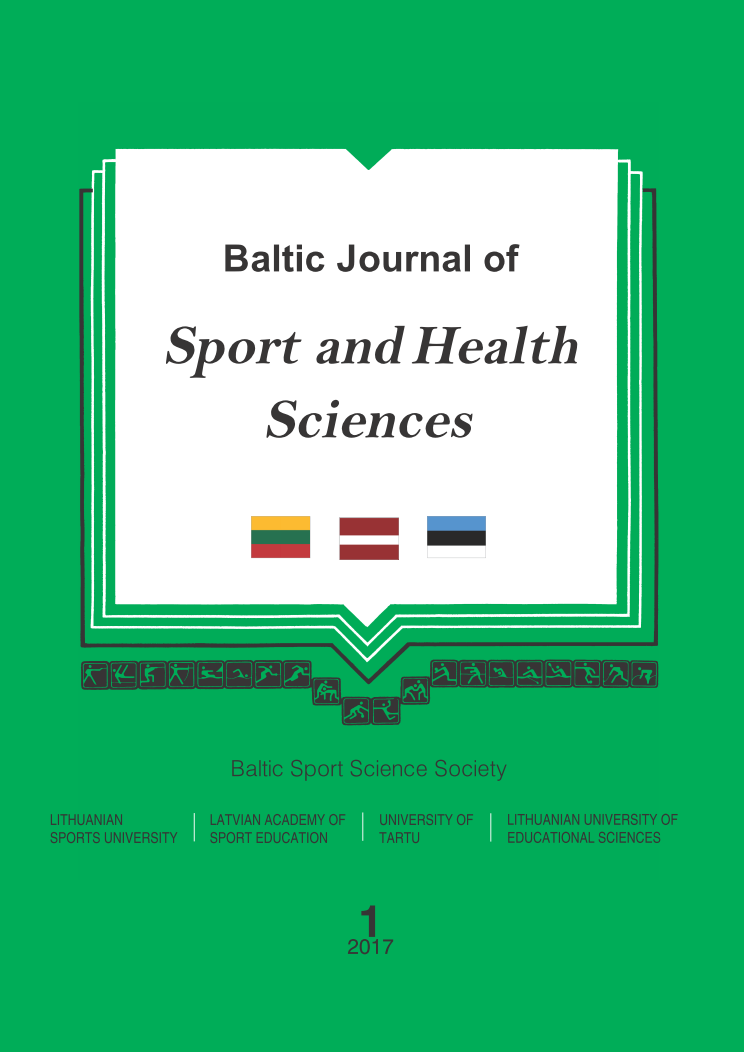 Downloads
How to Cite
Ránky, M., Köteles, F., Nyakas, C., Bárdos, G., & Szabo, A. (2018). A 90 Day Supplementation of Polyunsaturated Fatty Acids (PUFA) Has Benefits on Health Measures and Exercise Performance. Baltic Journal of Sport and Health Sciences, 1(104). https://doi.org/10.33607/bjshs.v1i104.15
Section
Health, Rehabilitation and Adapted Physical Activity
License
Each Article is an original contribution and not plagiarized/copied from any source/individual. It does not contravene on the rights of others and does not contain any libellous or unlawful statements and all references have been duly acknowledged at the appropriate places.
The article submitted only to Baltic Journal of Sport and Health Science, and it has not been previously published or submitted elsewhere for publication in a copyrighted publication.
The Author hereby authorizes the journal to edit, modify and make changes in the Articles/Research paper to make it suitable for publication in Baltic Journal of Sport and Health Science.
The Author hereby assigns all the copyright relating to the said Article/Research Paper to Baltic Journal of Sport and Health Science.
The Author has not assigned any kind of rights to the above said Article/Research Paper to any other person/Institute/Publication.
The Author agrees to indemnify Baltic Journal of Sport and Health Science against any claim legal and/or otherwise, action alleging facts which if true, constitute a beach of any of the foregoing warranties.