Effect of Two Different Methods Reducing Body Mass (Rapid and Medium Rapid) on Professional Wrestlers' Changes in Body Composition and Force
Abstract
Research background and hypothesis. Wrestlers often want to reduce body mass during a short period of time.
According  to  literature,  it  is  important  not  to  change  body  composition  when  reducing  body  mass.  It  has  been
intended to examine muscle force changes when reducing body mass rapidly and averagely rapidly.
Research aim was to estimate the effect of methods reducing body mass (rapid, averagely rapid) on wrestlers'
changes in body mass components and force.
Research methods. Groups of research participants: one – wrestlers who did not reduce body mass (n = 47),
two  –  wrestlers  who  reduced  body  mass  rapidly  (n  =  16),  three  –  wrestlers  who  reduced  body  mass  averagely
rapidly (n = 9). Muscle force (dynamometer MMT) and mass components (bio-impedance method Tanita 300) were
estimated before and after reducing body mass.
Research results.  Before reducing body mass (rapidly, averagely rapidly) wrestlers' body mass was greater
(p < 0.05) than after reducing it. Wrestlers lost 4.5% of body mass when reducing it rapidly (24–72 hours), when
averagely rapidly (72 hours – 2 weeks) – 4.03%. After reducing body mass fat free body mass decreased tendentiously.
Using rapid method, wrestlers' force of both legs diminished (p < 0.05), when using averagely rapid method, force of
left leg diminished (p < 0.05). Force of arms decreased (p < 0.05) after reducing body mass by both methods.
Discussion and conclusions. Subjects used aggressive method of reducing body mass. They need appropriate
training about athlete nutrition, optimal reduced body mass. Tendentious decrease in free body mass shows decrease
in muscle force.
Force  in  arms  and  legs  significantly  decreased  for  wrestlers  using  rapid  and  averagely  rapid  methods  for
reducing body mass.
Keywords:  reducing body mass, mass components, change in force, judo.
Downloads
Download data is not yet available.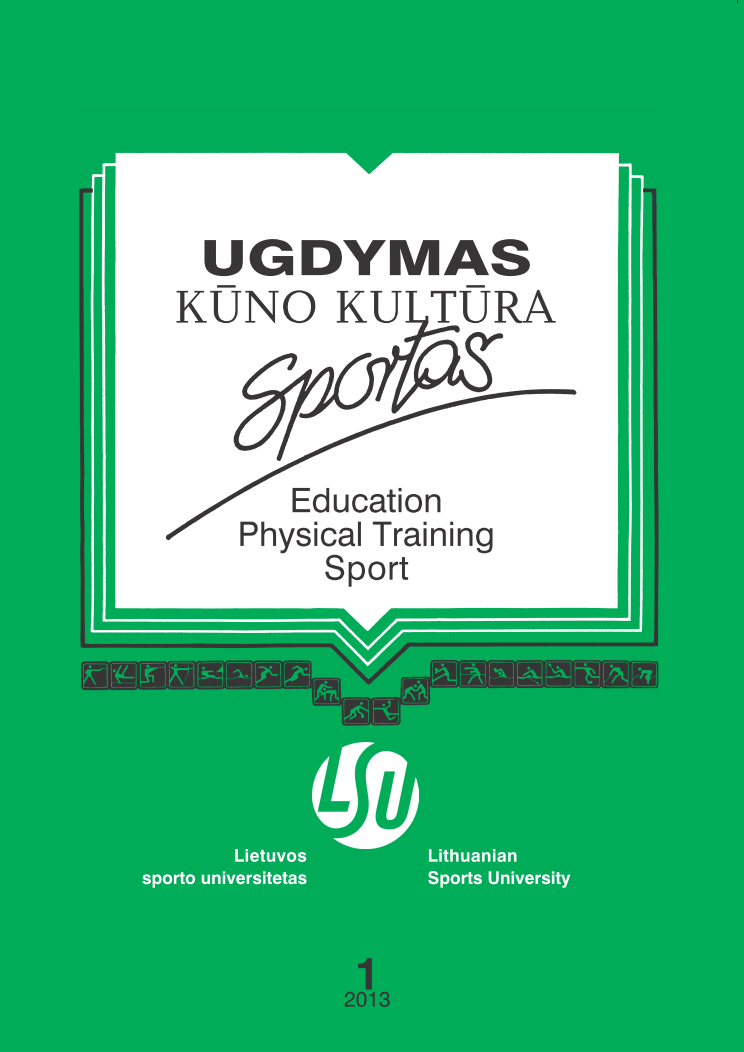 Downloads
How to Cite
Matulevičiūtė, B., Šermukšnienė, R. Žumbakytė, Mockus, P., & Bieliūnaitė, A. (2018). Effect of Two Different Methods Reducing Body Mass (Rapid and Medium Rapid) on Professional Wrestlers' Changes in Body Composition and Force. Baltic Journal of Sport and Health Sciences, 1(88). https://doi.org/10.33607/bjshs.v1i88.144
License
Each Article is an original contribution and not plagiarized/copied from any source/individual. It does not contravene on the rights of others and does not contain any libellous or unlawful statements and all references have been duly acknowledged at the appropriate places.
The article submitted only to Baltic Journal of Sport and Health Science, and it has not been previously published or submitted elsewhere for publication in a copyrighted publication.
The Author hereby authorizes the journal to edit, modify and make changes in the Articles/Research paper to make it suitable for publication in Baltic Journal of Sport and Health Science.
The Author hereby assigns all the copyright relating to the said Article/Research Paper to Baltic Journal of Sport and Health Science.
The Author has not assigned any kind of rights to the above said Article/Research Paper to any other person/Institute/Publication.
The Author agrees to indemnify Baltic Journal of Sport and Health Science against any claim legal and/or otherwise, action alleging facts which if true, constitute a beach of any of the foregoing warranties.