Differences of Age and Gender Related Posture in Urban and Rural Schoolchildren Aged 7 to 10
Abstract
Research  background  and  hypothesis.  Postural  disorders  appear  to  be  one  of  the  biggest  health  threats  in
Lithuania. Especially significant alterations in children's health-related behaviour emerge when they start going
to school. These changes in their daily routine are often faulty and may lead to the deteriorating health condition.
Postural abnormalities need to be corrected as early as possible before they become permanent. According to some
authors, rural children are more physically active compared to city children, therefore it is interesting to identify is
there is any difference in body posture in rural and urban schoolchildren.
Research aim was to assess and compare posture in urban and rural schoolchildren aged 7 to 10.
Research sample: 248 schoolchildren (109 – from urban area; 139 – from rural area).
Research  methods.  Posture  of  rural  and  urban  schoolchildren  was  assessed  using W.  K.  Hoeger's  method.
Alignment of ten body segments was visually evaluated in a frontal (head, shoulders, spine, hips, knees and ankles)
and sagittal (neck and upper back, trunk, abdomen, lower back, legs) planes.
Research  results.  There  were  no  significant  differences  (p   >  0.05)  in  total  posture  score  between  girls
(41.80 ± 6.87) and boys (40.62 ± 7.13). Girls and boys from the rural area had significantly (p  < 0.05) higher total
posture score than their counterparts from the urban area.
Discussion and conclusions. There were no significant differences in total posture score between girls and boys.
Regardless of age and gender, schoolchildren from rural area had better posture than children from urban area.
Keywords: alignment of body segments, area of residence, children's posture.
Downloads
Download data is not yet available.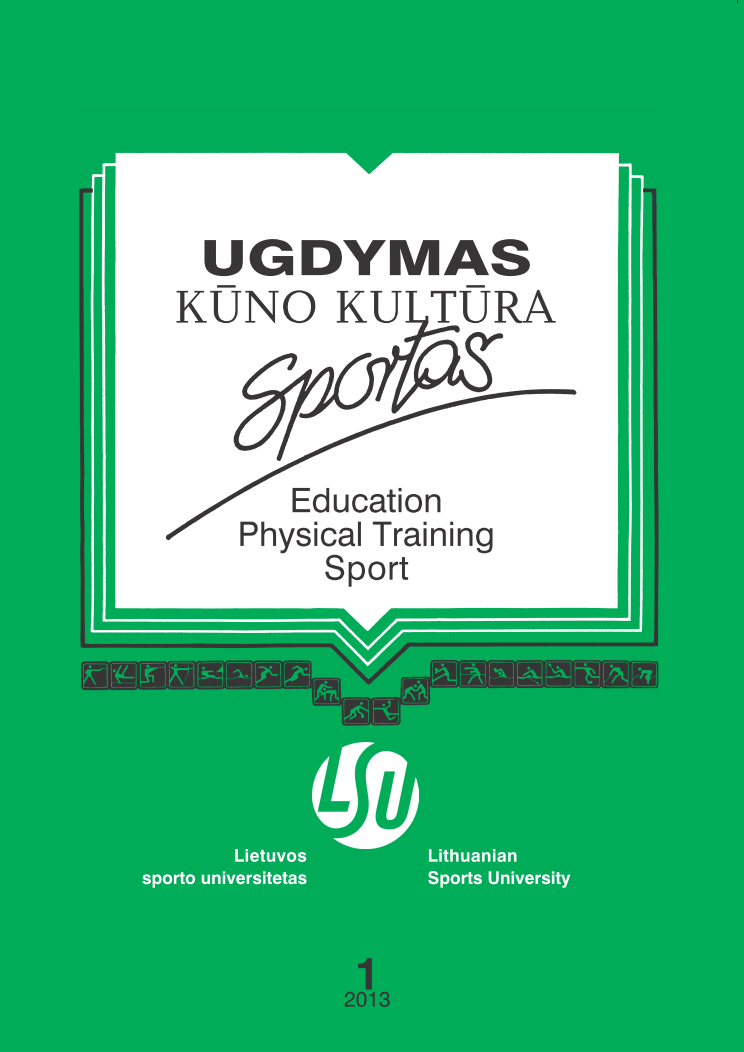 Downloads
How to Cite
Dudonienė, V., Šakalienė, R., Švedienė, L., & Petrauskienė, I. M. (2018). Differences of Age and Gender Related Posture in Urban and Rural Schoolchildren Aged 7 to 10. Baltic Journal of Sport and Health Sciences, 1(88). https://doi.org/10.33607/bjshs.v1i88.142
Section
Health, Rehabilitation and Adapted Physical Activity
License
Each Article is an original contribution and not plagiarized/copied from any source/individual. It does not contravene on the rights of others and does not contain any libellous or unlawful statements and all references have been duly acknowledged at the appropriate places.
The article submitted only to Baltic Journal of Sport and Health Science, and it has not been previously published or submitted elsewhere for publication in a copyrighted publication.
The Author hereby authorizes the journal to edit, modify and make changes in the Articles/Research paper to make it suitable for publication in Baltic Journal of Sport and Health Science.
The Author hereby assigns all the copyright relating to the said Article/Research Paper to Baltic Journal of Sport and Health Science.
The Author has not assigned any kind of rights to the above said Article/Research Paper to any other person/Institute/Publication.
The Author agrees to indemnify Baltic Journal of Sport and Health Science against any claim legal and/or otherwise, action alleging facts which if true, constitute a beach of any of the foregoing warranties.