Athletic Identity and Self-Esteem of Wheelchair Basketball Players
Abstract
Background.  Disabled  persons  do  not  consider  and  use  a  single  identity  to  represent  themselves. Athletic
identity as a wheelchair basketball player can help the process of acceptance and support psychological adjustment.
Thus, there is a need to research the association between and the influence of the wheelchair basketball player's
qualification and a strong athletic identity on a person's self-esteem (Hawkins, Coffee, & Soundy, 2014; Martin,
Adams-Mushett, & Smith, 1995).
Methods. The multidimensional Athletic Identity Measurement Scale (Brewer & Cornelius, 2002) was used
to assess self-identity, social identity, exclusivity and negative affectivity of 36 wheelchair basketball players. Self-
esteem was evaluated by the adapted V. Stolin's (Столин, 1983) test including nine self-evaluation scales: internal
integrity,  self-confidence,  self-direction,  self-image,  self-interest,  self-content,  self-orientation,  self-contradiction
and self-accusation.
Results.  It  was  found  out  that  the  athletic  identity  value  of  the  players  participating  in  international  level
competitions (30 points) is statistically significantly higher compared to that of participating in national level events
(18 points, p < .05).
Conclusions. Disabled persons of the competition group with better athletic identity represented stronger self-
integrity and were less self-accusative, more self-content, their self-confidence grew and they had a better self-image
in comparison with the national level group.
Keywords: self-confdence, self-image, persons with physical disability.
Downloads
Download data is not yet available.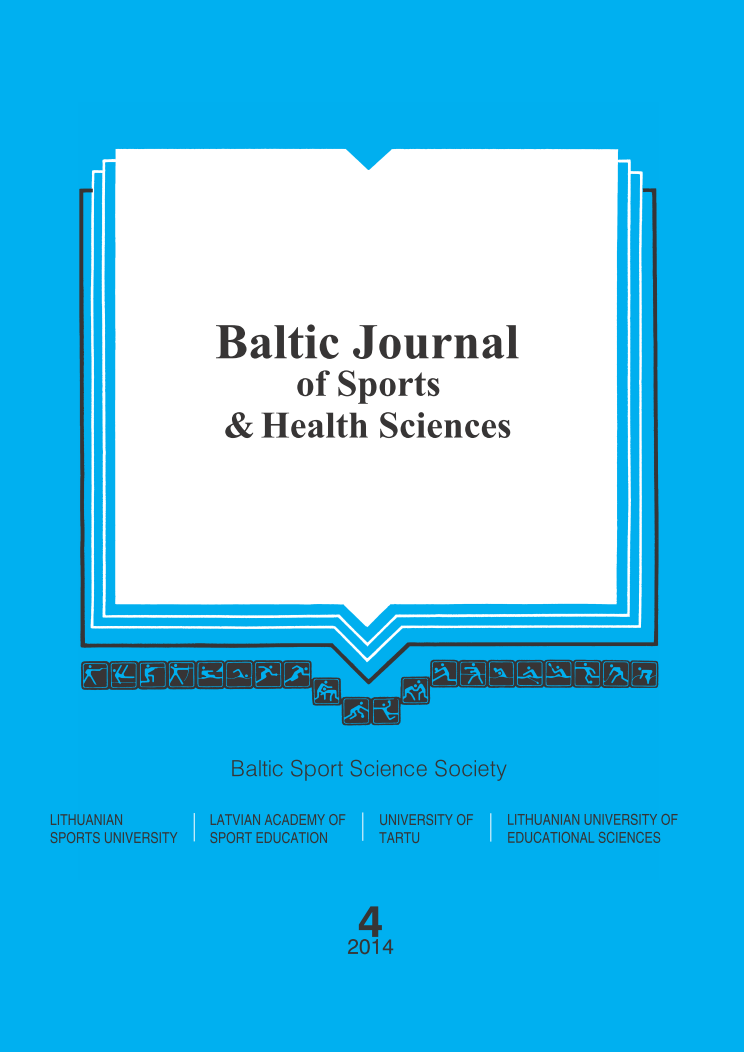 Downloads
How to Cite
Skučas, K. (2018). Athletic Identity and Self-Esteem of Wheelchair Basketball Players. Baltic Journal of Sport and Health Sciences, 4(95). https://doi.org/10.33607/bjshs.v4i95.135
Section
Health, Rehabilitation and Adapted Physical Activity
License
Each Article is an original contribution and not plagiarized/copied from any source/individual. It does not contravene on the rights of others and does not contain any libellous or unlawful statements and all references have been duly acknowledged at the appropriate places.
The article submitted only to Baltic Journal of Sport and Health Science, and it has not been previously published or submitted elsewhere for publication in a copyrighted publication.
The Author hereby authorizes the journal to edit, modify and make changes in the Articles/Research paper to make it suitable for publication in Baltic Journal of Sport and Health Science.
The Author hereby assigns all the copyright relating to the said Article/Research Paper to Baltic Journal of Sport and Health Science.
The Author has not assigned any kind of rights to the above said Article/Research Paper to any other person/Institute/Publication.
The Author agrees to indemnify Baltic Journal of Sport and Health Science against any claim legal and/or otherwise, action alleging facts which if true, constitute a beach of any of the foregoing warranties.