Assessment of Emotional and Behaviour Disorders of Girls Living in Restricted Environment and Intervention Strategies Through Physical Activity
Abstract
Background. Students with emotional and behavioural disorders (EBD) represent one of the most challenging
groups not only to provide effective educational services, but often present complex challenges for schools, families,
and society. There is a lack of information about concrete research-based interventions and practices which could
be helpful for delinquent students with EBD to cope with problem behaviour more effectively. The aim of the study
was to assess the emotional and behaviour disorders of girls living in socialization centres and to review intervention
strategies for changing behaviour through physical activity.
Methods. The study was conducted in two Children Socialization Centres where 50 girls aged 12 – 18 are
housed following the decision of Child Welfare Commission. Behaviour Assessment System for Children (BASC-2),
a Self-Report Personality Scale was used to find out emotional and behavioural disorders of girls.
Results. Analysis of our study results reveals that the girls with delinquent behaviour living in CSC show the
risk of having problems in school, high level of social stress, anxiety, sense of inadequacy, atypicality, attention
problems, hyperactivity and lower levels of self-esteem, self-reliance, interpersonal relations. The results support the
conclusions of other studies which found significant relations between EBD students and weak levels of social skills,
self-esteem and self-efficacy, cooperation.
Conclusion.  Sport  and  physical  activity  settings  are  effective  intervention  setting  for  creation,  practicing
and maintenance of pro-social behaviour and emotion managing; furthermore those skills could be transferred to
community settings in everyday life. The best education setting for EBD students could be provided in inclusive
environment, where the positive behaviour skills could be copied and maintained.
Keywords: emotional and behavioural disorders, intervention strategies, delinquent behaviour, restricted environment.
Downloads
Download data is not yet available.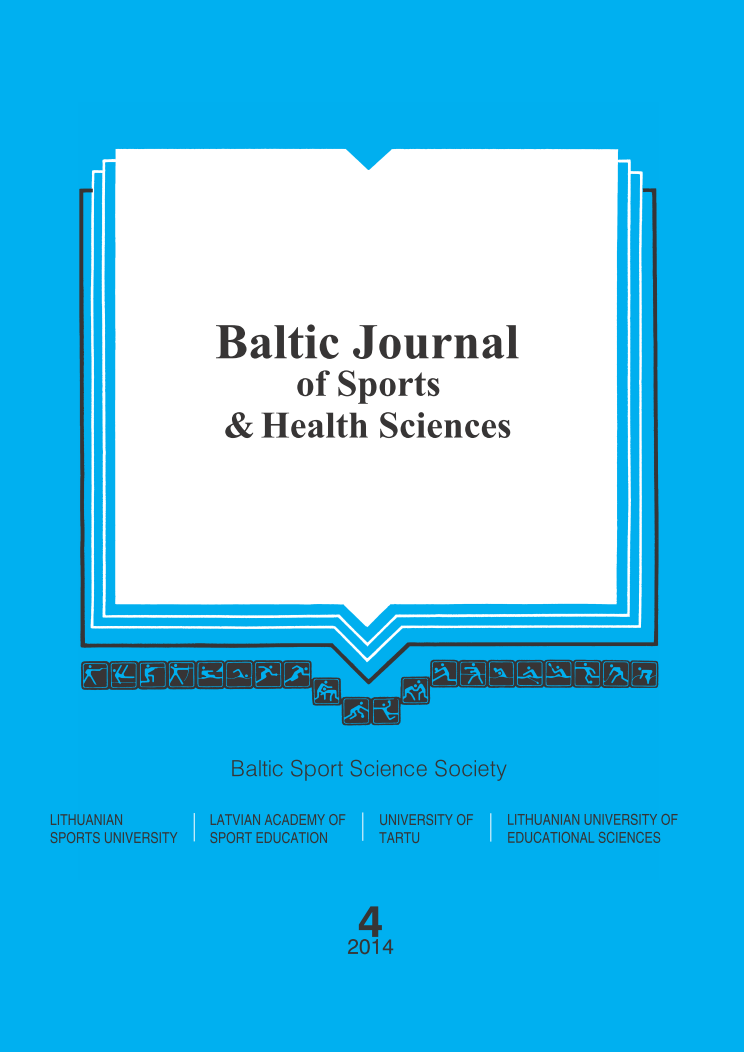 Downloads
How to Cite
Rėklaitienė, D., Gaižauskienė, A., Ostasevičienė, V., & Požėrienė, J. (2018). Assessment of Emotional and Behaviour Disorders of Girls Living in Restricted Environment and Intervention Strategies Through Physical Activity. Baltic Journal of Sport and Health Sciences, 4(95). https://doi.org/10.33607/bjshs.v4i95.134
Section
Social Sciences in Sport
License
Each Article is an original contribution and not plagiarized/copied from any source/individual. It does not contravene on the rights of others and does not contain any libellous or unlawful statements and all references have been duly acknowledged at the appropriate places.
The article submitted only to Baltic Journal of Sport and Health Science, and it has not been previously published or submitted elsewhere for publication in a copyrighted publication.
The Author hereby authorizes the journal to edit, modify and make changes in the Articles/Research paper to make it suitable for publication in Baltic Journal of Sport and Health Science.
The Author hereby assigns all the copyright relating to the said Article/Research Paper to Baltic Journal of Sport and Health Science.
The Author has not assigned any kind of rights to the above said Article/Research Paper to any other person/Institute/Publication.
The Author agrees to indemnify Baltic Journal of Sport and Health Science against any claim legal and/or otherwise, action alleging facts which if true, constitute a beach of any of the foregoing warranties.