Intentions of Patients with Diabetes to Participate in Regular Physical Activity: Application of the Theory of Planned Behaviour
Abstract
Background. The aim of this study is to evaluate the predictive power of affective and cognitive attitudes,
perceived behavioural control, subjective norms and past behaviour for intentions to be physically active in a sample
of patients with diabetes.
Methods. The study included 114 patients with diabetes, 31.2% were men, 62.3% had Type 1 diabetes. Mean age
of participants was 44.08 ± 19.31 years. Past physical activity behaviour was measured using physical activity scale
from Summary of Diabetes Self-Care Activities (SDSCA) (Cronbach alpha .62) (Toobert, Hamsted, & Glasgow,
2000). Variables within Theory of planet behaviour (intentions, affective and cognitive attitudes, subjective norms
and perceived behavioural control) were developed based on the recommendations made by Ajzen (2006). All Theory
of planet behaviour questions were scored using a 7-point Likert scale. Cronbach alphas varied from .61 to .96.
Results. Perceived behavioural control and subjective norm were significant predictors of intentions (p < .05).
Emotional and cognitive attitudes as well as past physical activity were not related to intentions to exercise (p > .05).
Conclusions.  Enhancing  self-efficacy  and  ability  to  control  the  disease  as  well  as  strengthening  positive
relationships of patients with members of the team involved in the treatment, whose attitudes are regarded, should be
considered developing interventions aimed at increasing the motivation of patients with diabetes to regularly practice  physical activities.
Keywords: health behaviour, motivation, theory.
Downloads
Download data is not yet available.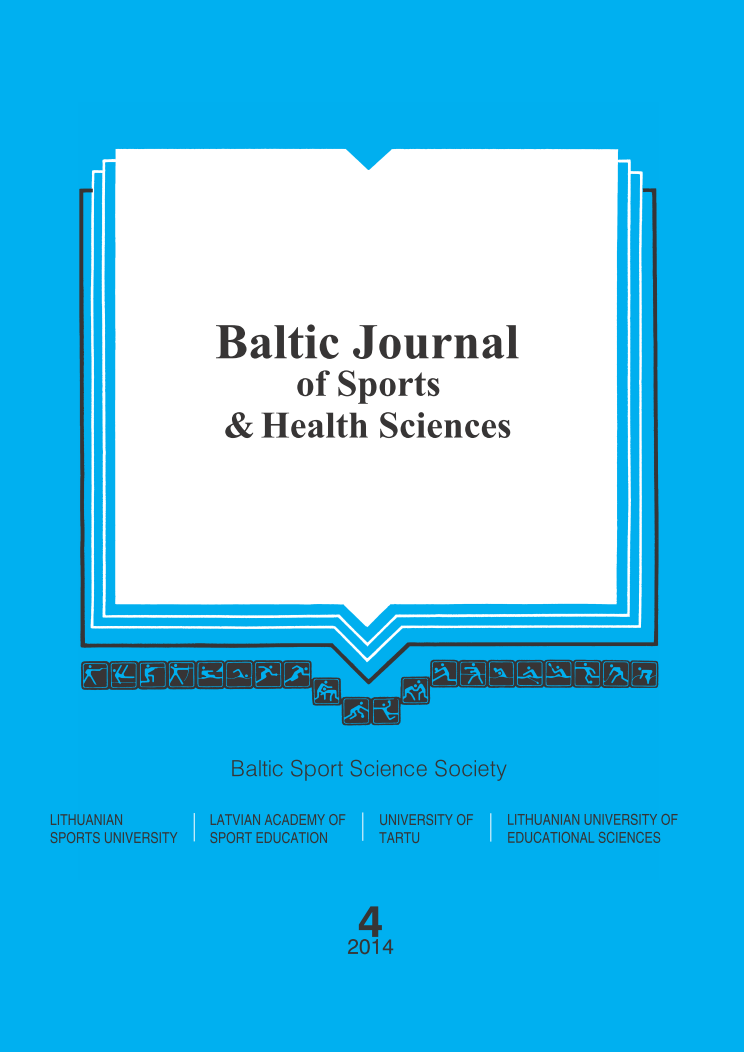 Downloads
How to Cite
Miežienė, B., Šinkariova, L., & Jankauskienė, R. (2018). Intentions of Patients with Diabetes to Participate in Regular Physical Activity: Application of the Theory of Planned Behaviour. Baltic Journal of Sport and Health Sciences, 4(95). https://doi.org/10.33607/bjshs.v4i95.132
Section
Social Sciences in Sport
License
Each Article is an original contribution and not plagiarized/copied from any source/individual. It does not contravene on the rights of others and does not contain any libellous or unlawful statements and all references have been duly acknowledged at the appropriate places.
The article submitted only to Baltic Journal of Sport and Health Science, and it has not been previously published or submitted elsewhere for publication in a copyrighted publication.
The Author hereby authorizes the journal to edit, modify and make changes in the Articles/Research paper to make it suitable for publication in Baltic Journal of Sport and Health Science.
The Author hereby assigns all the copyright relating to the said Article/Research Paper to Baltic Journal of Sport and Health Science.
The Author has not assigned any kind of rights to the above said Article/Research Paper to any other person/Institute/Publication.
The Author agrees to indemnify Baltic Journal of Sport and Health Science against any claim legal and/or otherwise, action alleging facts which if true, constitute a beach of any of the foregoing warranties.