Subjective Perception of the Realities of Modern Physical Education Classes Among Physical Education Teachers and Students in Higher Grades
Abstract
Background. Intense changes in national education require new students' teaching technologies in physical
education. There are a number of studies, published books or articles on the topics of modern physical education
classes and they provide guidance for teachers, but we believe that there is a lack of modernity in the reality of
physical education, still focusing on sports lessons avoiding non-traditional content of the lessons. Research aim was
to reveal the subjective opinions of physical education teachers and students in higher grades about the realities of
modern physical education classes.
Methods. The sample included physical education teachers (n = 33) and 10–11 th  grade students (n = 324),
who were selected applying the convenience sampling strategy from Kaunas city schools. The research employed
a questionnaire by Pate, Corbin, and Pangrazi (1998), and some more questions of interest to the researchers were
added.  The  survey  was  conducted  in  spring  of  2012.  The  research  participants  were  surveyed  in  their  schools
during the classes with the consent of physical education teachers and students and with the permission of school
administration received in advance.
Results. Students more often pointed out the lack of attention to individual work and its implementation, just
one-fifth of the students indicated that lessons met their needs and physical education teachers sometimes met modern
requirements, showing sincerity, respect, etc. The survey showed that physical education classes were still largely
dominated by sports and movement skills, and only sometimes by the non-traditional or healthy lifestyle. Teachers
more often than students highlighted the progress and initiative criteria. The most common means of discipline for
students in physical education were a whistle and loud shouting.
Conclusion.  Physical  Education  teachers  tend  to  subjectively  better  evaluate  the  contemporary  realities  of
physical education classes compared to students. Teachers more often indicated that they applied independent work
in their lessons, and thought that the lesson content met the needs of the students and led enough to unconventional
physical activity and healthy lifestyle. Students more often pointed out that teachers never assessed them according
to their progress in the development of their physical qualities and knowledge during lessons. In the opinions of
teachers and students, physical fitness test results are still common evaluation criteria in the lessons.
Keywords: lesson, physical education, modern, teachers.
Downloads
Download data is not yet available.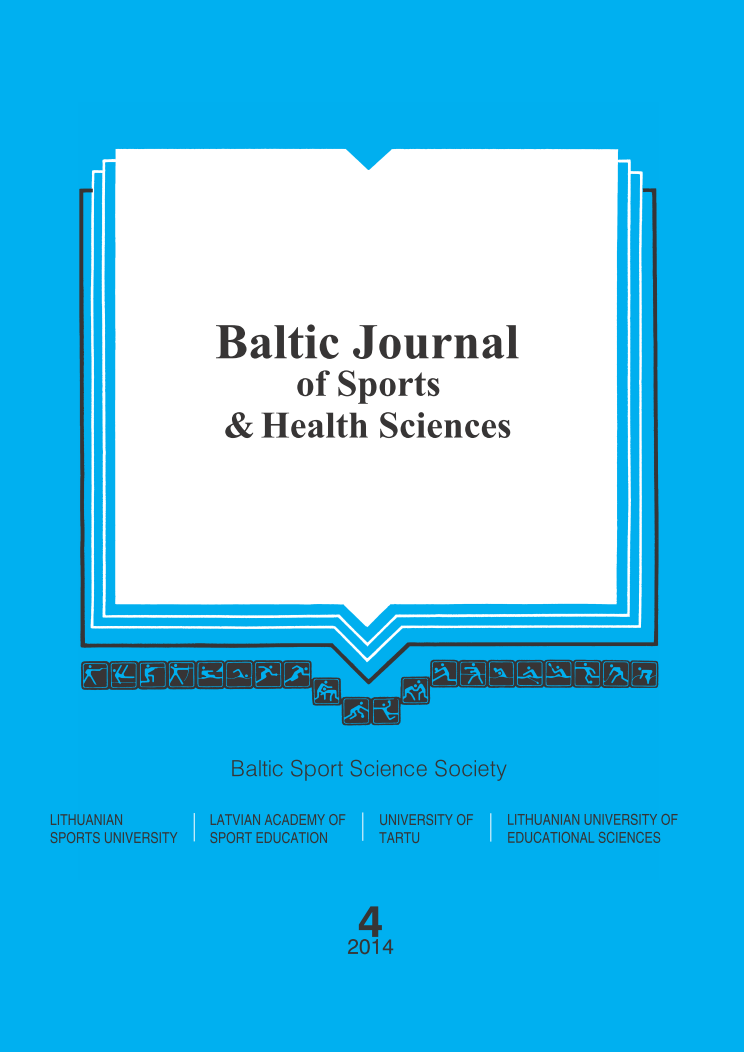 Downloads
How to Cite
Maciulevičienė, E., & Gedvilienė, J. (2018). Subjective Perception of the Realities of Modern Physical Education Classes Among Physical Education Teachers and Students in Higher Grades. Baltic Journal of Sport and Health Sciences, 4(95). https://doi.org/10.33607/bjshs.v4i95.131
Section
Social Sciences in Sport
License
Each Article is an original contribution and not plagiarized/copied from any source/individual. It does not contravene on the rights of others and does not contain any libellous or unlawful statements and all references have been duly acknowledged at the appropriate places.
The article submitted only to Baltic Journal of Sport and Health Science, and it has not been previously published or submitted elsewhere for publication in a copyrighted publication.
The Author hereby authorizes the journal to edit, modify and make changes in the Articles/Research paper to make it suitable for publication in Baltic Journal of Sport and Health Science.
The Author hereby assigns all the copyright relating to the said Article/Research Paper to Baltic Journal of Sport and Health Science.
The Author has not assigned any kind of rights to the above said Article/Research Paper to any other person/Institute/Publication.
The Author agrees to indemnify Baltic Journal of Sport and Health Science against any claim legal and/or otherwise, action alleging facts which if true, constitute a beach of any of the foregoing warranties.