The Benefits of Advanced Data Analytics in Basketball: Approach of Managers and Coaches of Lithuanian Basketball League Teams
Abstract
Background. Many industries use a variety of statistical models for a decision-making, but no industry relies
on analytical data as a professional sport (Davenport, 2014). Sports organization management and decision-making
have a direct relationship with the sports teams and this relationship is called a comprehensive statistical analysis
(Radovanović, Radojičić, Jeremić & Savić, 2013). Alamar (2013) argues that a detailed statistical analysis of the
game activities is an important aspect in order to more accurately assess the player's market value.
Methods. The sample consisted of 30 respondents (10 managers, 10 coaches, 10 coach assistants) of the 10 men's
basketball teams. Managers and coaches of Lithuanian Basketball League teams had to fill in online questionnaire,
the main focus of which was to identify their opinion about advanced data analytics. The questionnaire was designed
based on scientific studies (Alamar, 2013; Martinez & Martinez, 2011). Questionnaire scales were tested using SPSS
20.0 statistical analysis program.
Results. Statistical analysis showed that questionnaire reliability was average (Cronbach α = .549–.558). The
survey results showed that the teams of Lithuanian Basketball League there employ professionals whose main goal
is to analyse performance indicators, statistical data of opponents and new incoming players. Majority of managers
and  coaches  believe  that  new  information  technologies  of  advanced  basketball  data  could  help  improve  team
performance results and draw more attention to basketball from fans' perspective. It was found that managers and
coaches thought that offensive strategy depends on the players of the team. Coaches and managers had a positive
approach to basketball analytics and believed that it had a bright future in basketball industry.
Conclusions. The correct use of limitless data would definitely help improve team performance and effectively
use their financial resources recruiting the most efficient players.
Keywords:  statistical analysis, performance indicators, basketball.
Downloads
Download data is not yet available.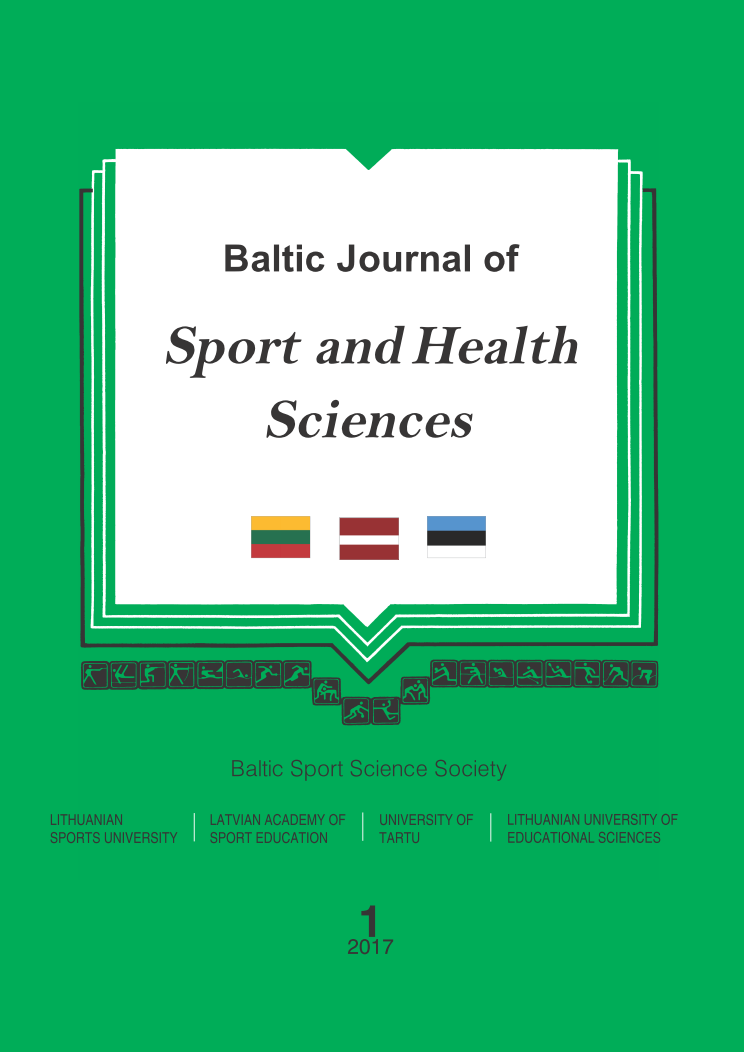 Downloads
How to Cite
Demenius, J., & Kreivytė, R. (2018). The Benefits of Advanced Data Analytics in Basketball: Approach of Managers and Coaches of Lithuanian Basketball League Teams. Baltic Journal of Sport and Health Sciences, 1(104). https://doi.org/10.33607/bjshs.v1i104.11
License
Each Article is an original contribution and not plagiarized/copied from any source/individual. It does not contravene on the rights of others and does not contain any libellous or unlawful statements and all references have been duly acknowledged at the appropriate places.
The article submitted only to Baltic Journal of Sport and Health Science, and it has not been previously published or submitted elsewhere for publication in a copyrighted publication.
The Author hereby authorizes the journal to edit, modify and make changes in the Articles/Research paper to make it suitable for publication in Baltic Journal of Sport and Health Science.
The Author hereby assigns all the copyright relating to the said Article/Research Paper to Baltic Journal of Sport and Health Science.
The Author has not assigned any kind of rights to the above said Article/Research Paper to any other person/Institute/Publication.
The Author agrees to indemnify Baltic Journal of Sport and Health Science against any claim legal and/or otherwise, action alleging facts which if true, constitute a beach of any of the foregoing warranties.