Nutrition Status of High Performance Rowers, Canoeists and Kayakers
Abstract
Research background and hypothesis. Rowing and canoeing-kayaking are some of the leading sports in Lithuania,
and  athletes  have  achieved  victories  in  European  and  world  championships.  In  order  to  effectively  manage  the
preparation of Lithuanian elite rowers, canoeists and kayakers, research in their nutrition status is important, relevant
and necessary. Hypothesis: dietary intake of rowers and canoeists-kayakers comply with nutrition requirements.
Research  aim  was  to  assess  nutrition  status,  physical  development  and  the  interactions  between  them  for
Lithuanian Olympic team rowers, canoeists and kayakers.
Research methods. Research on the nutrition status and supplementation was carried out in the preparatory
competition  period  in  2012. The  sample  included  18.2  ±  2.3-year-old  rowers  (n  =  24)  and  21.5  ±  5.2-year-old
canoeists-kayakers (n = 12). Body composition analysis and physical development of athletes was performed using
multi-frequency bioelectrical impedance analysis (BIA) method.
Research results. Regardless of gender, MFMI of kayakers-canoeists and rowers was only average. Athletes'
dietary energy intake (EI) does not fully cover the energy expenditure, the diet lacks carbohydrates, dietary fibres,
omega-3 fatty acids, vitamin D, and there is too much fat, saturated fatty acids and cholesterol. 92% of athletes take
supplements. Most often athletes' dietary supplementation includes carbohydrates (73.9%), amino acids (73.9%),
minerals (73.9%), vitamins (65.2%), and multivitamins (65.2%).  
Discussion and conclusions. Nutrition status and physical development of Lithuanian elite kayakers-canoeists
and rowers does not meet the requirements of nutrition. Diets of high performance kayakers-canoeists and rowers
must be optimized, adjusted and individualized.
Keywords: rowers, canoeists and kayakers, high sports performance, athlete nutrition.
Downloads
Download data is not yet available.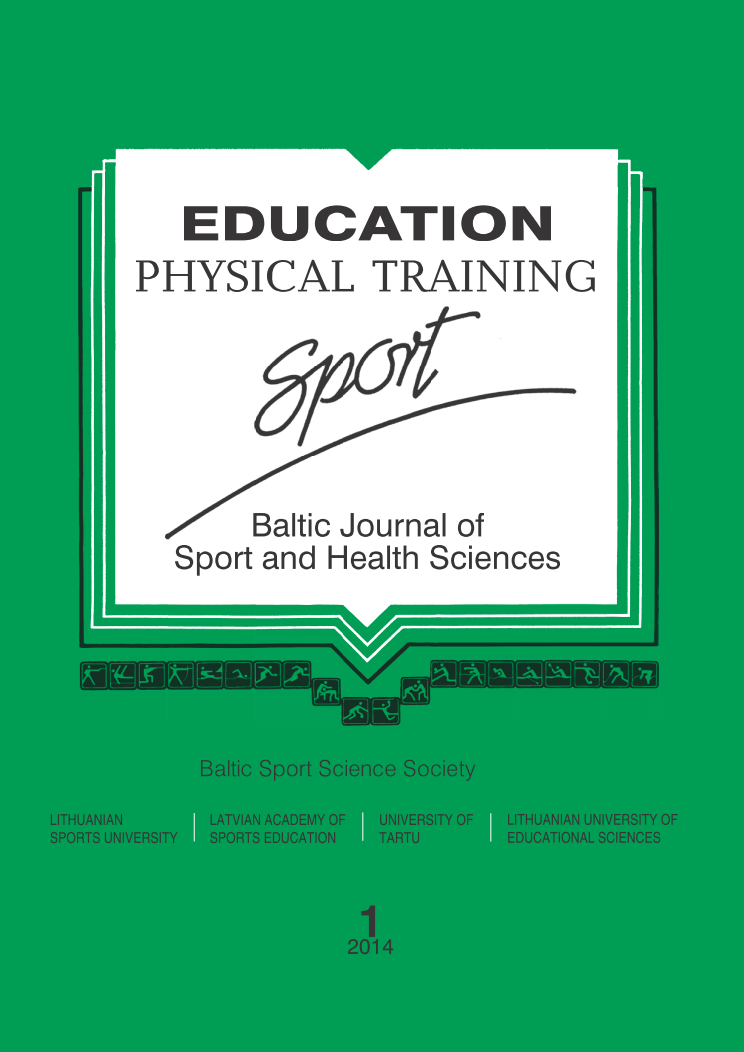 Downloads
How to Cite
Baranauskas, M., Tubelis, L., Stukas, R., Švedas, E., Samsonienė, L., & Karanauskienė, D. (2018). Nutrition Status of High Performance Rowers, Canoeists and Kayakers. Baltic Journal of Sport and Health Sciences, 1(92). https://doi.org/10.33607/bjshs.v1i92.106
License
Each Article is an original contribution and not plagiarized/copied from any source/individual. It does not contravene on the rights of others and does not contain any libellous or unlawful statements and all references have been duly acknowledged at the appropriate places.
The article submitted only to Baltic Journal of Sport and Health Science, and it has not been previously published or submitted elsewhere for publication in a copyrighted publication.
The Author hereby authorizes the journal to edit, modify and make changes in the Articles/Research paper to make it suitable for publication in Baltic Journal of Sport and Health Science.
The Author hereby assigns all the copyright relating to the said Article/Research Paper to Baltic Journal of Sport and Health Science.
The Author has not assigned any kind of rights to the above said Article/Research Paper to any other person/Institute/Publication.
The Author agrees to indemnify Baltic Journal of Sport and Health Science against any claim legal and/or otherwise, action alleging facts which if true, constitute a beach of any of the foregoing warranties.