The Relationship Between Cognitive Performance and Cardiorespiratory Fitness in Adolescents
Abstract
Background. Literature suggests cardiorespiratory fitness as a factor influencing cognitive improvement. The authors of the present study sought to investigate if cardiorespiratory fitness related to cognitive performance after an acute bout of game-based exercise of different intensities in adolescents.
Methods.  As many as 37 adolescents (24 girls and 13 boys, 15–16 years of age) were assigned to three groups: experimental group 1 (EX 1), experimental group 2 (EX 2), and control (CON) group. The experimental groups experienced different levels of exercise intensity (EX 1 – light intensity, EX 2 – vigorous intensity). The Shuttle Run Test was performed a week before the intervention and VO2peak was calculated. Symbol Digit Modalities Test (SDMT) was evaluated before and after the acute intervention. A 2 x 3 repeated-measures ANOVA was used to analyze the SDMT and Pearson's correlation coefficient was used to estimate the relationship between the cognitive performance (SDMT) and cardiorespiratory fitness (VO2peak).
Results. Comparing the SDMT scores before and after the intervention, there were no differences found between the three groups. Neither in any of the experimental groups nor in the control group was a relationship between the SDMT score and VO2peak observed.
Conclusion. Acute game-based exercise intervention did not prove to improve cognitive performance effectively. The authors of the present paper did not confirm the relationship between cardiorespiratory fitness and cognitive performance in adolescents.
Keywords: exercise, cognitive performance, cardiorespiratory fitness.
Downloads
Download data is not yet available.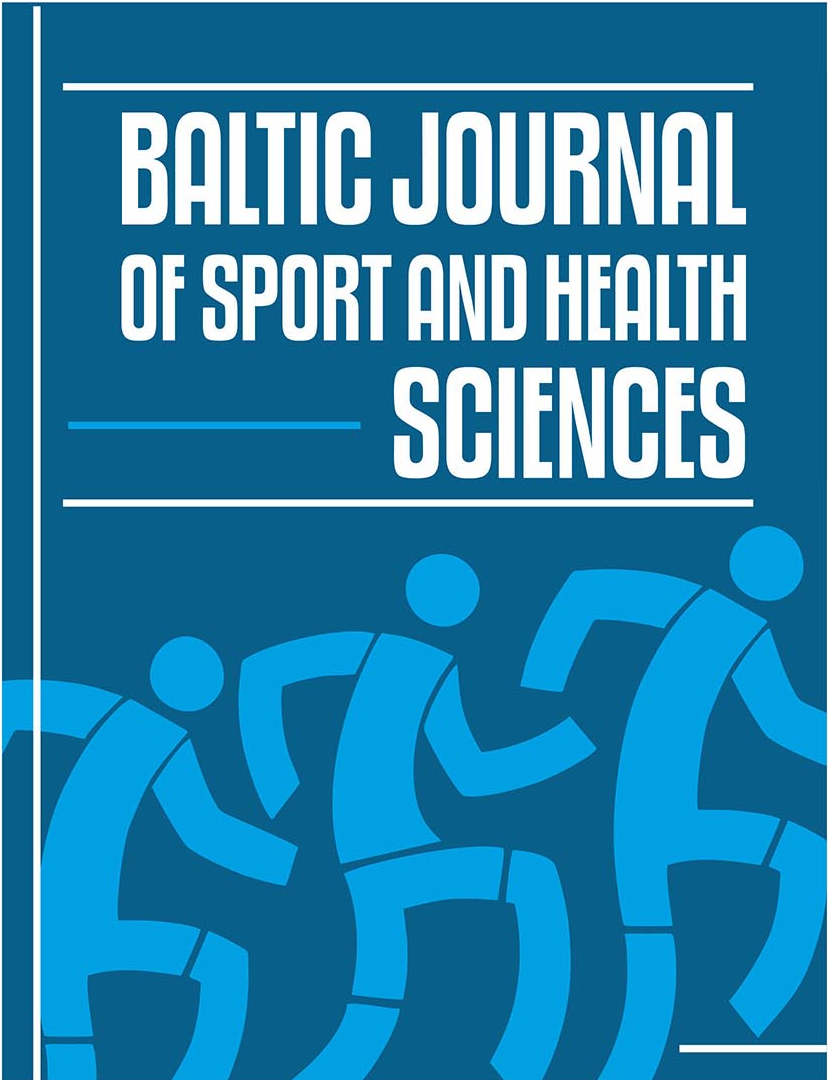 Downloads
How to Cite
Knatauskaitė, J. ., Pukėnas, K. ., & Kentra, T. . (2021). The Relationship Between Cognitive Performance and Cardiorespiratory Fitness in Adolescents. Baltic Journal of Sport and Health Sciences, 1(120), 56-60. https://doi.org/10.33607/bjshs.v1i120.1052
Section
Sports Physiology
License
Each Article is an original contribution and not plagiarized/copied from any source/individual. It does not contravene on the rights of others and does not contain any libellous or unlawful statements and all references have been duly acknowledged at the appropriate places.
The article submitted only to Baltic Journal of Sport and Health Science, and it has not been previously published or submitted elsewhere for publication in a copyrighted publication.
The Author hereby authorizes the journal to edit, modify and make changes in the Articles/Research paper to make it suitable for publication in Baltic Journal of Sport and Health Science.
The Author hereby assigns all the copyright relating to the said Article/Research Paper to Baltic Journal of Sport and Health Science.
The Author has not assigned any kind of rights to the above said Article/Research Paper to any other person/Institute/Publication.
The Author agrees to indemnify Baltic Journal of Sport and Health Science against any claim legal and/or otherwise, action alleging facts which if true, constitute a beach of any of the foregoing warranties.