The Importance of Psychosocial Aspects in the Formation of New Healthy Lifestyle Habits in Adult Women: A Qualitative Study
Abstract
Background. Healthy lifestyle is one of the main health determinants. Chronic diseases can be prevented by adopting health-related behavior and developing it into habits. Scientific literature suggests that psychosocial factors are part of people's lives as they also affect health and health behaviors and it is important to understand them.
Methods. Primary data collection method was face-to-face interview based on previous research. The main data was collected with self-reported diaries. Qualitative content analysis was used to analyze the data. Data was gathered on psychosocial factors and habits of adult women. There were eight participants in the study.
Results. The following psychosocial aspects related to health behaviors were encoded in the results: self-efficacy, intrinsic motivation, social support, distress and extrinsic motivation. The following emotions were encoded: joy, surprise, sadness, anger and fear. Women had similar psychosocial aspects and emotions towards new physical activity and nutritional habits.
Conclusions. The findings indicated that self-efficacy was a dominant psychosocial aspect in the formation of physical activity habits. Together with intrinsic motivation, which manifested mostly after performing their chosen physical activity behavior, self-efficacy was restored in cases that women felt down about themselves. Social support and extrinsic motivation also suggested positive effect on habit formation. Emotion of joy was observed both before and after physical activity. Sadness and anger appeared when a daily task was not accomplished. Fear was not a widespread emotion among women who developed physical activity habits. Self-efficacy and intrinsic motivation were not important in nutritional habits formation. Social support was as important as extrinsic motivation for women to pursue their chosen habits. Joy was the dominant emotion for women with nutritional habits. One example of surprise was given. Sadness occurred because of unaccomplished tasks. Anger led to not performing nutritional habits.
Keywords: psychosocial aspects, emotions, habits formation, adult women.
Downloads
Download data is not yet available.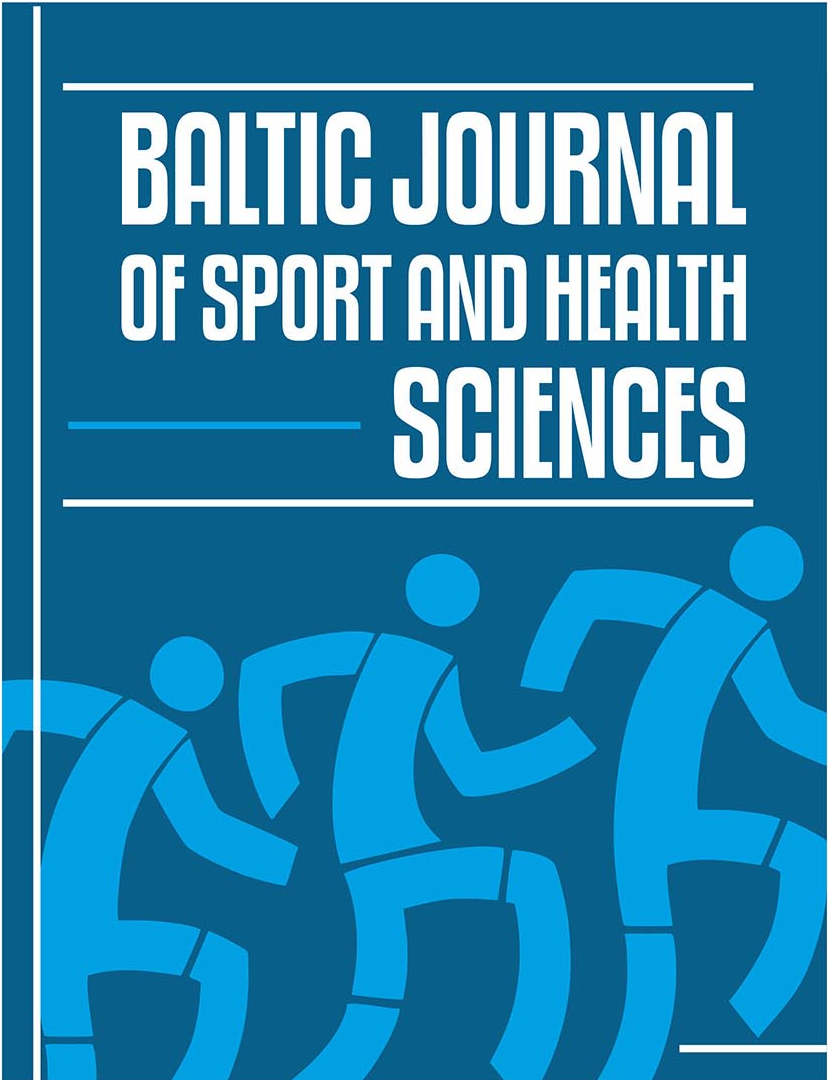 Downloads
How to Cite
Palevičiūtė, G. ., Čapkauskienė, S., & Miežienė, B. . (2021). The Importance of Psychosocial Aspects in the Formation of New Healthy Lifestyle Habits in Adult Women: A Qualitative Study. Baltic Journal of Sport and Health Sciences, 1(120), 45-55. https://doi.org/10.33607/bjshs.v1i120.1051
Section
Social Sciences in Sport
License
Each Article is an original contribution and not plagiarized/copied from any source/individual. It does not contravene on the rights of others and does not contain any libellous or unlawful statements and all references have been duly acknowledged at the appropriate places.
The article submitted only to Baltic Journal of Sport and Health Science, and it has not been previously published or submitted elsewhere for publication in a copyrighted publication.
The Author hereby authorizes the journal to edit, modify and make changes in the Articles/Research paper to make it suitable for publication in Baltic Journal of Sport and Health Science.
The Author hereby assigns all the copyright relating to the said Article/Research Paper to Baltic Journal of Sport and Health Science.
The Author has not assigned any kind of rights to the above said Article/Research Paper to any other person/Institute/Publication.
The Author agrees to indemnify Baltic Journal of Sport and Health Science against any claim legal and/or otherwise, action alleging facts which if true, constitute a beach of any of the foregoing warranties.